Nawabpasand to Kalasur, Kohitoor to Saranga - a quick glance at the Murshidabad mango breeds - GetBengal story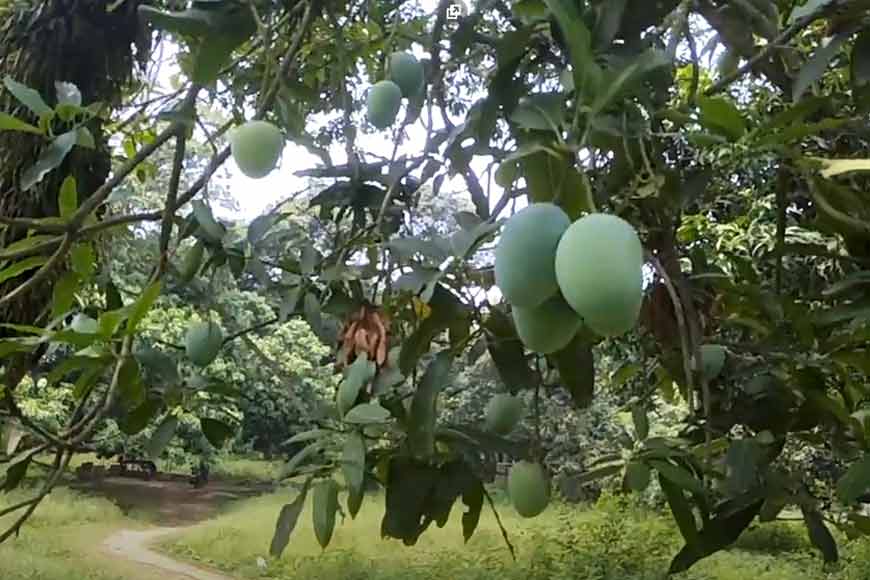 As the summer's blistering heat soars up by the minute, the only solace you can find in is: Mango! 'Every day is mango-nificent' or so goes the saying. India is among the largest producers of mangoes, producing nearly 39% of global production and Bengal can claim a large stake of the produce. Mangoes were popularized in India by none other than the great Mughal Emperor, Akbar. He was so overwhelmed by the taste of this amazing, succulent pulpy fruit that he decreed his officials to plant mango trees in different parts of the country, especially in Bengal, Gujarat, Malwa, Khandesh and the Deccan region. Of all these varieties, Bengal's mangoes were going places and mostly from Murshidabad's Azimganj and Jiaganj.
When it comes to mangoes of Murshidabad, Nawab Murshid Quli Jafar Khan, the first Nawab of Bengal, is credited for encouraging the cultivation of mangoes and setting up orchards in Murshidabad after he transferred his capital to Murshidabad from Dhaka in 1704.
Murshidabad and Malda are the mango gardens of West Bengal. They are the two major mango producing districts of the state although a few varieties are cultivated in West Midnapore, Nadia, pockets of North and South 24 Parganas but nothing can beat Murshidabad and Malda. There are roughly around 124 varieties of mangoes grown in the orchards of Murshidabad alone!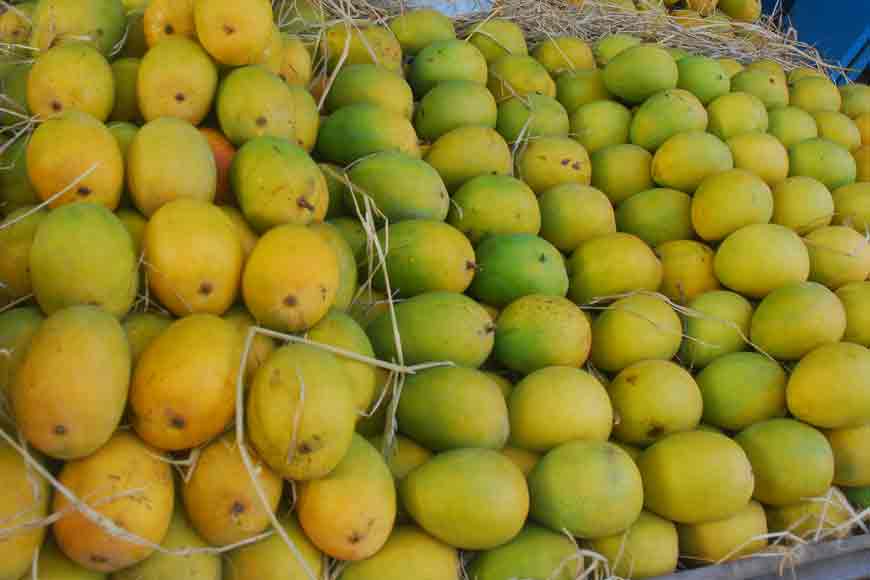 Jiaganj is about eight kilometres from Murshidabad, the capital of Bengal until the fall of Nawab Siraj-ud-Doula in the Battle of Plassey in 1757 that marked the beginning of the 190-year British colonial era. The district is home to 124 varieties of mangoes — many among them hybrids developed under the patronage of the Nawabs. Malda is one of the oldest cities of Bengal, dating back to 7th century. Later, in 1204 , Muslim rulers conquered the land and renamed it Malda from Gaur. Malda is one of the largest exporters of mango.
Mango cultivation is a labour of love. The erstwhile Nawabs were fond of the sweet, juicy fruit and encouraged farmers to set up orchards and experiment to better the product. This led to various hybrid varieties, many of which are unfortunately on the verge of extinction. These include Dilpasand, Nawabpasand, Mirzapasand, Ranipasand, Sarenga, Kalasur, and a few others. Myriad stories galore about the origin of these species. Take for instance Ranipasand. This age-old variety was developed in Murshidabad and is part of the district's heritage. It is so named, as the erstwhile nawab's favourite wife liked it. Its characteristics include early maturing, sweet flesh and bright yellow coloured exterior when it ripens.
Enaet Pasand is part of the 'pasand' series of Murshidabad mangoes popularised by the nawabs. Enaet Khan, a jagirdar or a local ruler or Omrah, liked this variety of mango and patronized it and thus it got its name. It is a medium-sized mango, weighing 200-300 grams, thin-skinned, juicy and pulpy. Sabdar pasand also known as Bira, is another special from the 'pasand' series of Murshidabad mangoes. Popular lore has it that a local ruler, Sabdar Khan, liked this mango and thus this variety got its name. The ruler encouraged the cultivation of this variety. Then there was Shahdulla variety that was developed and patronized by the Shahs of Murshidabad. Similar to Himsagar, this is a preferred mango of the elite class, it has a green coloured skin when ripe and yellow flesh. Chandankosa was said to be a favourite variety of the Nawabs and weighed below 200gms, with a flesh which emanates a smell similar to sandalwood.

During Mir Jafar's rule, a maid named Bimli was employed for cultivating new mango varieties. Pleased by her hard work, a new mango variety, Bimli was named after her. This variety is reddish-yellow in colour and has a sweet, juicy flesh and weighs 200-250gms. Anaras, as the name suggests, has a pineapple-like flavour. It resembles the "bira" variety, although it is smaller in size. The pulp is whitish like a pineapple and it smells like one too. It is easily digestible and is a favourite with people for its unusual and interesting taste. Kalapahar is huge with a blackish-green exterior. According to legends, the Saranga mangoes were dedicated to the musicians who played "sarangi" at the door of the Nawab's haveli.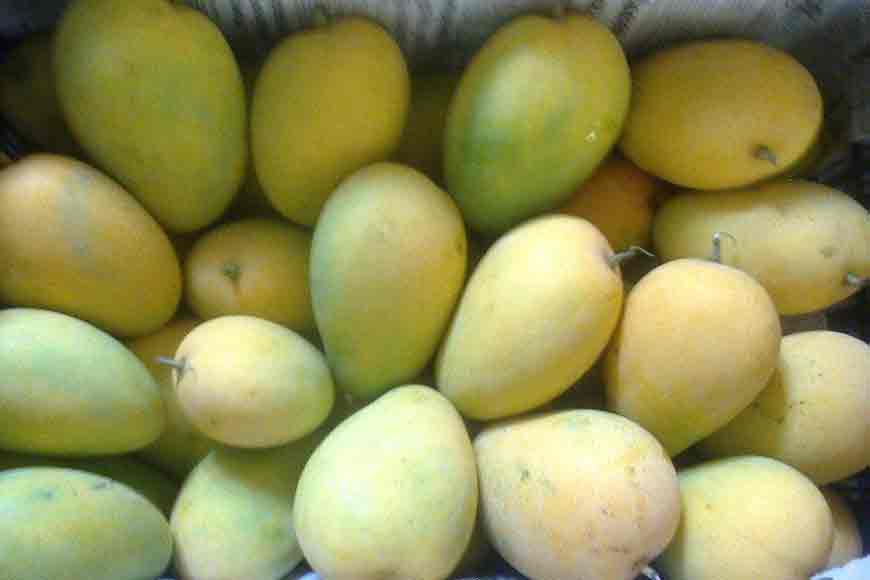 Kohitoor - One of the priciest mangoes in India
Molamjam is an exclusive and prized breed cultivated in Murshidabad. It is very tasty but has a very short shelf life. Kohitoor is the most delicate and sensitive of all mangoes, it has a wonderful taste but it is also the most difficult mango to handle. Golden yellow in colour, the Kohitoor has to be kept wrapped in cotton wool to keep it fresh. After every 12 hours, the mango has to be turned on its side so that it ripens uniformly. In the past, the wealth of an individual was measured by the number of Kohitoor trees in his/her orchard and how he managed these mangoes. The Kohitoor used to be grown exclusively in the orchards of Nawabs until the early 1970s. The orchards of the Maharaja of Cossimbazar had over 50 Kohitoor trees.
Champa is another exquisite variety that occupies a pride of place in Murshidabad. Its beautiful yellow coloured flesh smells like the Champa flower. There are various theories related to its name. Popular among these is the tale that states that the mango is named after Champabati , the famous courtesan in the Mughal durbar. This dainty looking flavoured mango is very popular abroad and is mostly exported to the Gulf countries. There are many other hybrid species of mangoes are now endangered at Raisbag, an orchard named after Begam Raisunnesa, a princess of the Nawab family.