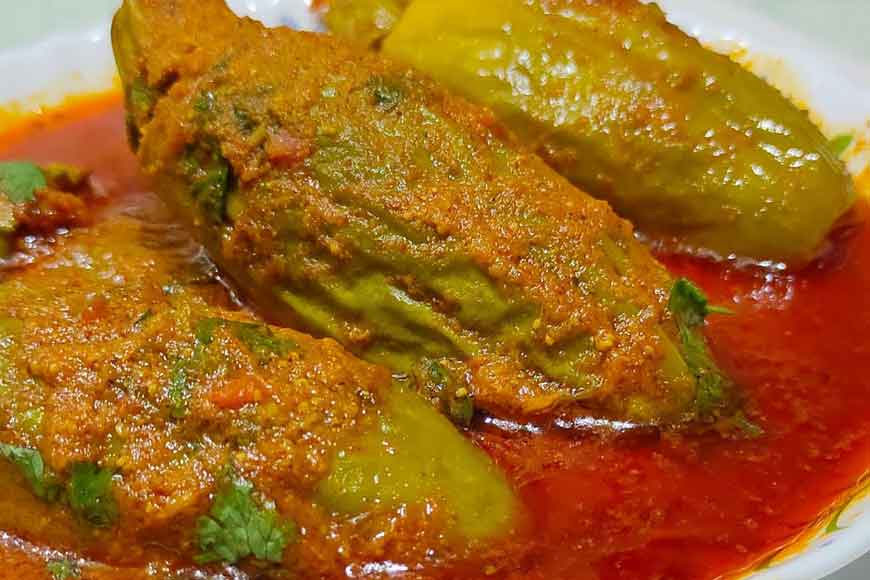 Summer vegetables rarely excite the Bengali gourmand the way winter offerings seem to do. After all, how far outside of the box can one really step with a few varieties of 'shaak' and 'dnata' (stalks, for want of a better translation), jhinge (obscurely known as sponge gourd), 'mocha' (plantain flower) and 'enchor' (unripe jackfruit)?
The one vegetable we have left out of this list, you will notice, is 'potol' (parwal in HIndi) which, again for want of a better word, we call finger gourd. And the sole reason for that is Potoler Dolma, that Bengali delicacy of infinite variety. The irony is, it isn't even Bengali. Like so many of Bengal's linguistic and cultural borrowings, the dolma too, comes from a faraway land.
For those seeking a more precise source, the Wikipedia definition may be handy: "Dolma is a family of stuffed dishes common in Anatolian, Levantine, Caucasian, Mesopotamian, Iranian and Maghrebi cuisines, that can be served warm or at room temperature. Some types of dolma are made with whole vegetables, fruit, offal or seafood, while others are made by wrapping grape, cabbage, or other leaves around the filling."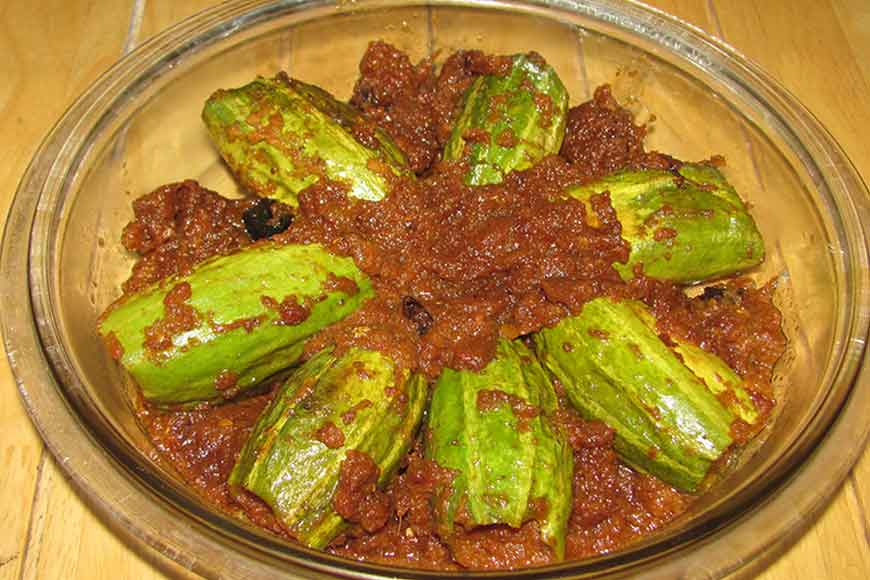 In short, from the shores of the Mediterranean to the shores of Bay of Bengal - that's the journey that Potoler Dolma has made, traversing several sea routes to reach our ports. While some food historians believe the dolma came to us by way of the Turks during the rule of the Nawabs of Bengal, others believe it is a gift of the once thriving Armenian and Jewish communities of Calcutta, predating the arrival of the British. Given how adventurous Bengalis have always been about food, it did not take them long to adopt the dolma so completely that it seemed homegrown, as it were.
In the Mediterranean region, common vegetables used to hold the stuffing for a dolma include tomato, pepper, onion, zucchini, eggplant, and finger gourd. The stuffing generally consists of rice, minced meat or grains mixed with diced onion, herbs like dill, mint or parsley, and spices. Dolma has been a part of Middle Eastern cuisine for centuries, and the Iraqi version also includes stuffed cabbage leaves, and onions in aubergines cooked in tomato sauce. Over time, regional variations have developed, and in the area around the Persian Gulf, basmati rice is preferred, while the flavour of the stuffing may be enhanced using tomatoes, onions, and cumin.
The word dolma itself is thought to derive from 'dolmak' or 'dolmade' - a Turkish word that means 'to be filled, be full.' The dolma produced in the Bengali kitchen have stuffed fish, shrimp, meat, or vegetables along with poppy seeds, grated coconut and/or raisins.

Potoler Dolma has long become a 'local' landmark dish in Bengal, and is considered enough of a delicacy to be served even at marriage parties and other festive occasions. The most popular theory is that the dolma was brought here by immigrant Armenians, who came to India in the 16th century to escape Turkish persecution. As the community spread, so did their trade and they landed in Calcutta, which was then one of the trading hubs of India. They imported expensive Venetian glassware, amber, wool, swords and guns, in exchange for spices, pearls, cotton, and precious stones from India.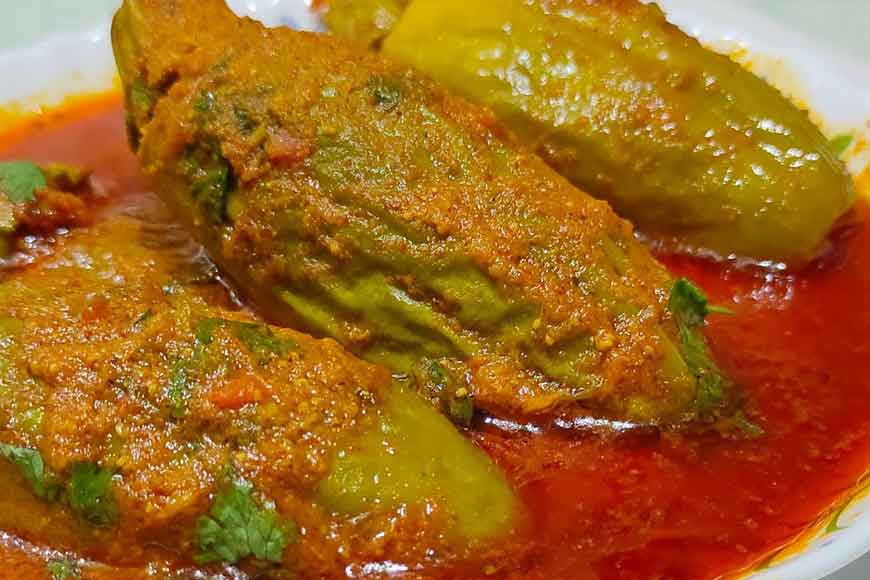 The Armeninans made Calcutta their home, and were responsible for many of the city's most impressive buildings, including the famous Grand Hotel, lovingly called the Grand Dame of Chowringhee, which had the name of Armenian entrepreneur Arathoon Stephen attached to it. Armenians loved fine food and dining, and hosted lavish Christmas lunches and club dinners for rich Bengalis. Food historians believe that it was at these occasions that Bengalis were introduced to Potoler Dolma.
With their traditional flair for culinary experimentation, Bengalis also use also soaked gram flour with ghee, cumin powder, hing (asafoetida), chillies, ginger, peanuts, and grated coconut in the stuffing to make vegetarian dolmas, unlike Armenians. Once cooled, this mix is stuffed into a peeled and hollowed-out finger gourd, fried, and set aside. In her book 'Bengali Cooking: Seasons & Festivals' food writer Chitrita Banerji claims that other gourds are too watery to attain the desired meat-like, succulent texture, which has forced Bengalis to confine the dolma, both vegetarian and non-vegetarian, to potol.