Savoury Taal-made dishes to sweeten up your Janmasthami celebrations - GetBengal story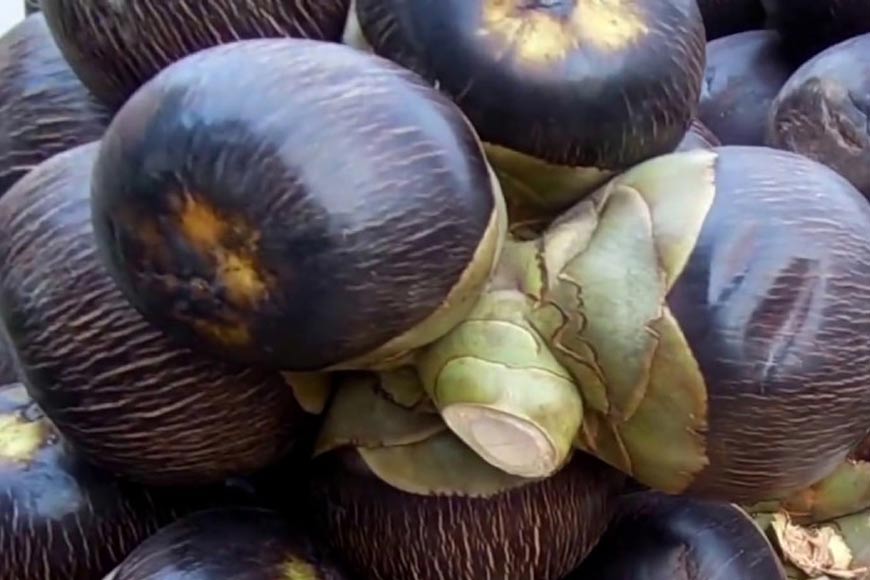 Asian palmyra palm, popularly known as Taal in Bengal
'Taal'er bora khaiya Nando nachite lagilo...'
The association of 'taal' (palm) and Krishna is legendary in Bengal. Taal or Palmyra, is a fruit that grows widely in the eastern and southern part of the country and makes for an important offering on Janmasthami, the festival that marks the birth of Sri Krishna. Janmasthami is celebrated with much passion in every part of the country and in Bengal, this is the season for the Asian palm fruit or taal to ripen. Its golden pulp is scooped, mashed with palm candy, coconut shavings and different sweet dishes are prepared and offered to Lord Krishna from the pulp of this fruit which is believed to be the Lord's favourite food items. The day after Janmashtami is celebrated as Nanda Utsav which marks Krishna's parents, Nanda and Yashoda, celebrating their son's birth by giving out sweets to the villagers. Nanda Utsav is marked in Bengal with preparing taler bora (sugar palm fritters) and offering them to the deities.
Rabindranath also wrote a wonderful lyrical poem, 'Taal gachh' for children, giving a vivid description of the tree standing tall amid other vegetation: 'Taal gachh ek paye danriye/ Shob gachh chhariye/ Unki marey akashey…. (On one leg stands the palm tree/ Overshooting all trees/ Peeping over the sky….).
The palm tree is a robust tree and immensely useful. It is a mass savior of rain water or is a natural rain water harvester, its roots help to stop soil erosion, it also helps increase ground water, fronds can be used to make a rain resistant roof covering, and its trunk is used in brick making industries because it gives long lasting moderate heat. The palm fruit ripens during monsoon and old-timers and contemporary food connoisseurs of Bengal go bonkers looking for recipes made of 'taal' pulp.
Since time immemorial, Bengalis have been fond of dishes made from 'taal' fruit pulp. Vaishnav texts have elaborate description of housewives of Nabadweep serving Chaitanya Mahaprabhu with elaborate meals that included palm fruit fritters (taaler bora), taaler kheer (sweet palm pudding), malpoa etc. What better way to partake in the festivities than indulging in traditional treats and sweets from the kitchens of Bengal? Here we share a few famous seasonal Bengali desserts made with palm juice.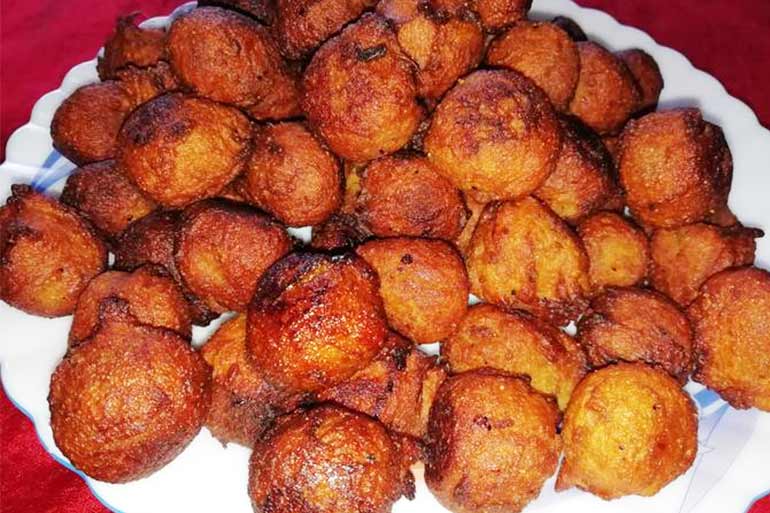 Palm fritters, or Taal-er Bora
Taaler Bora or palm fruit fritters
Ingredients
1 ripe taal/palm fruit
1 cup maida/flour
1/2 cup suji/semolina or rice flour
½ cup grated coconut
250 grams sugar
A pinch of salt
white oil for deep frying
Method
Scrape off the skin of the palm fruit and squeeze out the fibrous pulp from inside. Use a sieve so that the pulp is smooth. Squeeze the kernels in water before throwing them off, so that all the juice is extracted. Put the thick extract in a wok and stir well so that the water content evaporates. Take the flour, sugar, semolina/rice flour, salt and sieve it and remove all lumps. Now mix the grated coconut and the pulpy juice and mix them thoroughly to make a smooth batter. Heat oil in a deep bottomed frying pan. Make small balls (1 inch in diameter) and drop them slowly in the hot oil and fry them till they are crispy and golden brown. Palm fritters are ready to be served.
Taler Malpua
Taaler Malpoa
Ingredients
1 ripe taal/palm fruit
1 cup maida/flour
1 cup suji/semolina
1½ cup milk
½ cup grated coconut
250 grams sugar
A pinch of salt and fennel seeds roughly crushed
white oil for deep frying
For sugar syrup:
½ cup sugar
½ cup water
2 green cardamon pods crushed
Method:
Scrape off the skin of the palm fruit and extract the pulp. Sieve the flour and mix it well with sugar, semolina and salt. Keep pouring the milk slowly and mix till a smooth batter is formed. Cover the batter and set it aside for an hour. Now gradually pour and mix the palm juice in the batter. Don't forget to add the crushed fennel seeds at this point. The actual taste of malpoa is enhanced by fennel seeds.
Next take a wok and heat oil and pour one big spoon at a time and fry both the sides till golden brown.

For Syrup:
Method
Take a saucepan and add the sugar and cardamom pods in water and bring the mixture to a boil. After boiling for five minutes, switch off the gas oven and let the syrup cool down to room temperature. Now soak each "Malpoa" into the syrup one at a time for 1to 2 minutes and take it out from the syrup and place on a plate. Taaler malpoa is ready for serving.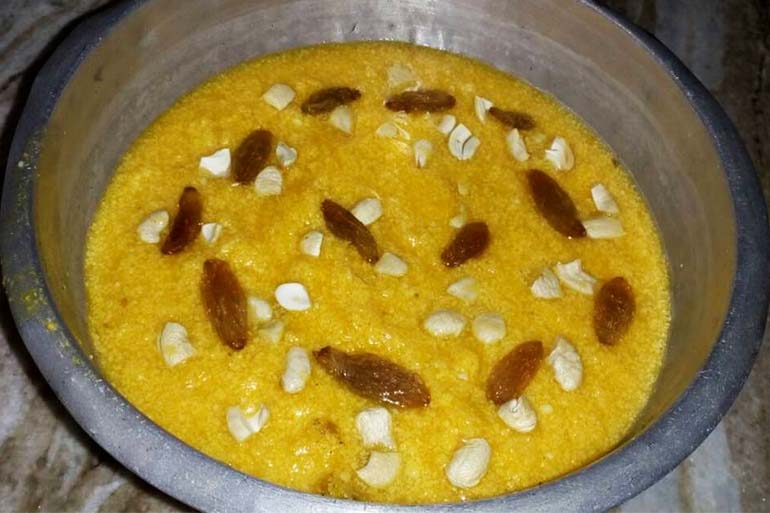 Taaler Kheer
Taaler Kheer
Ingredients
1 ripe taal/palm fruit
500 ml milk
250 grams sugar
½ cup grated coconut
Some cashew, almonds and a few roughly crushed green cardamoms
Method
In a heavy bottomed pan, pour the palm juice and place it on low flame. Keep stirring till it is well cooked. Then mix the sugar, grated coconut and crushed cardamoms. Next, add the milk gradually with the palm juice. Keep stirring continuously to prevent the milk from burning at the bottom. Add the cashews and almonds. Continue to stir for another 15 minutes. Switch off the gas. Take it out in a bowl and serve.