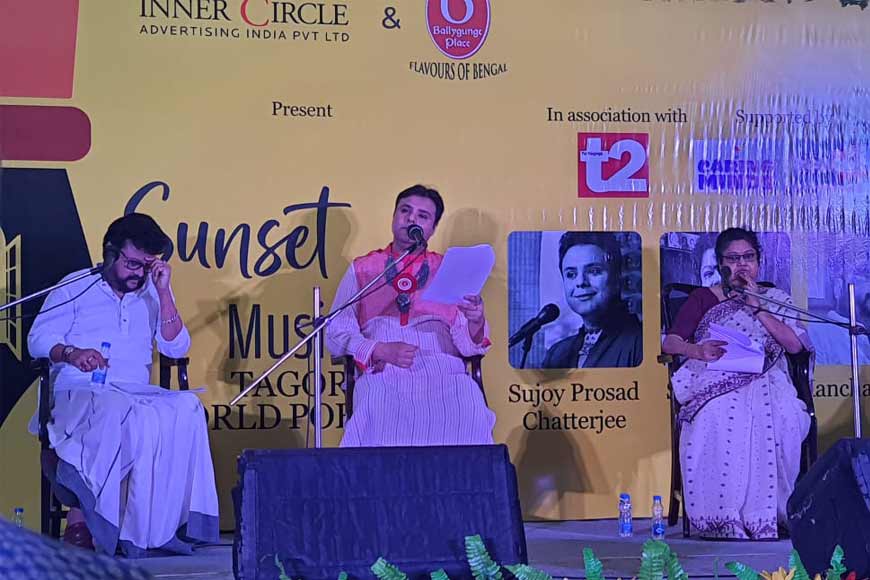 Rarely do Bengalis give up their Sunday after-lunch siesta and come in hordes to be witness to a wonderful afternoon of songs and poetry. But well that happens, if the 'eye of the confluence' is none other than Rabindranath Tagore and if the script is unique, nudging at the strings of your creative soul. That's what happened at the Williamson Magor Hall of Bengal Chamber of Commerce, a day before Rabindra Jayanti. As rightly put in by actor and multi-disciplinary artiste Sujoy Prosad Chatterjee, who presented to the audience 'Sunset Musings': "We have created a literary juxtaposition, where world poets and their creations (some of them Nobel Laureates themselves like Tagore) blend in the backdrop of Rabindranath Tagore's apt songs."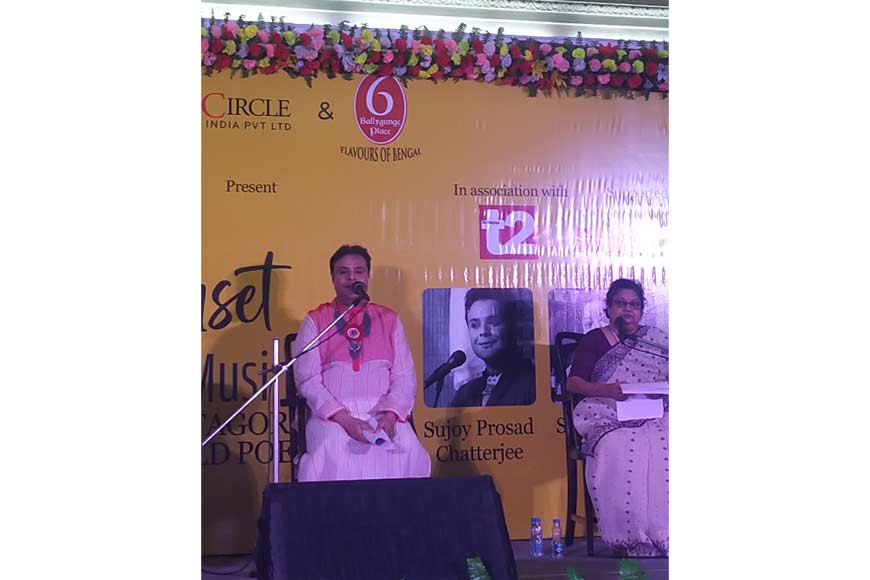 Conceptualised and scripted by Sujoy himself along with Kanchan Datta, the evening witnessed some of the best Tagore's numbers sung melodiously by none other than Srabani Sen. "Tagore is my friend, for He is always in my heart. Tomorrow is my friend's birthday," Sujoy started off on a note that almost every Bengali will agree to. "Tagore was a polymath. His politics was humanity. Many talk about his nationalism these days, but one common element he shared with the world that is still relevant, is the element of humanity," Sujoy explained why they brought in world poets like Pablo Neruda, Bob Dylan, Jorge Luis Borges, Gabriela Mistral, Palestinian poet Taha Muhammad Ali and many others, attempting to travel beyond the element of love and simple issues discussed in their poems, to the ultimate sphere of humanity – something that Tagore preached all his life.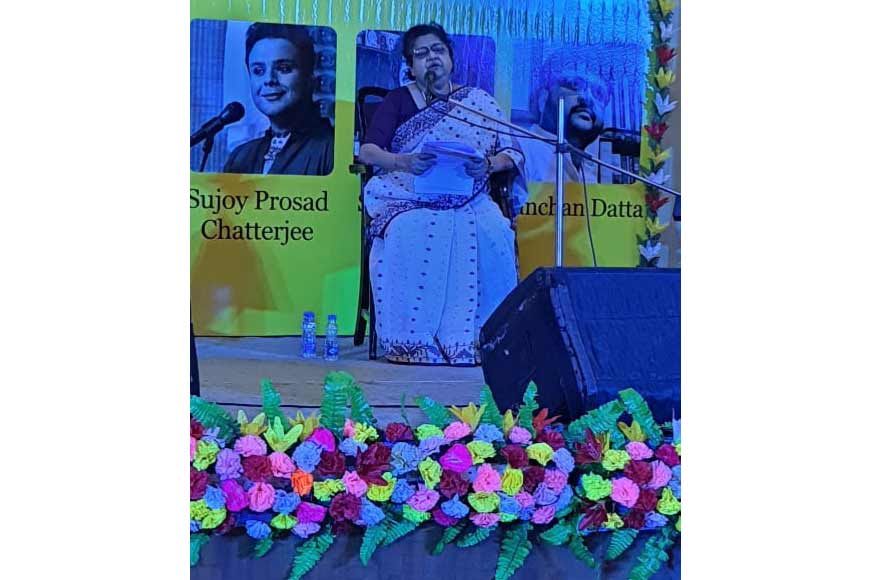 Srabani Sen's lilting rendition of numbers like 'Amar hiyar majhe, Tumi robe nirobe, Tumi kon bhangoner pothe ele' interspersed with verses read by both Kanchan and Sujoy in a mellifluous dramatic style, touched the audience beyond the world of time and space. It was like travelling to a world where sound, words and music reign even if you let your sight fade.
"At times… I wish
I could meet in a duel
The man who killed my father
And razed our home……..

But if it came to light,
When my rival appeared,
That he had a mother waiting for him,
Or a father who'd put his right hand over
The heart's place in his chest
Whenever his son was late
Even by just a quarter hour
For a meeting they'd set ---
Then I would not kill him,
Even if I could….." As Kanchan Datta's deep baritone brought out the simple lines of Palestinian poet Taha Muhammad's poem Revenge, the audience was overwhelmed. Well-known Indian actress Jaya Seal Ghosh, who was part of the eclectic audience said: "World Poetry is something that we do not get to hear always. And here you have had the opportunity of listening to so many poems by stalwarts like Neruda, Lorca, Baca. And with that Srabani Sen's soulful songs, the evening was truly mesmerising."

Another actor present in the audience was none other than Satyajit Ray's 'Seemabaddha man' Barun Chanda who had probably come to listen to a Tagore programme, but instead got to meet a whole lot of world poets and their creation. "The programme was very well choreographed and did not stretch unnecessarily. The script was crisp and what was surprising is there was not a single poem of Tagore, yet Tagore was there in the midst of all these world poets along with his songs."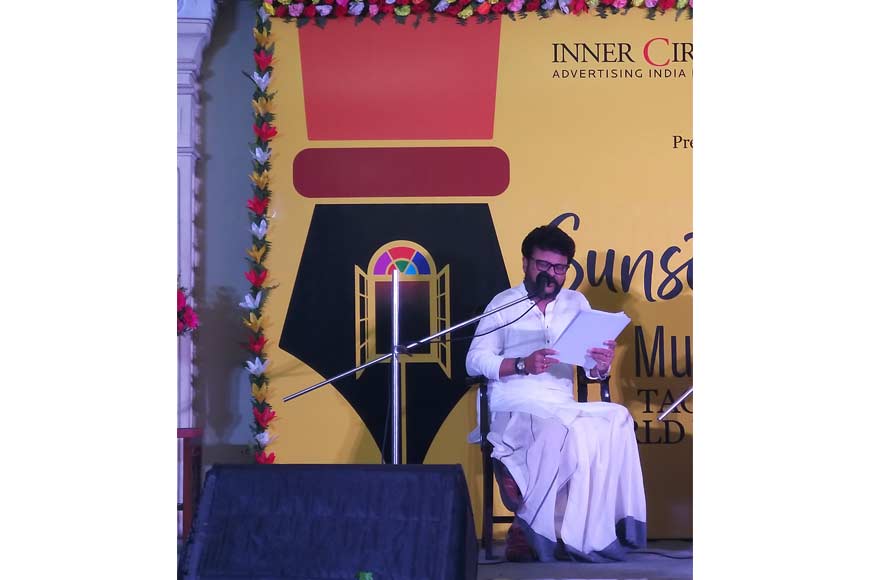 Remarkable part of the script was the introduction of each poet before bringing in his poetry. That helped create the ambience of the confluence and the same thought of social justice, love, war & peace --- elements that feature over and over again in Tagore's creations too. As Kanchan Datta aptly said: "Everything starts with Tagore and everything ends with him. He is indeed the exact confluence of thoughts." But the steal of the show was when Sujoy Prosad started off with Shokatore oi kadichhe shokole…. the subtle keyboard marrying his mellifluous rendition to a new high. We all had tears of fulfilment and an out-of-the-world mood that 'Sunset Musings' successfully brought in.