The magnificent snow-capped Tiger Hills declared to be a plastic free zone - GetBengal story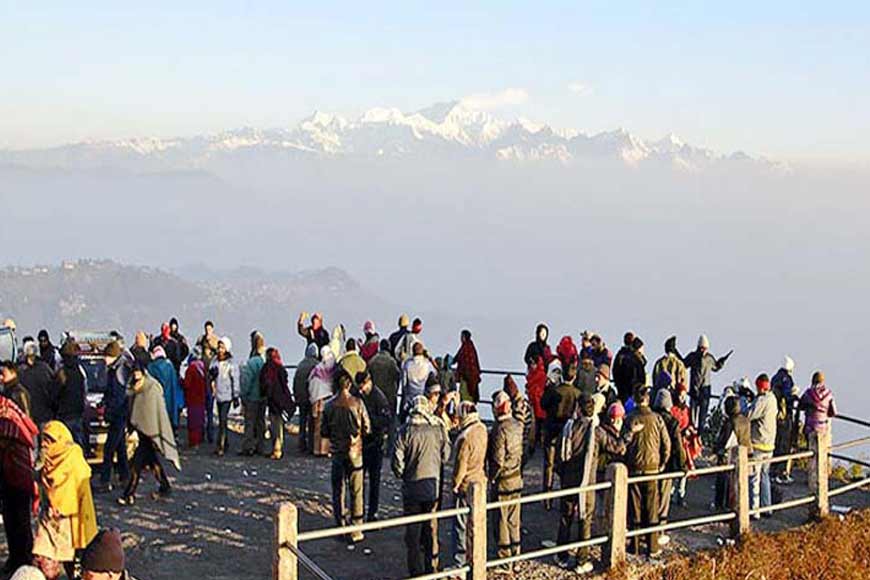 The tourism department of the Gorkhaland Territorial Administration has declared Tiger Hill a plastic-free zone
Perched in the heart of Sinchel Wildlife Sanctuary at an altitude of more than 8,000 ft (2590 meters), and a distance of 13 kilometres away from Darjeeling, Tiger Hill offers one of the most beautiful panoramas of the Greater Himalayas. Kanchenjunga, the third highest peak in the world, is lit up at sunset and sunrise in a mesmerizing display of colours. The magnificent view of snow-capped mountains sitting amidst cotton clouds attracts tourists to Tiger Hill not only from all over the country but also abroad. It is one of the most popular tourist spots in Asia. During tourist season, that number of visitors reach anywhere above 8 thousand on an average. Interestingly, this is also the summit of Ghoom, which is the highest railway station in the Darjeeling Himalayan Railway, a UNESCO World Heritage Site.
Tiger Hills is also the abode of Sinchel Ko Singha Devi, the guardian deity of the hills. Tourists and locals visit the temple in large numbers, especially between March and April to offer prayers to the goddess. The devotees carry 'Shola Shringar' (a set of 16 embellishments) offerings for Goddess Durga and Lakshmi. Earlier, these offerings used to be made of natural biodegradable items but now, like most other things, plastic has replaced natural items. Also, tourists visiting Tiger Hills carry disposable plastic water bottles and food packets with them which they litter around irresponsibly. Picnic groups discard empty packets of packaged food, drinks and water bottles. Food served in Styrofoam or plastic utensils are discarded within the sanctuary. Beverages are sold in disposable cups. All these lead to huge amount of plastic accumulation within the forest area. According to environmentalists, plastic litter posses a big danger in the hills identified as earthquake and landslide prone areas.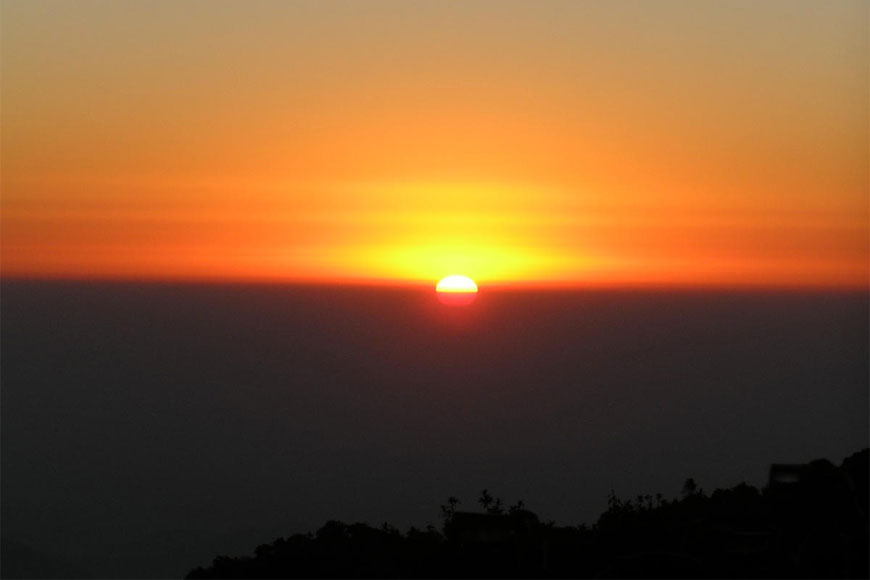 Golden Sunrise atop Kanchenjunga, seen from Tiger Hill in Darjeeling
Plastic results in the widespread destruction of terrestrial wildlife and forests. Microplastics in soils, sediments and freshwater, impact the ecosystems negatively in the long run. The surfaces of tiny fragments of plastic may carry bacteria and viruses that act as vectors for diseases. Microplastics can further interact with soil fauna, affecting their health and functions. The concentration of microplastics in food chains can result in the disruption of the hormone system of vertebrates and invertebrates alike. Plastic manages to sneak into and damage several bodily functions of animals. Hungry animals usually smell food in plastic containers and bags. However, their curiosity and desire for food often cause them to get their heads, feet or wings trapped in the plastic. Accidentally consumed, plastic can also cause intestinal blockages and become fatal for that animal.
Thanks to the concentrated efforts of environmentalists, NGOs like Scavengers Darjeeling, TIEEDI (Take It Easy, Easy Does It), Darjeeling Ladenla Road Prerna (DLR Prerna) and WWF India who have been working to create a Zero Waste Himalaya Platform since 2018, started the Plastic Free Senchel campaign in 2021. The campaign sought to bring together various stakeholders for solidarity and stewardship in ensuring continuity of the sacredness, beauty and ecological services of Senchal. This year, their concentrated efforts have finally yielded result. The Gorkhaland Territorial Administration (GTA) has declared Tiger Hill a plastic free zone.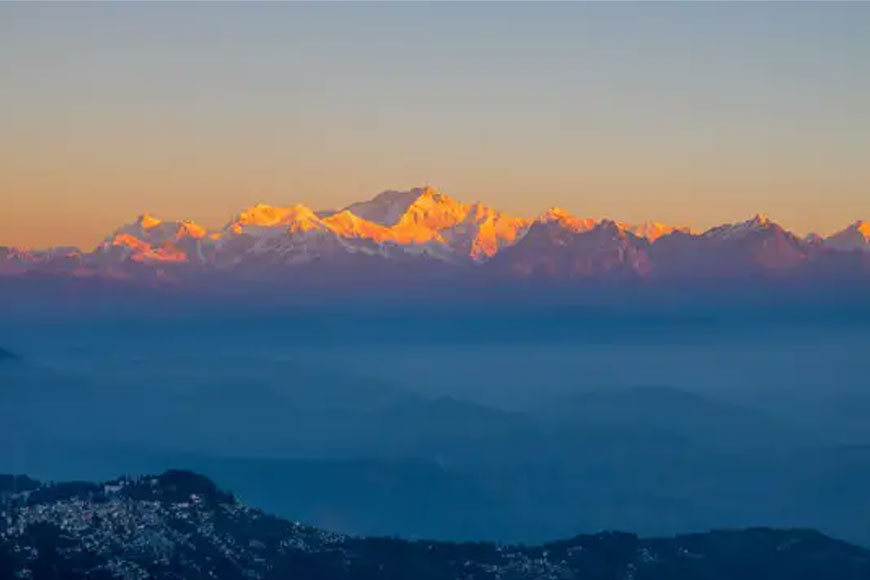 Kanchenjunga and other snow-covered eastern Himalayan peaks as seen from Tiger Hill
Darjeeling Wildlife Division officials have been holding talks with various stakeholders like drivers, travel agents, tea sellers and even vendors selling puja items in front of the Senchel Devi temple to cooperate with the authorities to implement this initiative. After the initial resistance, puja item vendors and tea sellers agreed to stop totally selling and using plastic items. Finally, the Darjeeling Wildlife Divisionhas declared the entire Senchel Wildlife Sanctuary as a plastic-free zone. Tourists and local residents alike will now need to deposit all plastic items at the entrance gate of the sanctuary.
The forest department has set up drop boxes at the entrance of Tiger Hill. Anyone carrying plastic items, or even food packets, will have to deposit the same at the entrance. They can collect the articles on their way back to the entrance. Recently, the forest department organized a mountain bike rally from Jore bunglow to Tiger Hill, a distance of some 4km, to spread awareness among people about the new rule and to keep the area clean.The cyclists also organized a clean-up drive at Tiger Hill.
Environmentalists are happy that the GTA authorities have finally taken strict action. They now want the administration to take similar measures to rid Singalila National Park of plastic waste. The Singalila forest area is along the border of Darjeeling and Nepal. It is also the home to a number of small mammals including the red panda, leopard cat, barking deer, yellow-throated marten, wild boar, pangolin and pika. Larger mammals include the Himalayan black bear, leopard, clouded leopard, serow and takin are also found here.
Visitors enjoying the magnificent morning vistas of snow-clad Kanchenjunga
Singalila is well known for the trekking route to Sandakphu and Falut that runs through it. Here too, plastic waste has become a headache for the forest department and administration. For the past decade, National Adventure Foundation (NAF) has been working to collect plastic waste in this area. The GTA has taken initiatives to stop carrying plastic items in Singalila area as well. Plastic items will eventually be banned in Sandakphu and Falut too.