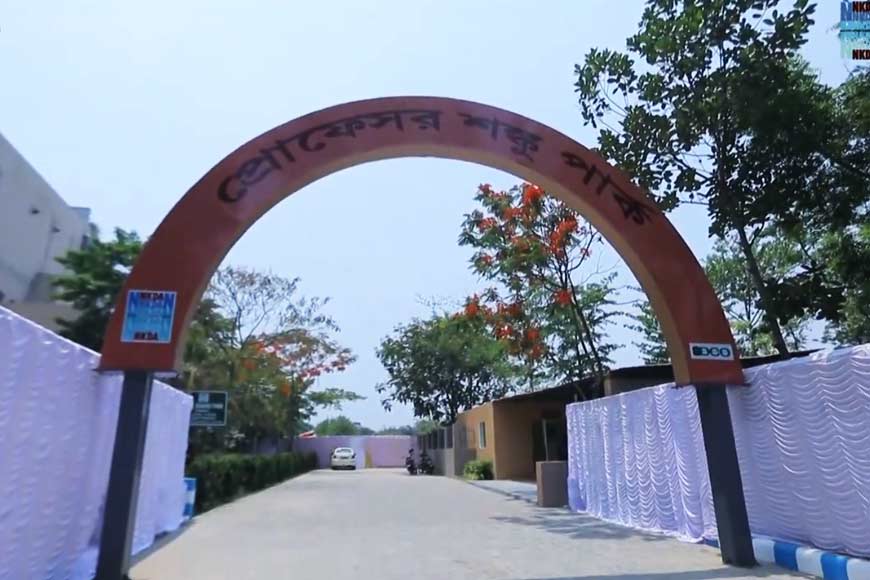 And finally, Professor Shonku is here, lifted from the pages of Satyajit's Ray's famous science fiction series to a theme park in the Rajarhat-New Town area. Though the park was inaugurated last year, due to Pandemic it could not be thrown open to the public. Now it has been and is drawing Shonku enthusiasts in large numbers.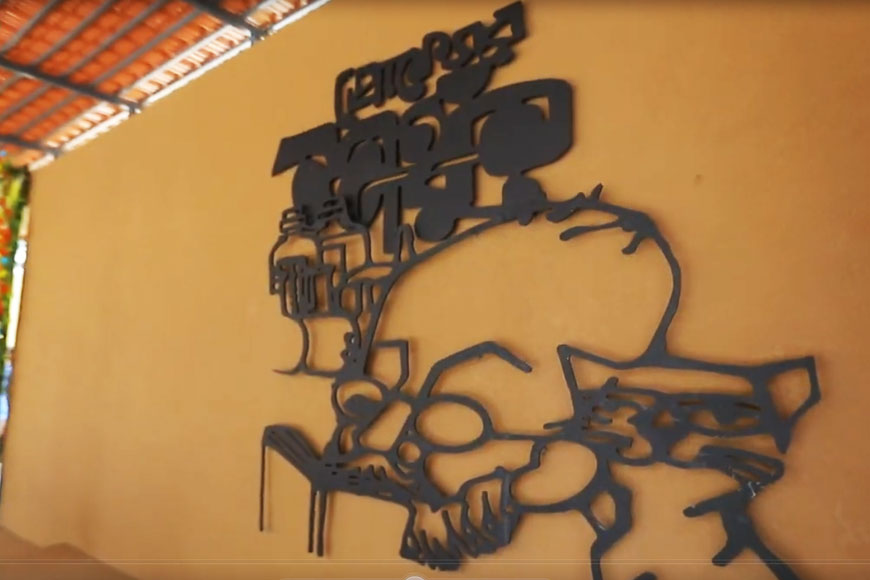 he landscaped park stands just behind City Centre 2 with Ray's immortal literary creation, Professor Shonku, as the theme. The area is on the boundary between New Town and Rajarhat and the park is sprawling, covering an area of around two acres. It was a plastic recycling zone of the Bidhannagar Municipal Corporation (BMC) and was literally a dumping ground emitting foul smell. So New Town Kolkata Development Authority spoke to BMC to shift to an adjacent space where they plan to set up a compactor and created space for the park. What was once a litter zone got converted into a theme park.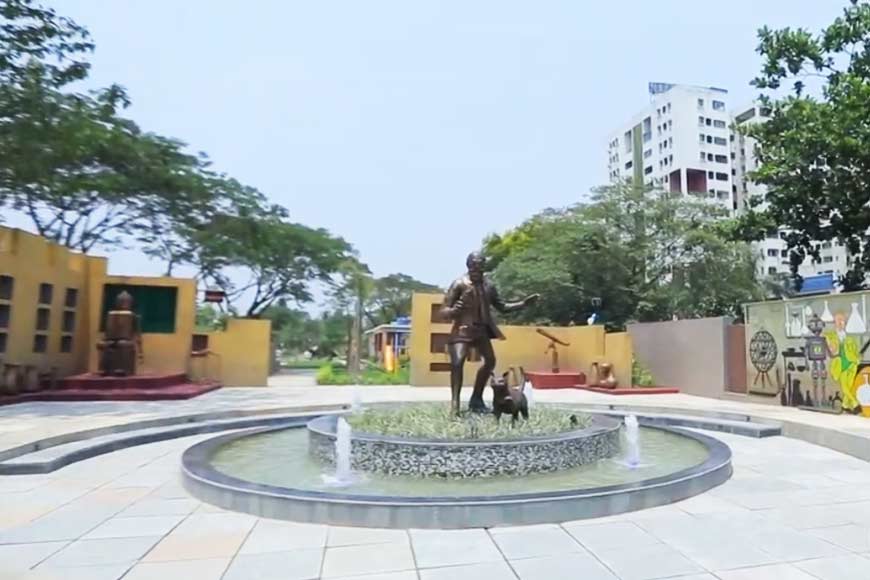 Once you enter the park, the first thing that strikes is the 10ft statue of the scientist from Giridih in the middle of a fountain. In his hand is his invention, the annihilin, a pistol that can obliterate any living thing. At his foot is his pet cat Newton. For any Shonku enthusiast, it is like a dream come true to be face to face with their favorite character. The whole structure is made of fibre glass with a metallic bronze finish. The walls are decorated with various sketches of Satyajit Ray taken from his Shonku books. In the middle, a real clock hangs taking you on a time machine ride. There is a partially enclosed area where the Professor's scientific instruments are on display like the microscope, beaker, weighing scale, etc. They are intelligently placed in between gaps on the wall to create a sort of laboratory feel – Professor Shonku's laboratory. At a corner sits Bidhusekhar, his robot.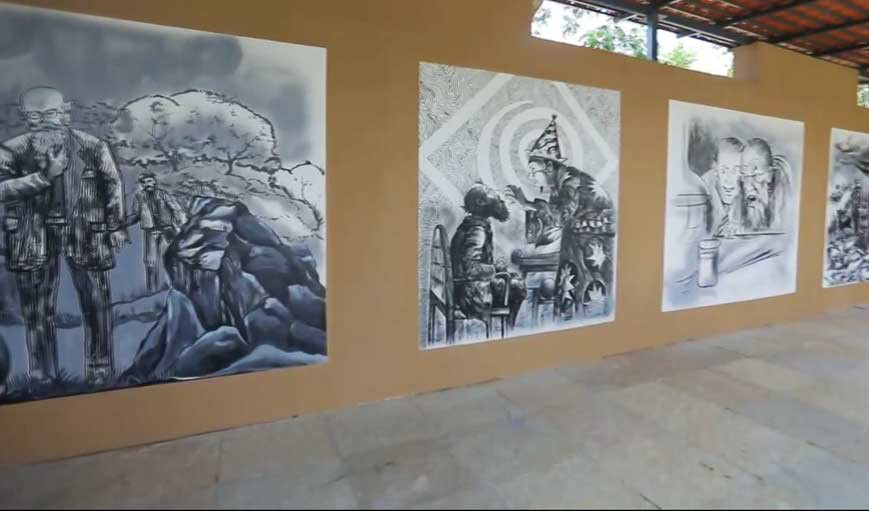 For children, the fun segment is a mound, that one can climb to reach an elevated zone. This is the meditation space next to a globe, inspired by the magical sphere mentioned in the story Golok Rohoshyo. The globe glows with white light at night as the sphere did in the story. One side of the mound has steps to seat over a hundred people. If you sit here for hours in the evening, you get to see the panoramic view of flights landing. Other than Shonku there are statues of extra-terrestrial figures and extinct creatures like the dinosaurs. Children can also enjoy the play area that has five planets perched on stands to give them lessons on the Universe and astronomy.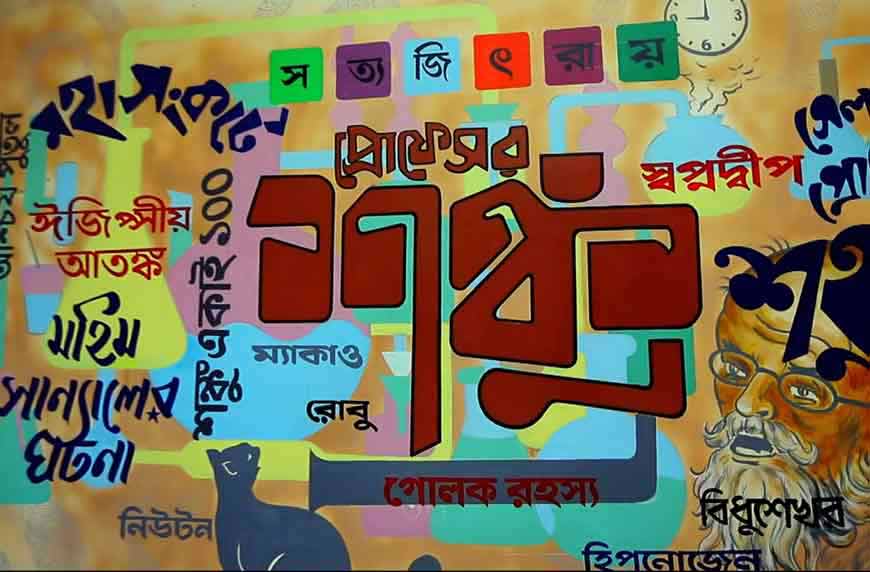 The park also has a gallery space enclosed on three sides at the far end with acrylic wall paintings replicating actual sketches of Ray. Some more galleries will be added as will be a souvenir shop selling Professor Shonku memorabilia. New Town already has a park titled Sonar Kella Udyan in Action Area 1, featuring the famous detective Feluda along with Jatayu and Topse on their desert adventure. But Professor Shonku park is indeed different as it takes you to a world beyond this world!