Banaphul adopted pseudonym to hide his creative work from his teachers - GetBengal story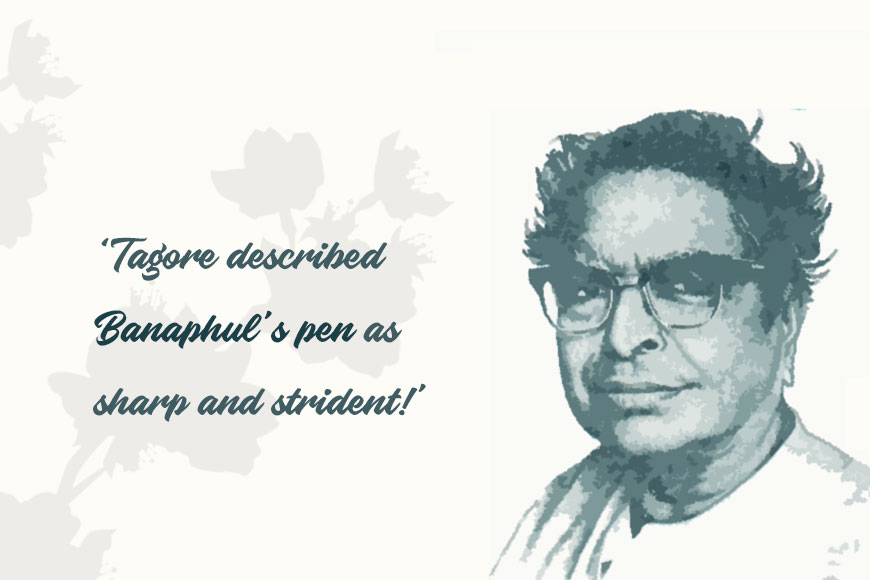 The year was 1914. Balai Chand Mukhopadhyay was studying at Sahebgunj Railway School. One day while in class, he received a summon from the headmaster's office. The news spread like wildfire and all his friends were worried. What had he done? Satya Doctor's son (his father Dr Satyacharan Mukhopadhyay) was not the typical truant, undisciplined boy. In fact, he was a quiet lad who was good in studies and never meddled with the ruffians in school.
Balai Chand went to the headmaster's office with trepidation. His teacher took out a copy of Malancha, a well-known magazine and showed him. That particular issue had published one of his poems. Balai Chand was admonished and his headmaster warned him not to meddle with creative writing now and instead concentrate on his studies. Actually, the headmaster was fond of his intelligent ward and expected him to do very well in his matriculation examination but feared that Balai Chand's literary work might spoil his future academic career.
But by then, the teenager had already committed himself to his Muse. He was publishing a hand-written magazine named Bikash where he was a prolific contributor. But to evade the ire of his teacher, he was forced to adopt a pet name, Banaphul (the wildflower in Bengali) to hide his creative work from his teachers. He passed Matriculation examination in 1918 and completed his study at Hazaribag College. Then he came to Calcutta to study at the Medical College and Hospital.
The boy from Manihari village of Purnia district (now Katihar District), was suddenly taken out of the rustic environment and pushed into the sea and expected to swim. Mukhopadhyay was quick to adopt to the city as this was the mecca of the literary world. His creativity soared and he became a prolific writer, penning novels, poems, plays and short stories simultaneously while continuing his medical studies.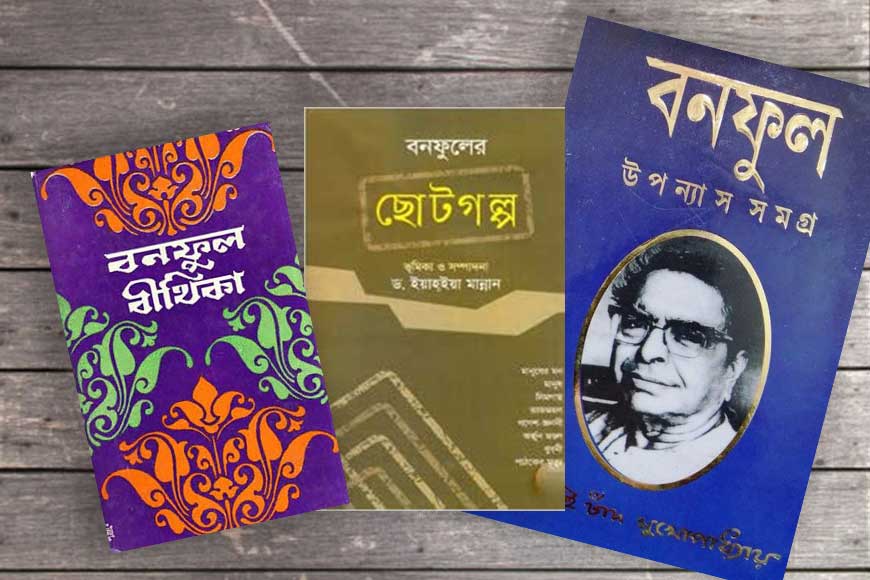 Few of Banaphul's works
Meanwhile, a literary movement was initiated by young writers who wanted to break free from the over-bearing influence of Rabindranath Tagore and introduce to Bengali readers a more pragmatic and dynamic prose that would articulate social conflicts rather than seek only the sublime. Kallol magazine was established in 1923 and it heralded the first conscious literary movements of Bengal. The first World War was over and the alarming consequences of the war had left young writers bereft of ideals. They were going through post-war trauma. Influenced by Marxism and Freudian thoughts, the Kallol writers loudly and boldly protested against a society that refused to change. Young Balai Chand, too, was instinctively drawn into the camp. He began writing prolifically, churning out novels, poems, plays and short stories, representing the neo modernist Bengali literature that started with the famous Kallol movement.
However, the Kallol movement had its own snobberies and promoted a Calcutta-centric intellectual culture and language. Since Banaphul came from a village in Bihar, he was treated as a non-resident Bengali and it was assumed that he was not capable of producing intellectually stimulating enough works in Bengali. In fact, even after Independence, Banaphul was not included in school and college syllabus and continued to remain largely peripheral to the Bengali literature.
His name, Banaphul, thus truly expressed his angst at being shunned by the city. However, he did have a pan India following especially since many of his novels and short stories were made into films both in Hindi and Bengali. The Government of India issued a commemorative stamp in his memory on his 100th birth anniversary. He also received the Padma Bhushan and an honorary doctorate for literature.
Banaphul wrote simple verse telling simple stories without much layering of complex ideas. But he displayed his brilliance as an author in the sphere of short stories. With his foray into the world of short stories, he made a mark in Bengali literature. He wrote his stories really short with snappy tangy punches, piquant and vitriolic, his idea was to demolish the pretentious snobbery of the Bengali city bred elite as being superior in values and morals to the bucolic and rustic people who live in villages or work at the bottom of the rung in cities. He has often been compared to well-known short story writers of the world including Somerset Maugham and Chekhov. His short stories have been one of the best gifts to Bengali literature.

In his novels and stories, commoners, people belonging to low social and economic strata, have been depicted to be one up on the elites, their simplicity, honesty and integrity are shown in a positive way as against the pettiness ruthlessness, deceit and confusion of the moneyed class. With such inversions, Banaphul seems to be a post-modernist who rips through the veneer of the modernist and nationalistic ideology and depicts them as being yet another kind of colonialism. Despite his strong ideological layering, Banaphul's style of presentation remains unique. He raised the Bengali language to a new level of expression. Tagore described Banaphul's pen as spicy, sharp and strident.
Shonibaarer Chithi promoted Banaphul actively as someone who brings in a fresh perspective with a punch. Banaphul does not explore emotions, he is not one to present lofty ideals, nor one with many layered symbolisms who would produce new cultural idioms.
His straight and strident style is nihilistic, annihilating any and every one in a position of moral authority, especially those which flowed from sites of incumbency in social and public institutions. While there have been Tarashankar Bandopadhyay and Manik Bandopadhyay who spoke about the subaltern and their perspective, few, if any could annihilate the institutions of social domination like Banaphul did. He still remains an enigmatic writer, 121 years after his birth. He was born on July 19, 1899.