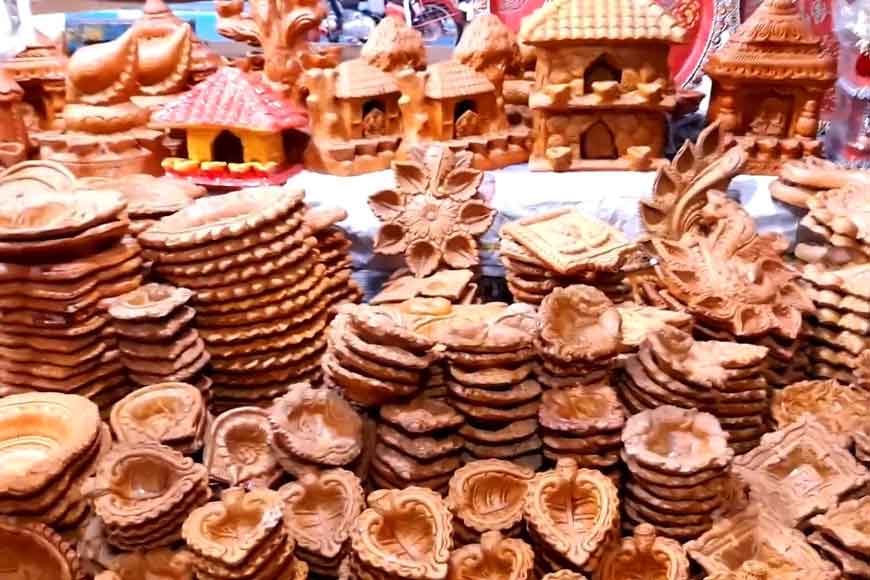 Eco-friendly decorative terracotta lamps
Kali puja or Diwali, the festival of lights, comes as a double whammy for the people of Bengal who grieve after Dashami as Ma Durga leaves for her abode. Among the chants of "Aashche bochor abar hobe" and with tears in their eyes, we look forward to decorating our homes to welcome the Goddess of Shakti. After getting blessings of good fortune from Ma Lakshmi, Bengal starts making preparations by buying different lights, diyas, fairy lights and so on to embrace the festival of lights. One might say that Durga puja is no less when it comes to lighting and decorations but the difference is that, Kali puja is more personal, where not only the locality but each and every house individually participates in spreading light and celebrating in their own ways.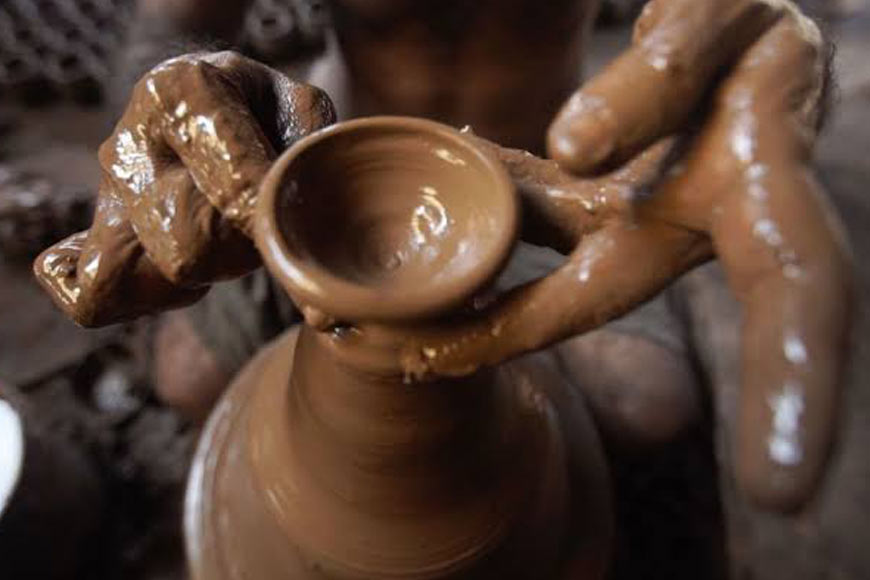 Times have changed and people's choices have also changed with it. Nowadays most people are opting for the Chinese lights that flood the market at this time. Fighting alongside these electric lights are the earthen lamps which once used to dominate the markets of Bengal. The number of people who still prefer earthen lamps has gone down, yet there are many who prefer the earthen diyas. But the competition of earthen lamps with the Chinese lights turns out to be a source of great tension for those people whose livelihoods depend on making earthen lamps that is the local potters.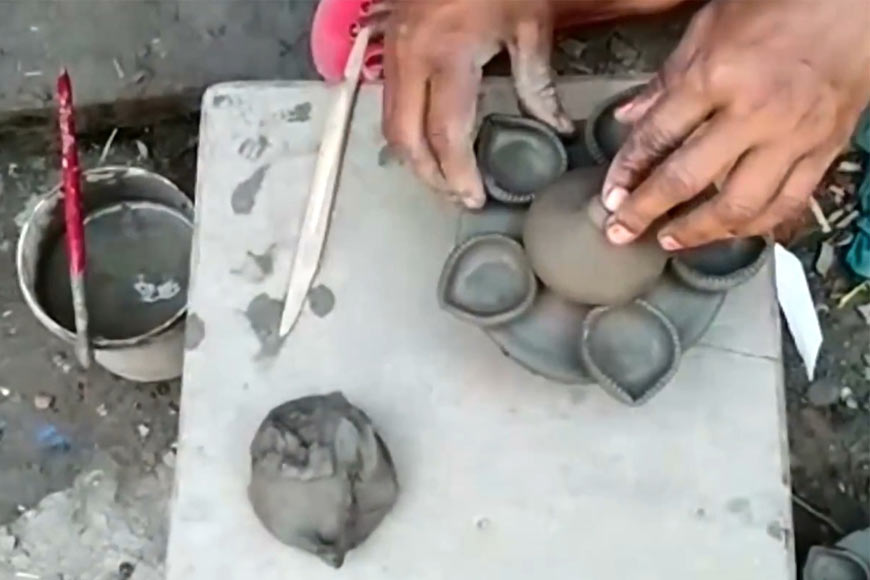 In the bustling markets of Bengal, the clash between traditional earthen lamps and modern Chinese lights is palpable. While the demand for electric lights has skyrocketed, a dedicated group of artisans, numbering around 30 to 35 families in the Dumuria area of West Medinipur district, still continues the age-old tradition of crafting earthen lamps. For them, this craft is not just a livelihood; it is a way of life. Their days leading up to Kali Puja are consumed by the meticulous creation of various earthen products, each piece infused with their dedication and skill. However, the proliferation of Chinese lights poses a significant threat to the existence of these traditional artisans. Bina Jana, a potter from Garbeta block, lamented the drastic decline in earthen lamp sales. She shared, "Earlier, around 30 to 35 thousand earthen lamps were sold, but now the numbers have dropped tremendously. This year, maybe the sales of earthen lamps will fall further. If this continues, we will lose our prime source of income." The anxiety among these artisans is clearly visible as they face the prospect of losing their means of sustenance.

Despite challenges, these artisans hold on to the belief that their craft is an integral part of Bengal's cultural heritage. Earthen lamps with their symbolic representation of light triumphing over darkness, embody spirituality and tradition. The warm and serene ambiance created by these lamps is not just aesthetically pleasing but also conducive to meditation and quiet contemplation. Chanchal Pal, an earthen lamp vendor in Gariahat, expressed his optimism amidst adversity. "The sale of earthen lamps keeps fluctuating every year. Due to COVID, the past two years were rough for us as sales dropped significantly. I hope this year the sale of earthen lamps increases as our family depends on the sales."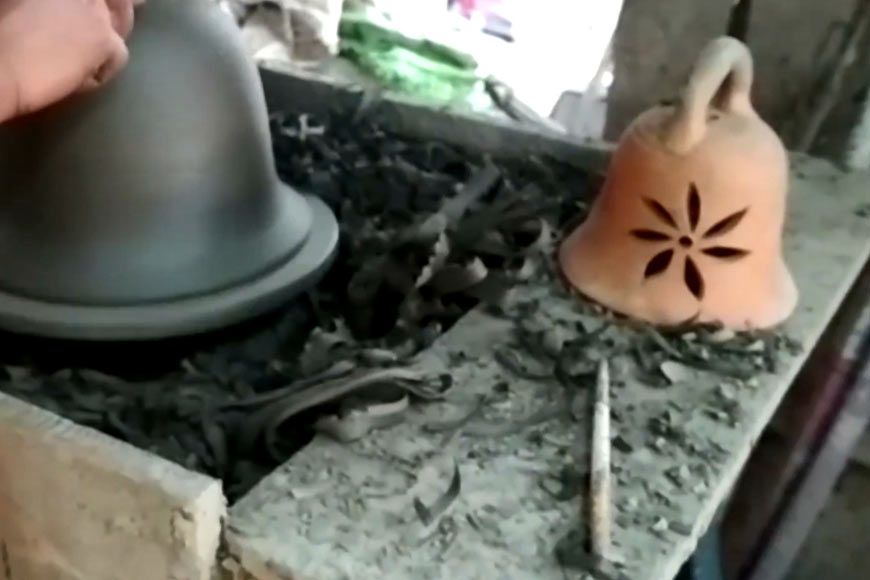 In the heart of North Dhalhara, amidst the uncertainty, the potters continue to shape earthen lamps with unwavering dedication. For them, festivals are not just about illuminating homes; they are about lighting up lives. The joy of these artisans is intricately intertwined with the demand for their creations. When their products find a home in the households celebrating the festival of lights, it brings not just financial relief but also a profound sense of fulfilment. It is a symbiotic relationship where the artisans' craftsmanship enriches the festive experience for families, making the celebration more meaningful and authentic. While some are hopeful that the sales of earthen lamps will increase this year, others still cannot be so sure. The tradition of drawing Alponas or Rangolis still requires these earthen lamps that glimmer amidst the darkness.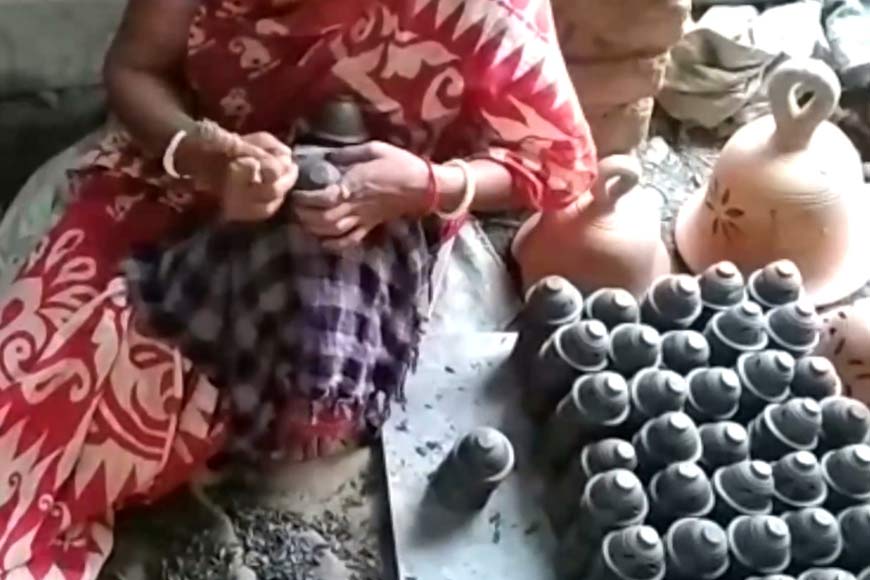 In conclusion, while the allure of modernity may draw some towards the glamour of electric lights, the timeless charm of traditional earthen lamps continues to captivate the hearts of those who appreciate Bengal's rich cultural heritage. As the festival of Kali Puja approaches, let us embrace the warmth of earthen lamps, not just illuminating our homes but also illuminating the lives of those artisans who pour their passion and skill into each creation. By supporting the artisans and choosing tradition over trends, we can ensure that the legacy of earthen lamps perseveres, enriching our festivals with authenticity, culture, and a deep sense of connection.