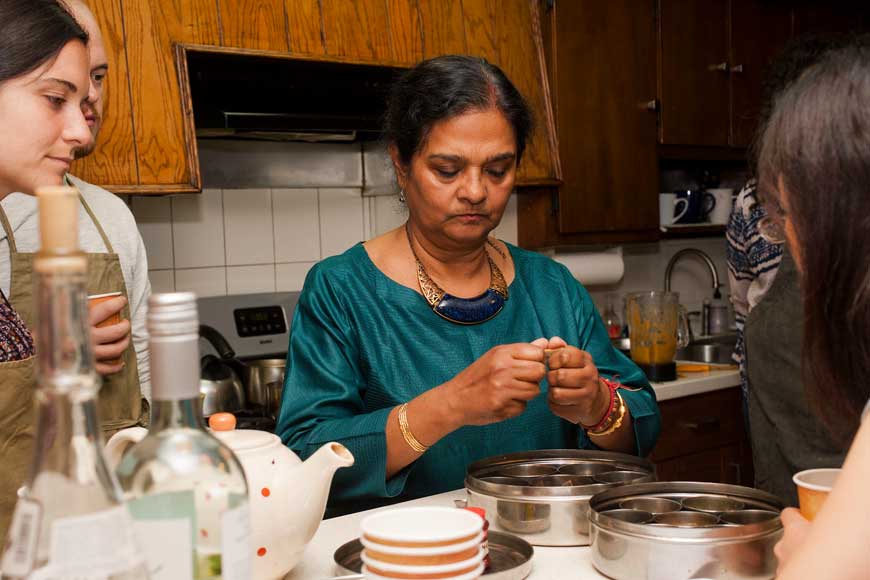 Social activist, teacher, molecular geneticist, Mukti Banerjee wears all these hats. She also believes in a better, healthier lifestyle for all. And actually gives you the tools to achieve it. While not a household name in Bengal, perhaps, she has acquired a fair bit of fame in Brooklyn, New York, where she has made her home. Those of you who browse through blogs and online classes for healthy recipes may have come across muktiskitchen.com, which offers Indian cooking classes in Brooklyn for children, families and adults, at very affordable prices.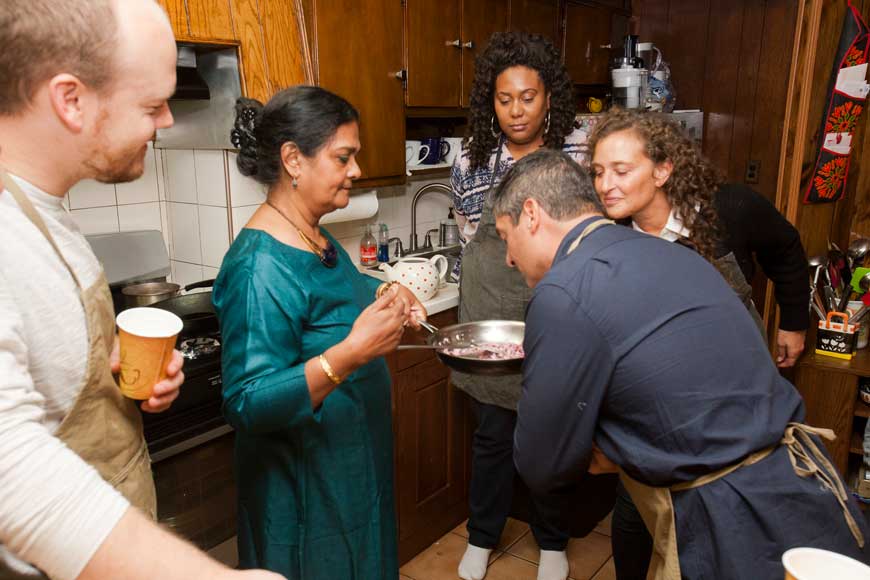 Banerjee, obviously, is the founder of Mukti's Kitchen and teaches healthy yet delicious Indian recipes in her hands-on classes. Having started her venture in 2010, her popularity has grown steadily and she now has a regular stream of American students in her classes. She teaches small batches, and many of her ingredients come straight from the Greenmarket, where she often offers demos. Her classes are fun and interactive and all about the essence of India through "fabulous foods, friendship and conversation". She also customizes her classes according to the needs of participants.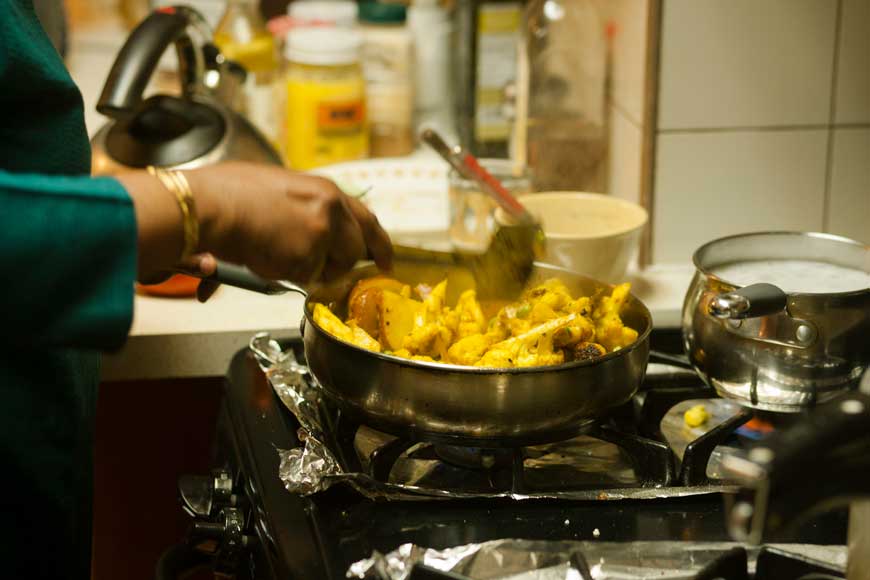 Most of her students seem to be White Americans, who lavish praise on her skills and friendly disposition. Her page overflows with testimonials such as, 'Fantastic class and delicious food! We learned a ton!' or 'Mukti is an amazing chef and teacher, and knows how to handle spices!!!' or, 'I had a wonderful time with my 25-year-old son the other night at Mukti's Kitchen. She's a lovely lady and her food is beyond incredible! There were a bunch of flavorful dishes and each of us got to participate in the cooking which was fun' or 'Mutki's class was beyond my expectations. Not only was it an intimate setting where we received one on one instruction, it was a cultural experience as well. The food we prepared was the tastiest Indian food I've ever had, and now I have some tips for taking my cooking skills to the next level!'
Banerjee laughs as she says, "once a teacher, always a teacher". An only child, she was born and raised in a well-to-do joint family in North Kolkata, going to school at Brahmo Balika Shikshalaya and then to Presidency College for a BSc in Botany, followed by an MSc and PhD from Ballygunge Science College. After her PhD, she joined Thakurpukur Vivekananda College as lecturer and taught there for three years. By now, she was married and her husband Partho Banerjee was teaching at Sundarban Hazi Desarat College in Pathankhali in Gosaba, a nightmarish daily commute from Kolkata.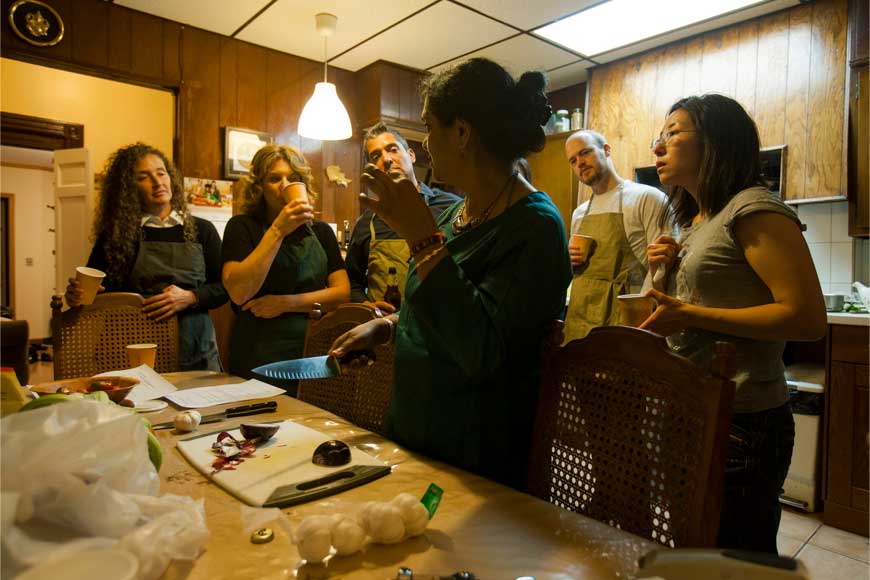 In sheer desperation, he began preparing for the Graduate Record Examination (GRE) and Test of English as a Foreign Language (TOEFL). Not only did he clear the tests with flying colours, but was also offered a scholarship by Illinois State University. He quit his job and left for the US in 1985, and Mukti took a four-year leave from her college to join him in 1986 on a post-doctoral fellowship at the same university. The couple settled in Albany and their daughter was born in 1987. In 1993, Mukti joined the New York State Department of Health and Research and worked there till 2000, after which the family moved to New York City.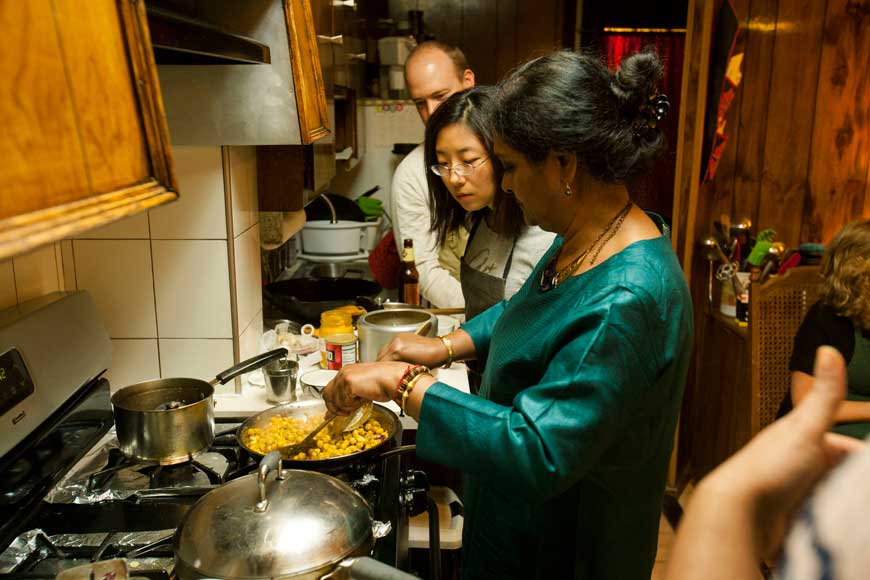 "It was tough, very tough in the beginning. I had a full-time 9 to 5 government job, I was taking care of my school-going daughter and my home and hearth, but I had to carry on because the state health insurance was in my name and both my husband and daughter were registered under me. Giving up my job would have meant that we would lose all health insurance benefits, and you know how expensive everything is in the US," says Banerjee. Once her husband landed a high-paying job, he encouraged Mukti to quit her job and pursue her dream. But the pragmatic Mukti says, "Had I left my job then as my husband insisted, I would not receive a pension, which is given only after a stipulated period of service." So the wait continued until 2006 before she could finally hang up her boots to pursue her dream project.
A joint family where her mother, aunts and grandmother were all fantastic cooks, and her own intuition and eagerness to learn have shaped Mukti into the chef she is today. "I learned to cook from the ladies in my home, including my mother and grandmother. I am a foodie and every time any of my aunts or mother cooked something special, I would be summoned to the kitchen to taste the dish and pass my 'expert' judgment. That's how my palate was trained. I learnt the distinct taste of each spice and how and where they are used, how the layering of spices can add zing and that twist to a ordinary dish to turn it into something unique," she says.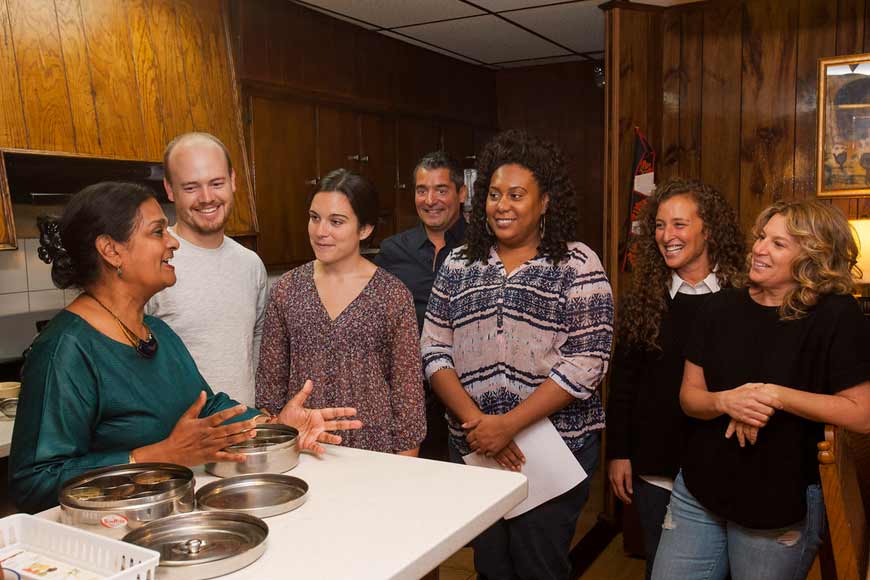 When she decided to start Mukti's Kitchen, she had no idea how to go about it. So she enlisted her idea with meetup.com, which helps upcoming entrepreneurs. She started with a blog, which caught the fancy of Americans enthusiastic about Indian cooking. Initially the students came in small batches, but gradually the numbers increased. About her blog, she writes, "On the blog you'll find the latest updates from my classes and interesting facts about my life as an Indian chef in Brooklyn. I also post recipes of the many dishes I teach in my class. Try them at home and please share your experience in the comments."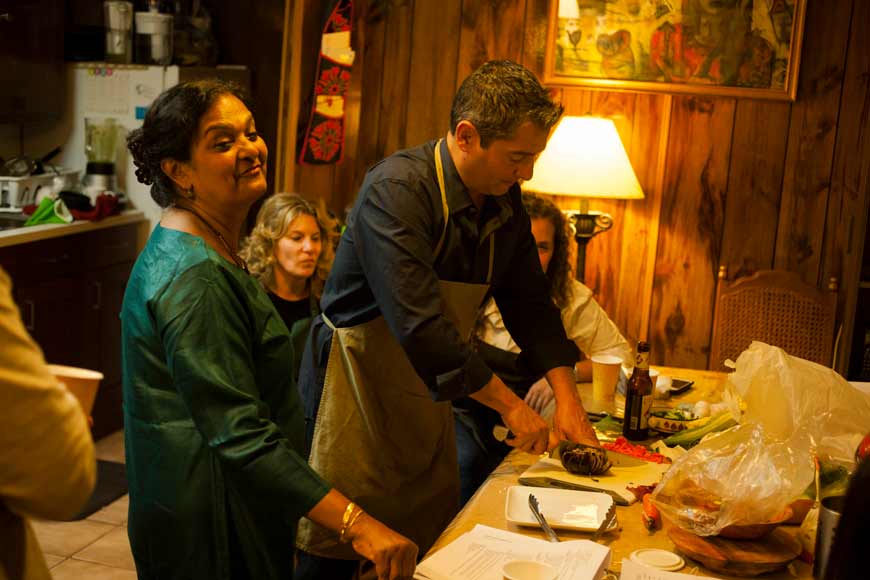 "Before the pandemic, I invited participants to my home and would treat them as family. They would learn multiple authentic Indian recipes in my kitchen. I would be there to give them the necessary information but the actual cooking would be done by them. It was all hands-on learning..." Thanks to Covid, she taught the entire class over Zoom, with three cameras that showed every step of the preparation process.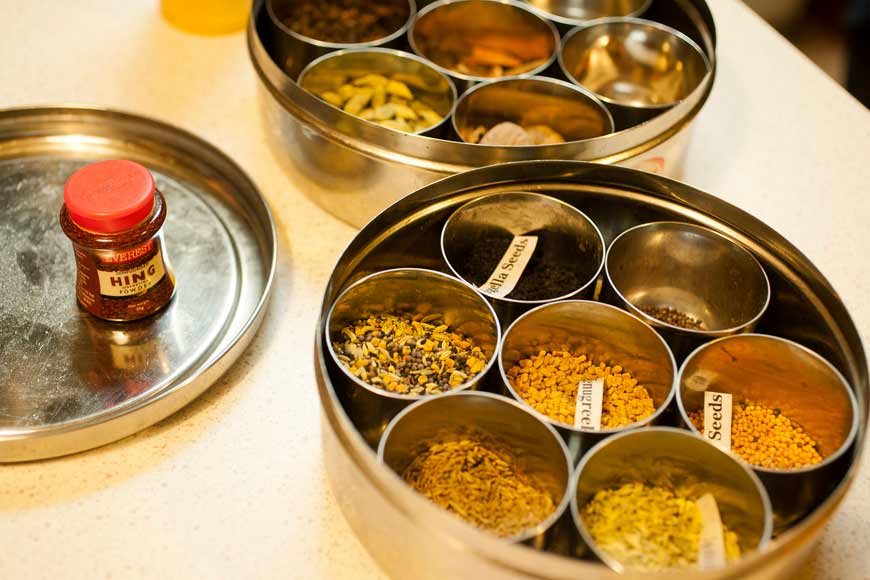 Mukti's Kitchen has been featured on such platforms as Edible Brooklyn, US Magazine, Moms Rising Together blog and Red on Black Production on YouTube. In her blog she writes, "Deep inside, I am a social activist and believe in a better, healthier lifestyle for all… Indian mothers and grandmothers have developed and refined the art of cooking over thousands of years, and I feel I am a direct descendant and heir of their treasures too. When I cook Indian and Bengali food, and when I teach the art of cooking to my students, I feel I am carrying forward the art and the spirituality that my mother, aunts and grandmothers have left with me. I feel blessed to have picked up and mastered their prized craft."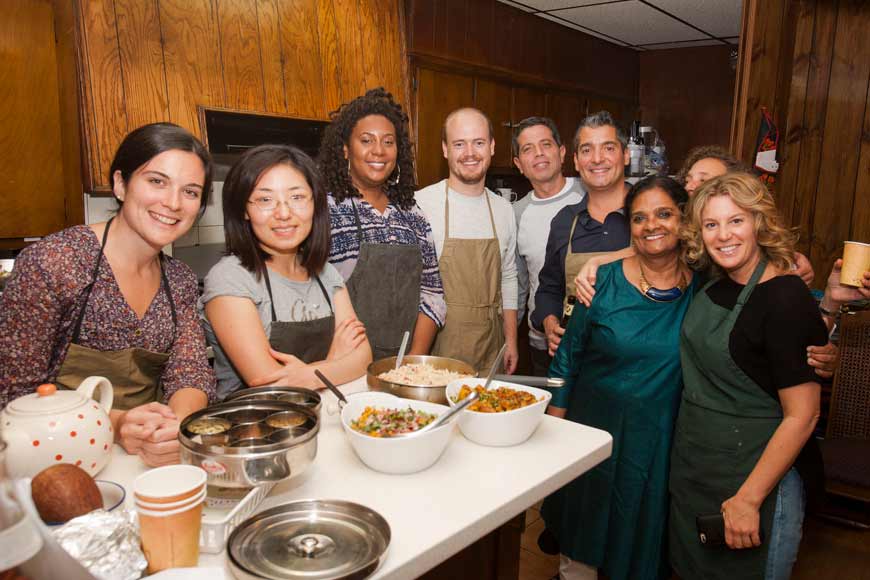 The girl from North Kolkata has become a culinary ambassador, who has taken Indian cooking to the next level and popularised wholesome, healthy home-cooked Indian food among Americans. She now plans to write a comprehensive cookbook. "I am still working on the book and once I complete the project, my mission will be to scout for a publisher willing to take it up."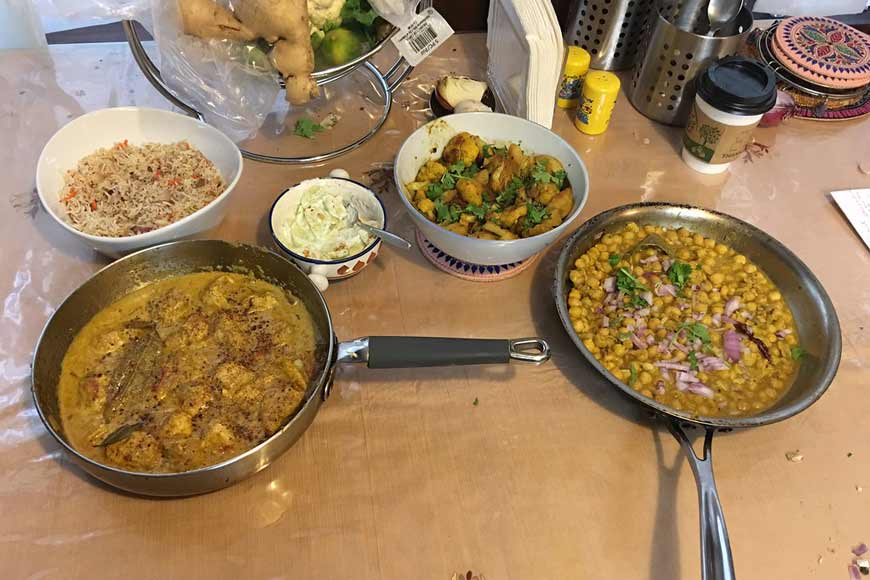 Does she plan to return to India? Mukti smiles and says, "India, and especially Kolkata, are in my heart. My roots are there and I will definitely visit again and again. But now that my daughter is married and settled in the US, I feel an emotional attachment to my adopted country as well and the invisible strings pull me back. I love to cook and my grandchild loves my cooking. This gives me the impetus to continue."