On International Tiger Day, one man reaffirms his mission to save the king of the forest - GetBengal story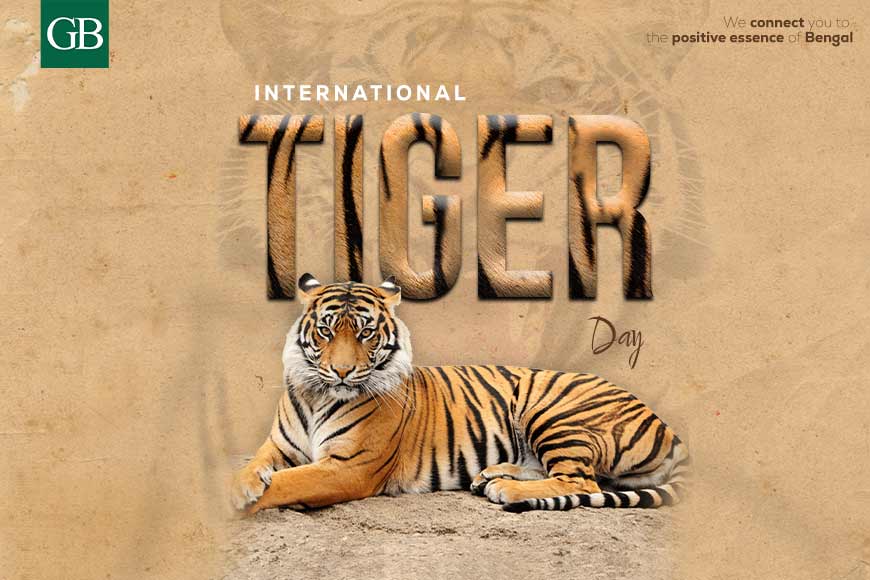 International Tiger Day
As a child vacationing in Sariya (now in Jharkhand) in the 1960s, Biswajit Roy Chowdhury was captivated by Santhal music and the Santhal way of life. Most notably, he was entranced by the wild animals that the Santhals kept as pets, and clearly remembers two tiger cubs they once brought along with them. That childhood fascination grew into an obsession with wildlife, turning the little boy into one of the country's foremost wildlife photographers, who has been roaming India's forests for over 40 years. His treasure trove of photographs contains spectacular images of the country's incredibly rich wildlife, but tigers have remained a lifelong attraction.
On International Tiger Day, observed annually on July 29 to generate awareness about dwindling tiger populations affected by illegal wildlife trade, conflicts with humans, and habitat loss, Roy Chowdhury puts it all in perspective when he points out how at least three tiger species have disappeared off the face of the earth - the Caspian tiger, Bali tiger, and Javan tiger.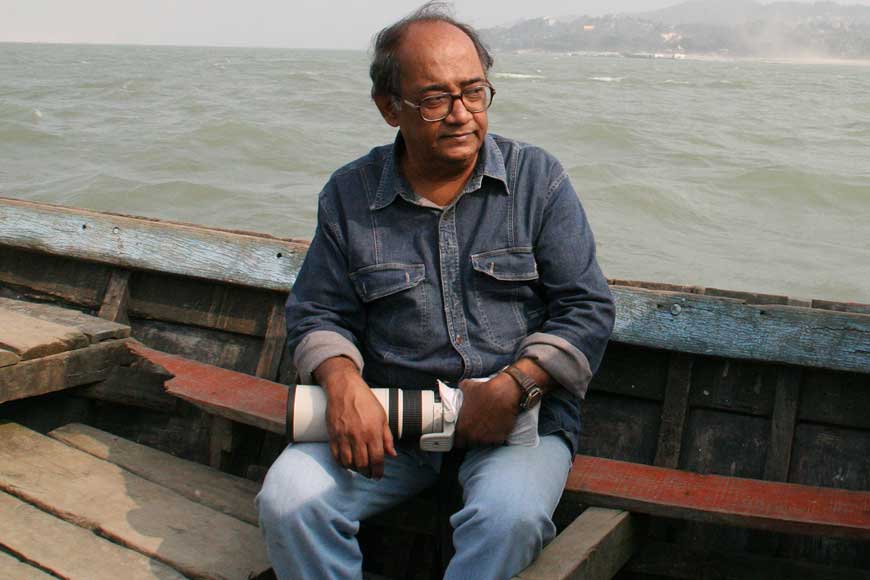 Biswajit Roy Chowdhury, a renowned wildlife photographer
Having begun his career as an amateur photographer in the days before India launched Project Tiger in 1973, Roy Chowdhury says even at the beginning of the 20th century, India still had roughly 60,000 tigers despite the rampant hunting. But by 1972, the tiger population had plummeted to about 1,700. "For example, When George IV came to the throne of England in 1820, he killed 35 tigers in Nepal in just 10 days," says Roy Chowdhury.
After many rises and falls, the population rose to 2,967 in 2018, making up roughly 70 percent of the global tiger population. The percentage remains intact in 2023, as per the latest tiger census, which shows that India is now home to 3,167 tigers, making it a relatively happy 50th anniversary year for Project Tiger.
"I first went to Kanha in 1977, when very few people had heard of it. But it was one of the first tiger reserves in India," Roy Chowdhury says. Indeed, Bandipur (Karnataka), Corbett (Uttarakhand), Kanha (Madhya Pradesh), Manas (Assam), Melghat (Maharashtra), Palamau (Jharkhand), Ranthambore (Rajasthan), Similipal (Odisha), and Sundarbans (West Bengal) were the pioneering reserves that Project Tiger started off with in 1973-74.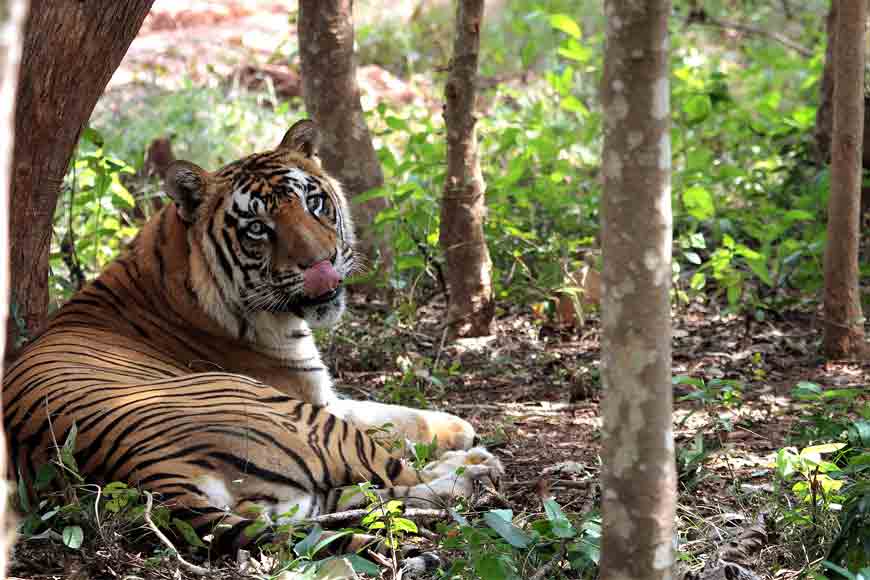 At Kaziranga
Of these, the Sundarbans are unique in the sense that they have a natural boundary, the river, which makes poaching comparatively difficult. "British conservationist Peter Jackson had once said that if the tiger was to survive anywhere in the world, it would be in the Sundarbans. Killing a tiger, and then going off with it undetected, is very tough to do here," says Roy Chowdhury. As of 2022, nearly 100 tigers call the Sundarbans home.
Other challenges remain however, such as the terrain itself, and prey. Is it true that the Sundarbans are home to possibly the world's only crab-eating tigers? "The muddy, slippery, slushy terrain means that when the tide subsides, the mud is chest deep. A tiger has to navigate waterways full of crocodiles in search of food. I myself have also seen huge King Cobras swimming in the river on at least three occasions," Roy Chowdhury says. "I have photographed a tiger climbing out of the water, waist-deep in mud. Even on solid ground, it has to contend with pneumatophores (aerial roots), which stick up in the air like iron rods."
In the Sundarbans, a tiger's chief prey would be deer and wild boar, but while a tiger's physical strength is beyond question, what it lacks is speed. "Both deer and boar are quicker than a tiger, so hunting is a huge challenge. In such a situation, crabs and large fish stuck in the mud during low tide are easy prey for a tiger which may not have eaten for up to 10 days," says Roy Chowdhury.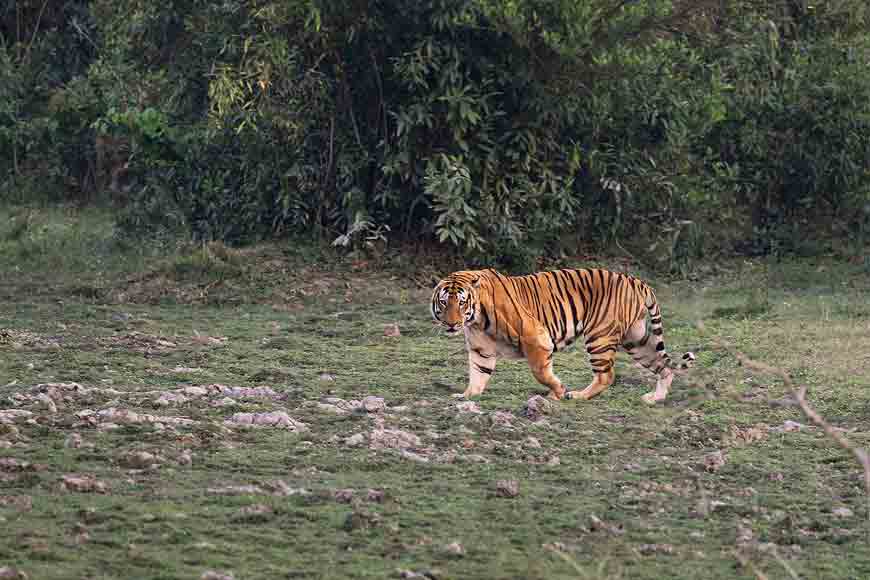 Prince of Bandhavgarh
And what about human prey? After all, the Royal Bengal tiger of the Sundarbans has acquired quite a reputation as a man eater. Roy Chowdhury disagrees. He firmly believes the Sundarban tigers are not habitual man eaters. "Humans are just one option when it comes to relatively easy prey. There have been countless instances of tigers entering villages to hunt domestic animals, even ducks and hens, but leaving humans sleeping in the open completely alone. And many attacks on humans inside the core forest area are simply territorial. If you read the stories of actual man-eaters by Jim Corbett or Kenneth Anderson, you will see how a single tiger can kill hundreds of people. There is no such instance in the Sundarbans. The stigma of man-eater is absolutely wrong."

After all these years of photographing tigers all over the country, what still keeps him interested? "Such a vibrant, intelligent animal," says Roy Chowdhury. "Such emotion in its eyes. One of the largest tigers I have seen also had the most expressive eyes I have ever seen. When he looked into my camera, it seemed as though he would speak at any moment."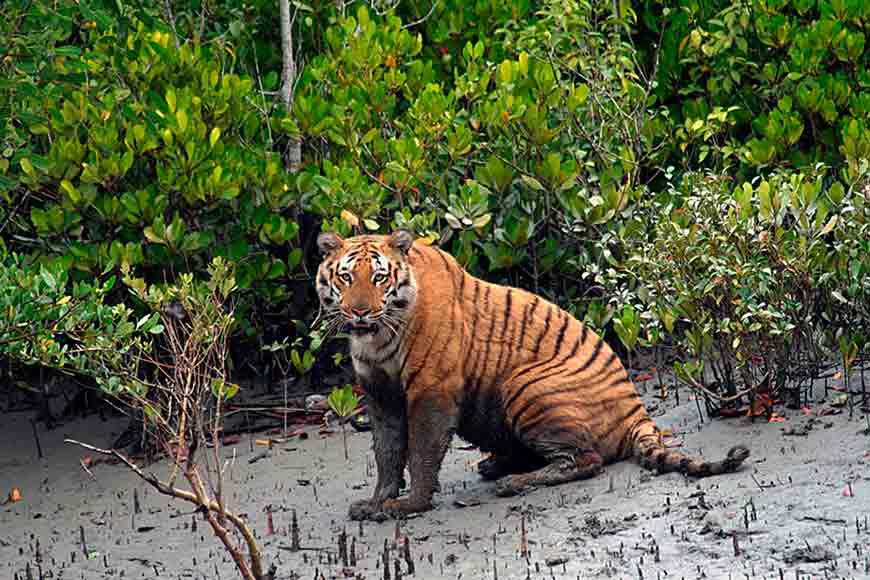 Sundarban Tiger
Roy Chowdhury has also experienced the terror of a charging tiger at Kanha, but says there is always a reason behind its anger, and the intention is not simply to kill and eat. "The last tiger I saw in the Sundarbans before the lockdown last year was frolicking in the mud, totally ignoring my presence. It was as though he was posing," he laughs.
Roy Chowdhury will keep photographing tigers for as long as he can. "Everything about them attracts me," he says. On International Tiger Day, these are good words to remember.
Biswajit Roy Chowdhury is Founder-Secretary, Nature Environment & Wildlife Society (NEWS); Member, State Wildlife Board; Senior Fellow, Ministry of Culture, Govt. of India; Member INC-IUCN; Editor, ENVIRON magazine