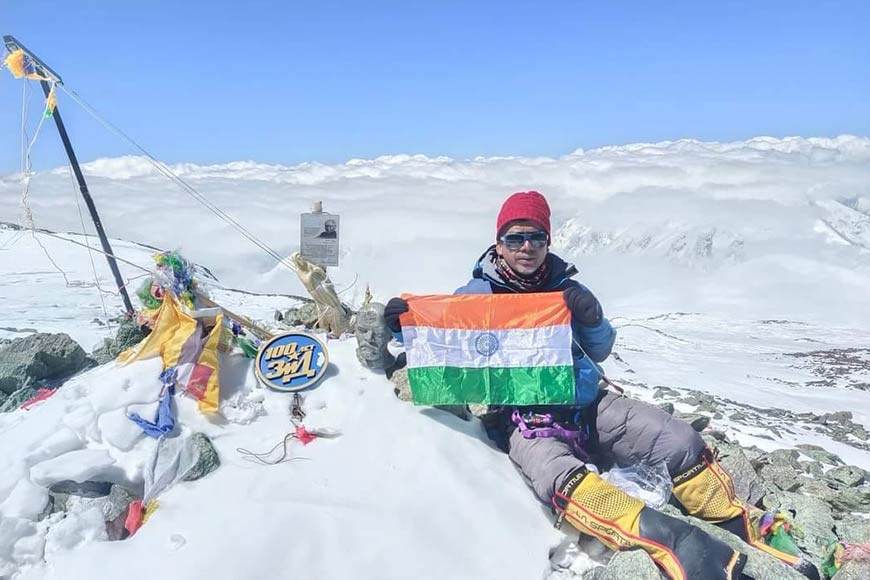 Mountaineer Debasis Biswas
Russian-Kazakhstani mountaineer Anatoli Boukreev had once said, "Mountains are not stadiums where I satisfy my ambition to achieve, they are the cathedrals where I practice my religion." What compels mountaineers to risk everything and summit dangerous peaks like Mount Everest, they do not have any concrete answer. Take for instance, veteran mountaineer Debasis Biswas, who has summitted more than 36 peaks in his three-decade long career, has recently returned after scaling the 'roof of the earth', Mount Lenin (23,406 ft), the second highest peak in the Trans-Alai Range. He has been there and seen it all and yet, his indomitable spirit is raring to go for more adventure.
The Trans-Alai is located in the area where the Pamirs and the Tian Shan come together in central Asia. This heavily glaciated range forms the border between Gorno-Badakshan region in Tajikistan and Osh Region, Kyrgyzstan, stretching eastwards until the border with China. To the north lies the Alay Valley and to the south, the River Muksu. Biswas is the first Bengali to climb solo atop Mount Lenin. He was part of a five-member team comprising Moloy Mukherjee, Sourav Sinchan Mondal, Abhijit Roy, and Kiran Patra, who went on a month-long expedition of Kyrgyzstan that included exploring the country, meeting and interacting with locals, tracing the long history and culture of the land and scaling six peaks located in the Pamir region. Biswas and his team planned to undertake the trip to Kyrgyzstan to explore the land but when the mountains beckon, can the summiteers disregard the call? When the five explorers landed at Bishkek, capital of Kyrgyzstan, they moved to Ala Archa National Park and on June 29, started ascending Mt. Uchitel. They reached Uchitel peak (14928 ft) at 11 am. This was the first time that a group of Indian mountaineers peaked Mt. Uchitel.
Their next destination was Karakol Base Camp from where they targeted to scale a couple of peaks in that area. On July 3, they successfully climbed Mt. 30 Let Vlksm (4084 meters/13 399ft). They re-christened the mountain 'Mount Unity' and Mt. Przhevalsky Peak (4272 meters /14016 ft) in the second Pamir expedition. They re-named Mt. Przhevalsky as Mt. Vivek (in honour of the great explorer Swami Vivekananda). Mt. Przhevalsky climb was fraught with dangers including inclement weather, a turbulent Karakol River that they had to cross amid torrential rain and hailstorm to reach the other bank where the mountain was located. After scaling Mt. 30 Let Vlksm and Mt. Przhevalsky, Biswas and his teammates were all set to summit Lenin Peak (23406 ft). They were all the more keen for this expedition because earlier, in August 2016, well-known mountaineer Anindya Mukherjee, along with his Australian friend Athol Jake Preston, went on Mount Lenin expedition approaching through the north-west ridge of the Pamirs. However, they had to terminate the mission midway due to foul weather and heavy snowfall.
On Monday, July 10, the team reached the Base camp of Mt. Lenin. The next day, the mountaineers headed for Camp 2 but Sourav Sinchan Mondal fell severely ill barely 200 metres before reaching Camp-2 and he had to be rescued and rushed to the Base camp. From there he was shifted to the nearest hospital for treatment. The remaining four members of the team advanced to Camp 3 on July 13. They climbed Mt. Razdelnaya peak (6,148-meter altitude) and returned to Camp 3. The four were scheduled to climb the final summit of Mount Lenin that night. However, due to tempestuous weather, only Biswas and Mukherjee decided to scale the summit, while others stayed in the camp. Mukherjee went some distance but then headed back to the camp due to fast deteriorating weather. Biswas was confident he would make it despite the blizzard and avalanches and continued climbing. On the morning of July 14, he finally made it to the top of Mt. Lenin.
When Biswas was asked, what compels him to climb high mountains fraught with dangers and unpredictability of nature, the sprightly Assistant Commissioner of Income Tax Department, took a pause. He did not say he did it for fame or glory. Instead, he talked about the passion and friendship of the sport. Mountain climbing for him and other mountaineers as well, is the right combination of being in the mountains, the friendship one creates out of it and one's personal experience — physically and intellectually. Scaling heights is the most rewarding thing he believes as it challenges him and others in the same fraternity to find untapped reserves of strength and resourcefulness. It also takes them to places of incredible beauty. Climbing can be tough, but it is the most rewarding thing in life.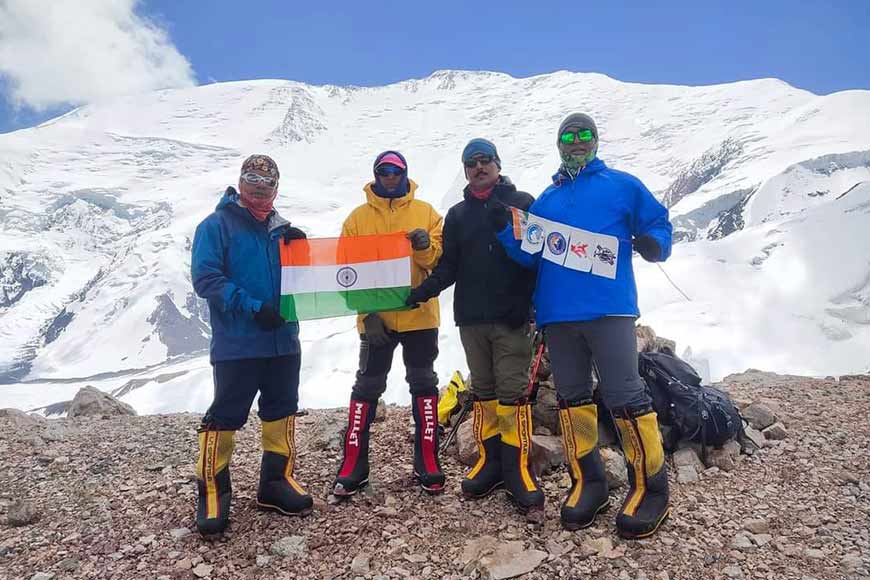 Biswas' love affair with the mountains began back in the early 1990s when he was barely 20 years old. In 1992 he trekked to the Jongri - Goecha-la region of Sikkim when in college and the following year he trekked to the hills and jungles of Panchalingeshwar in Odisha. Galvanized by the stimulation, he joined a basic rock-climbing course in 1994 conducted by the Mountaineers Association of Krishnagar (MAK) at Shushunia Hills in Bankura district. This was just the beginning of his lifelong romance with mountains. He concentrated on honing his skills and joined various courses and summer camps, adventure camps etc. He later undertook training in both Low Altitude Trek and High Altitude Trek. In 1997, he headed to Nehru Institute of Mountaineering, Uttarkashi for his basic mountaineering course. He was a student of the 144th batch there and obtained 'A' grade after completion of training. In 2006, he did the Advanced Mountaineering course from the same institute securing 'A' grade in this course. Between 1997 and 2007, Biswas had peaked mountain ranges like Mt. Kamet (24557 meters), Mt. Chowkhamba (23430 meters), Mt. Nandakot (22510 meters), Mt. Shiva (20145), Mt. Shivling (21467 meters) and many more. In 2013, Biswas completed the basic ski course from Atal Bihari Vajpayee Institute of Mountaineering and Allied Sports, Manali with flying colours again, obtaining 'A' grade from the institute.
Biswas achieved the ultimate mountaineering feat by scaling the world's highest peak, Mt. Everest (8848 meters) in May 2010. He along with Basanta Singha Roy became the first civilian duo from the state to reach the summit. With each conquest, Biswas has been raising the bar for himself and says he is his own critic and challenger. With the conquest of Mt. Everest, his ultimate dream became a reality. In the next few years, he focused on climbing mountains which are above 8000 meters in the Himalayas. In May 2011, he scaled the world's third highest mountain, Mt. Kanchenjunga (8586 meters). One after the other followed and he went on a conquering spree, climbing Mt. Annapurna (in April 2012), Mt. Makalu (in May 2014) and Mt. Manaslu (in October 2015). His attempts to scale Mt. Dhaulagiri (in 2013) and Mt Chou Oyu (in 2015) had to be aborted due to severe snow storms and earthquakes. Three team members died in the Dhaulagiri expedition.
Biswas is a Deputy Commissioner of Income Tax and is a recipient of several prestigious awards and trophies including Tenzing Norgay National Adventure Award (Arjuna in Mountaineering), Special Award from Central Revenue Sports and Cultural Board, Indian Mountaineering Foundation Gold Medal (highest award in mountaineering) and Kolkata Shree by Kolkata Corporation. The number of awards keeps increasing with each passing year. He has been awarded the Honorary Doctorate in Youth Development from St. Mother Theresa University for his outstanding and inspiring work. Biswas also dabbles with the pen and has already authored several books on mountaineering expeditions, which have been very well received by readers.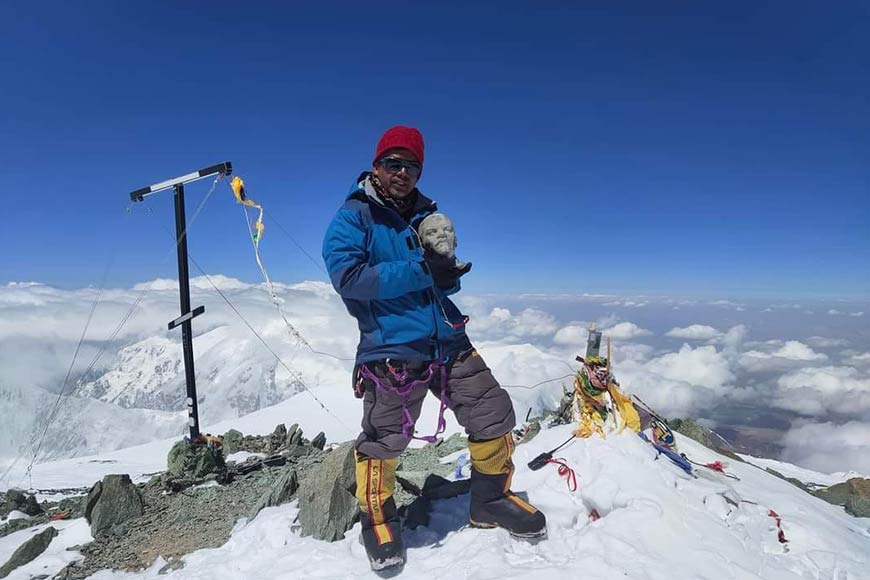 Biswas has been involved in various projects to encourage youngsters to join and enjoy the thrill of adventure sports. He is a member of the Governing Body of West Bengal Mountaineering and Adventure Sports Foundation, a wing of the Department of Youth Services and Sports, West Bengal. He is also associated with several clubs that organize adventure sports like rock climbing, trekking, mountaineering etc. where experts like him train enthusiastic youths and prepare them to participate in these sporting events. He has personally taken the initiative and set up Aarohan Trust that is involved in various social and cultural projects. The Aarohan Wanderlust wing inspires mountaineers and organizes training camps and sponsors candidates for various expeditions. It is an open forum where anyone can join. The trust also confers Utkarsha Aarohan Sharad Samman to the Best Durga Puja annually, as well as archives different folk festivals under the banner of Utkarsha Aarohan. Ichchharohan is another charitable wing that works in the social sector for the welfare of the needy. Volunteers of this wing have also been to the interiors of the Sunderbans to help the local farmers and others affected by the vagaries of nature.
Mountaineer, explorer, and philanthropist Sir Edmund Hillary had once said, "It is not the mountain we conquer but ourselves." Biswas knows that because each time he prepares for a new ascent, he is well aware it is a death-defying battle with the raging forces of nature. It is always a solo war, where a climber has to fight his inner demons and the perilousness of nature and at the end, one either conquers or perishes. Biswas knows the rules of the game well and he is a born winner.