Sourindro Mohan Tagore of Pathuriaghata was the Father of Fusion Music & fusion instruments!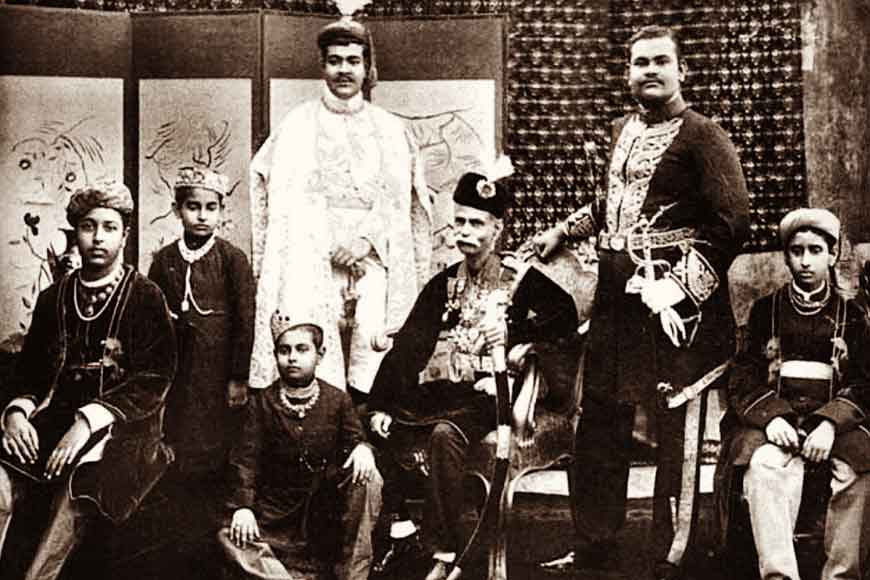 If we talk of fusion music today, Sourindro Mohun Tagore spoke of hybrid musical instruments long back in the 19th century. Instruments which had both features of Indian and Western traditions, such as the sitar and violin. His incredible knowledge on Hindustani classical music was an asset to the music world. He started the system of notation in Hindustani Music. S.M. Tagore founded the Bengal Music School and the Bengal Academy of Music. He became an eminent Indian musicologist, educator, and patron of music. His self-published songs praising Queen Victoria and the Viceroy of India were the talk of the town. He was trained in Hindustani classical music, played piano and discussed Western music theory.
Popularly known as Raja, a title given to the Tagores of Pathuriaghata, Raja Sourindro Mohun Tagore (1840–1914) was the younger brother of Maharaja Bahadur Sir Jatindra Mohan Tagore (1831–1908) and was the son of the illustrious Hara Kumar Tagore (1798–1858). He lived at a time when Bengal was culturally fluid, creatively active and charged politically. In the late 19th century with booming global trade, Bengali elites were privileged to have traders from across the globe at their doorstep and interculturalism was just a part of life. It was this period which is often referred to as the 'Bengali Renaissance.' S.M. Tagore was a well-known philanthropist, polymath with expertise in theatre, literature, gemology and history amongst many and cultural elite.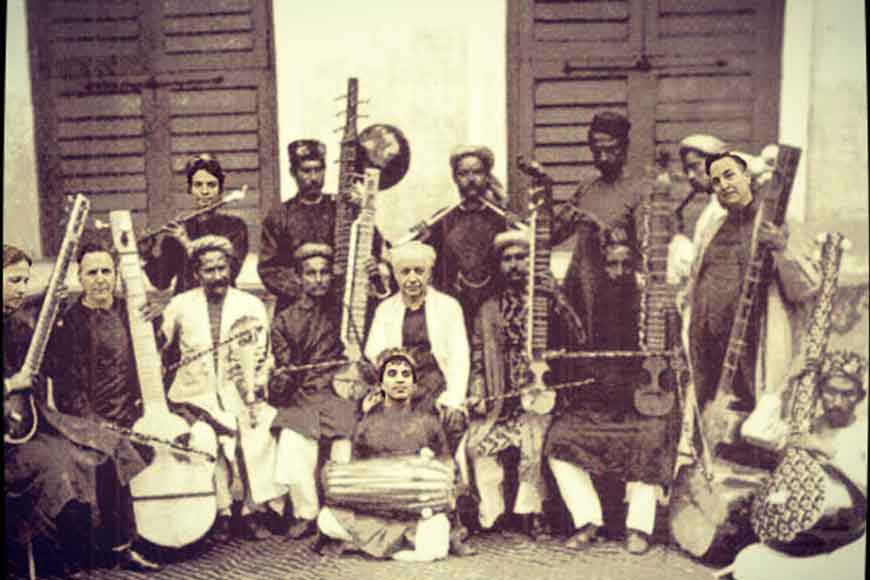 Imagine him publishing sixty-eight works on a variety of topics including valuable publications on Hindustani music. He had a unique aim --- to establish a global connection between Indian and Western musical traditions. During his time, many travellers visiting India, including Asian and European royalties were hosted in his palatial mansion. They all loved his interest in music and was proud of his collection of Indian instruments. In his pioneering efforts to promote Hindustani music around the world, Sourindro Mohan Tagore personally funded and sent collections of musical instruments (both traditional instruments and those he himself designed and commissioned) to different institutions across the globe. For many of these institutions—including Oxford (where the collection is now at the Pitt Rivers Museum), UK, the Metropolitan Museum, USA or Tokyo National Museum, Japan. His collection reached Brussels, Tokyo, Peking, where his generosity is still appreciated.
Among the most notable ones he sent were in 1876 to King Leopold II of Belgium; it formed the nucleus of the Musée Instrumental du Conservatoire Royale de Musique, which immediately became, and remains, one of the world's best museum collections of instruments. Next he donated three instruments to the Japanese Emperor. In 1879, the Raja sent a collection of Indian instruments to USA President Rutherford B. Hayes. His work was recognized by honors and decorations throughout the world—from Venezuela, to the Kingdom of Hawaii, to China, the United States and Persia.
In 1877, when Queen Victoria became the Empress of India, he was commissioned to set Indian translations of God Save the Queen to Indian tunes. He also set some poems by Lord Lytton to Indian tunes in A Few Lyrics of Owen Meredith Set to Hindu Music, with Added Words and Signs Noting the Two-Part Form of the Tune in Hindustani Music and a Tal Pattern. Not just the Western literature and music, among his published works was a translation of Kalidasa's Malavikagnimitra.
Famous music lovers from across the globe came to him in Kolkata. One such guest was the 18th American President, General Ulysses S Grant (1822–1885). In 1883, he was asked to serve as a Commissioner for India for the Foreign Exhibition in Boston. At that time , for the Boston Exhibition, Tagore made a collection of fifty musical instruments (as well as 150 books and other objects), which he specifically designated to be sent to the new Smithsonian Institution in Washington, D.C. after the Boston Exhibition closed. The collection was transported from Boston in 1884 by Edwin H. Hawley, whose career at the Smithsonian lasted until his death in 1919.
In the late 1870s, SM Tagore sent a collection of books, scores and musical instruments from Kolkata to Melbourne. They were gifts for the opening of the Melbourne Exhibition Buildings. This was the first ever recorded history of musical instrument of Indian origin to be sent to Australia from Bengal, India. The books and musical scores from SM Tagore are now part of the Victorian State Library's collection. The Melbourne collection is now housed in the Music Archives of Monash University (MAMU). This innovative collection that reflects the spirit of the times and string connection between Bengal and Australia. His connect with Australia was deep-seated. The Melbourne Philharmonic society on behalf of the International Exhibition (1880-81) were the recipients of his generosity, and in return awarded Tagore with an honorary life long membership of the society. No wonder, in 2014, on his centenary anniversary, Melbourne celebrated the remarkable life of S.M. Tagore.
A concert was organized by Dr Adrian McNeil and music from Bengal performed with a contemporary mix of Indian and Western instruments. Dr Adrian McNeil has put together an exciting and unique musical ensemble which will bring this music to life through emotionally charged virtuosic interpretations of a selection of these beautiful raga based tunes, for the first time since the 19th century. Amongst the eight books that S.M. Tagore sent to Melbourne, now in the SLV's collection is Fifty Tunes, composed and set to music (Calcutta: I.C. Bose & Co. 1878). It is from this book that the tunes for celebration were taken. The Melbourne celebration was great to revisit Raja S M Tagore's music, to rediscover this largely unknown connection between Melbourne and Calcutta and to strength the bilateral relationship between Australia and India through music.
Story Tag:
Tagore, Music, Instruments