Trees growing from disposed 'rakhis' – a Gach Green Hands Social Welfare Trust initiative – GetBengal story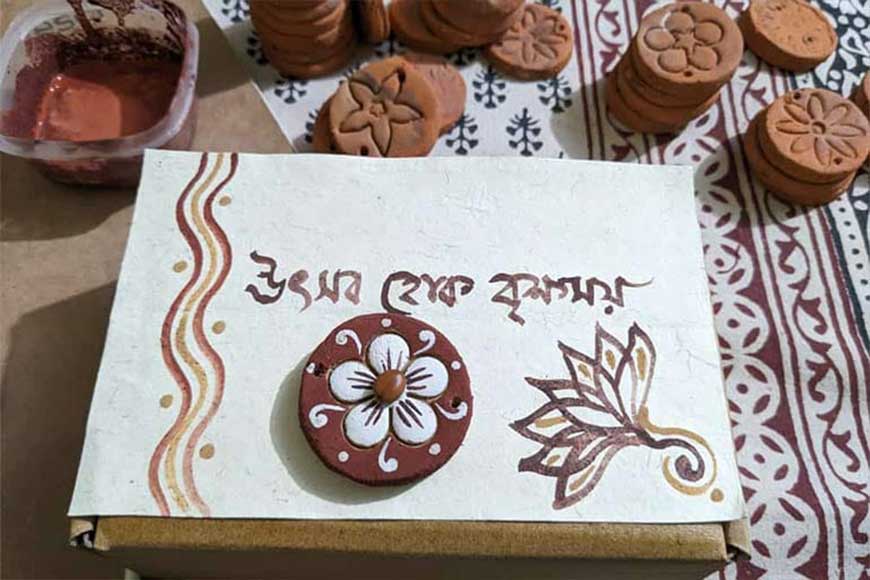 Trees are the oldest friends of humans; human civilization itself thrived upon the fruits, flowers, shade, and other offerings that trees provided. In recent times, as humans are deviating away from the greenery and getting involved in the machinery-dominated world, the cries of nature seem to echo all around. There are a number of nature enthusiasts who have come forward on their own, struggling to impart awareness among the masses. One group among them consists of a few kids, whose lives are intertwined with those of the trees. Their days and nights revolve around trees, thanks to the Gach Green Hands Social Welfare Trust, an initiative by Angshuman Thakur.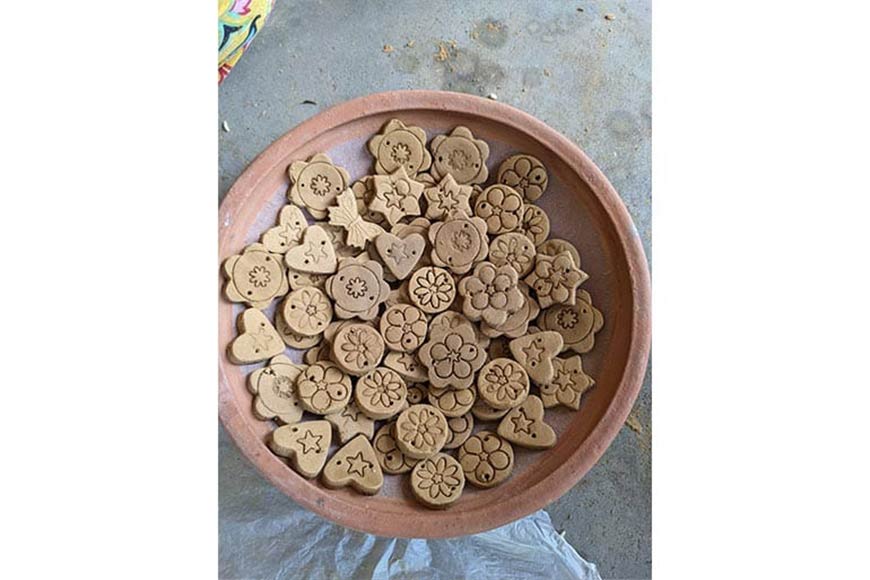 Clay rakhis
Shamlapur is a tiny tribal village in the heart of Farakka, Murshidabad. Every day here is a celebration of trees, nature, and people who love immersing themselves in greenery. Just like 'Anirban Gacher School', creating rakhis with clay, mud, and plant seeds, is also a byproduct of this celebration. Angshuman Thakur tells GB, "We have established a school under the open sky named Anirban Gacher School. Here, approximately 80 tribal children receive education for free, that too amidst nature." Issues like nature conservation, wildlife conservation, creating awareness among locals, tree plantations, setting up self-help groups with tribal women, and running an open-air school are all what their initiatives consist of. "We wanted to invoke consciousness about nature conservation among children from the very beginning of their lives. That was what made us establish this open-air school. Tribal youth play the part of teachers here, also, three of the teachers come from outside." says Thakur.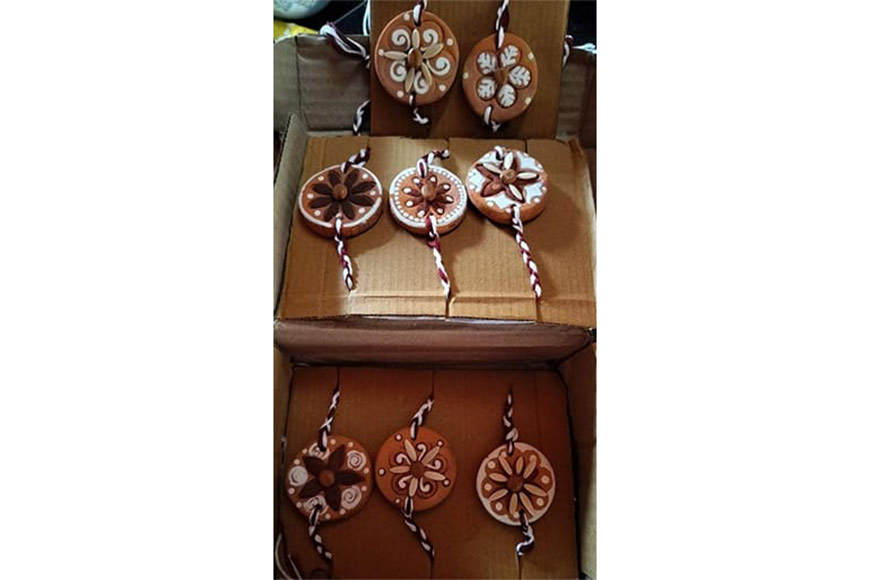 Terracotta rakhis
These people have been making rakhis out of soil and terracotta for the last two or three years. Thakur explained, "We started our institute by planting 50 trees on 5th June, 2019. We even distributed a number of different fruit trees to the locals. Our aim was to make people aware of the contribution of nature in our daily lives and to engage them in our initiative. To ensure it further, we started creating rakhis out of clay and seeds."
The process starts with gathering the perfect soil for the endeavour. Being close to Jharkhand, one gets to see several types of coarse soil of red, blackish, yellowish, or whitish hues. The soil, along with stones, is ground to derive colours. These colours are used to paint the rakhis. The rakhis are made using a specific kind of soil that is whitish in colour and could be found especially during the monsoons. This soil has a minimum to no grains, which makes it the first choice for this task. After collection, the soil is strained with a sieve and thoroughly mixed with grain-free rice husk. They have made us of hands to create rakhis in previous years, but this year they are up with minutely designed molds to curate the rakhis with perfection. The rakhis are then dried and finally tied with threads on both sides. The threads are purchased from the market as of now because the infrastructure here does not support producing threads on their own. However, they make sure to purchase cotton threads rather than synthetic ones.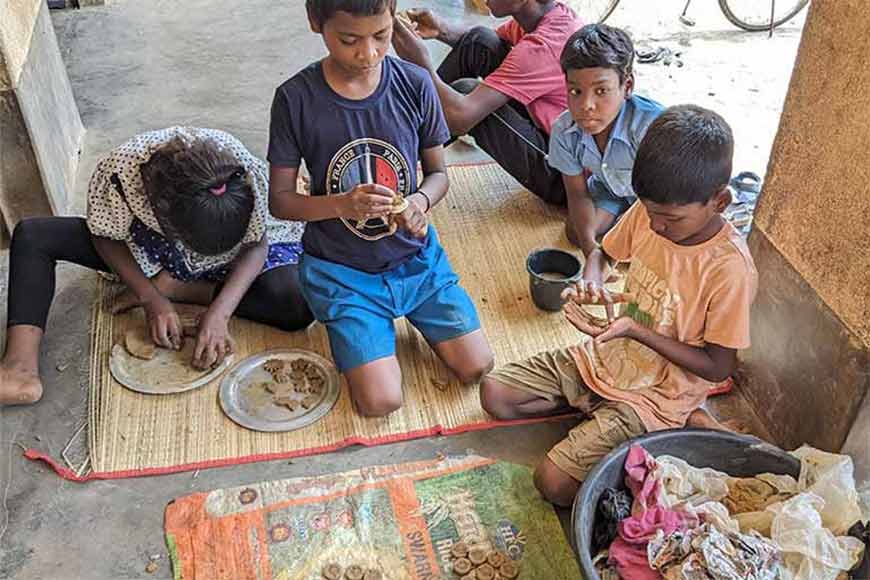 What makes these rakhis stand out is that seeds from various trees are attached to each rakhi. Angshuman Thakur says, "People wear rakhis for only one day. Then they either keep them aside or throw them away. We make sure that the thrown-away rakhis benefit nature by helping to grow trees. The synthetic and plastic-made rakhis that are easily available on the market are not biodegradable by any means and are harmful to nature." Many people love to collect rakhis. So this year, along with clay-made rakhis, Angshuman and his group have also created terracotta rakhis that can be preserved for a longer time. The efficient local potters help in the creation of terracotta. The children help in collecting the soil, whereas tribal women make the bodies of the rakhis.
"While staying in Shantiniketan, I have learned a lot of techniques from 'alpona' artist Sudhiranjan Mukhopadhyay. I use the same ones while making the rakhis. Finally, seeds are attached to each rakhi. Last year, we opted for paddy seeds. This year we are attaching amaltash seeds to the soil-made ones and cucumber seeds to the terracotta rakhis," says Thakur.
When Thakur came up with this unique idea, most people were doubtful about its market acceptance. But proving them wrong, these soil-made rakhis have created quite a stir, and this in turn has inspired the people engaged in their making. The Rakhibandhan Utsab is celebrated mostly by brothers and sisters nowadays, although it was started in the first place by Rabindranath Tagore, as a protest against the Bengal Partition. The motto of the celebration was to establish brotherhood irrespective of caste, creed, race, and gender. This initiative by Angshuman and his team hopes to manifest a bond not only between humans but also between humans and Mother Nature.