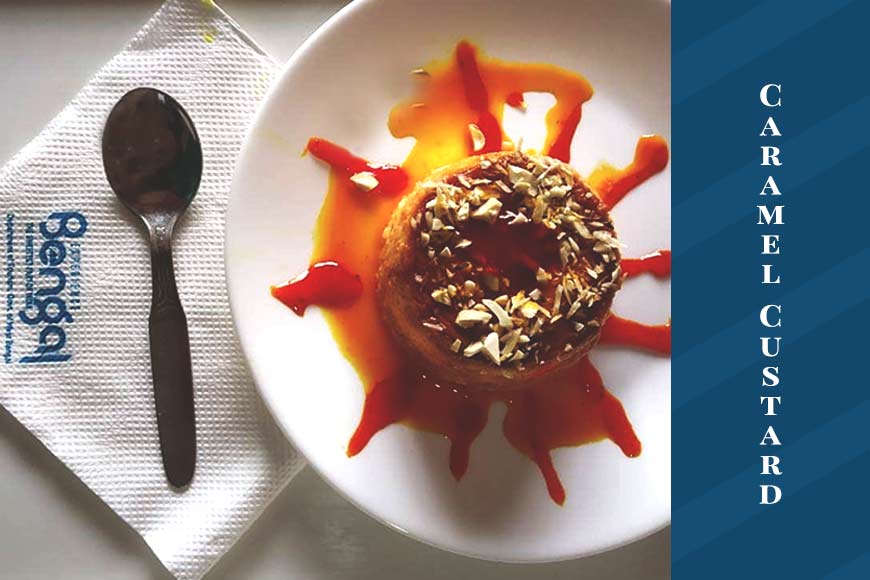 Moglai Parota from Anadi. Kobiraji Cutlet from Basanta Cabin. Lyangcha from Sree Hari Mistanna Bhandar. Any Kolkatan will know instantly what we are talking about. And outside the city in the rest of Bengal, there are similar affiliations between, say, Shaktigarh and lyangcha, Bardhaman and mihidana, and Keventer's (Darjeeling) and hot chocolate. In time-honoured tradition, these signature dishes have made their creators famous, and become tourist attractions in themselves.
Taking this tradition forward, the West Bengal Tourism Department has now decided to promote signature dishes from all its properties, beginning with Shantobitan Tourism Property (earlier known as Santiniketan Tourist Lodge), whose Caramel Custard has, over the years, earned fame and popularity owing to its creamy, sweet perfection.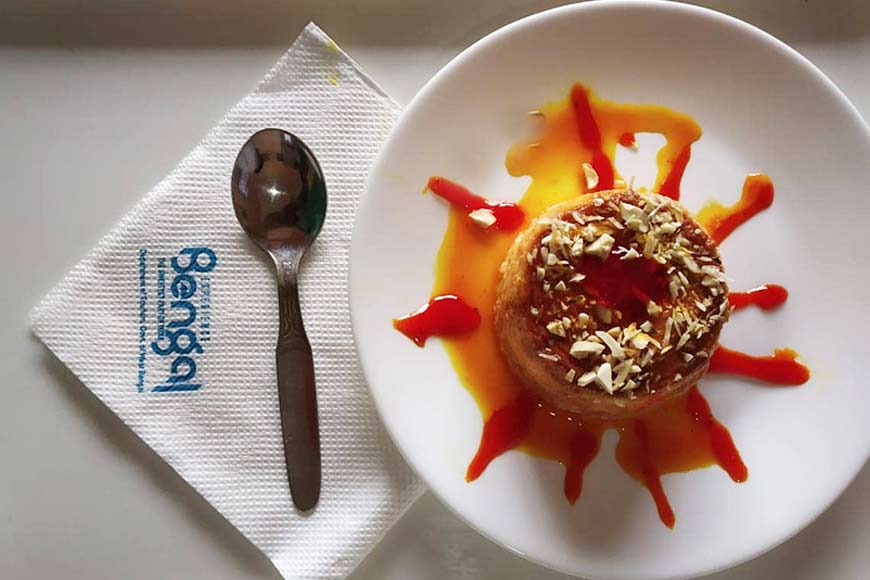 A portion of the Caramel Custard
As most of you will know, Caramel Custard is a custard dessert made of milk, eggs, and sugar, with a thin layer of caramelized (slightly burnt) sugar on top. In India, the dish is thought to have been introduced by the Portuguese, and to this day, it continues to be extremely popular in former Portuguese colonies like Goa, Daman and Diu. It is also a regular in many Anglo-Indian, Malayali, Mangalorean and Parsi kitchens.
While Bengalis may not cook it regularly, they certainly love eating Caramel Custard, and very few places make a better one than Shantobitan. They have even shared their recipe, though our suggestion would be for you to first eat the custard they make before trying it at home. That said, here's the recipe:
Caramel Custard (one portion)
Ingredients
| | |
| --- | --- |
| Milk powder | 20 gms |
| Sugar | 25 gms (20 gms for the custard and 5 gms for the caramel) |
| Custard powder | 5 gms (one teaspoon) |
| Vanilla essence | One drop |
| Vanilla essence | beaten well |

Method
Step 1: Mix milk powder and sugar with water and cook in a saucepan. Add custard powder and cook until the mixture thickens. Add the beaten egg and vanilla essence to the mixture and set aside for cooling.
Step 2: Place the remaining sugar in a mould (any cake bowl will do) and heat until sugar is caramelized. Now, pour the custard mix into the mould and place the mould in a larger saucepan. Pour water in the saucepan and allow it to boil, so that the mixture is steamed well. After steaming for about 20 minutes, cool the mixture and place the mould in a freezer for about an hour.
Given the pandemic conditions, a Kolkata-Santiniketan road trip is your best bet. The roads are in excellent condition, and the distance is approximately 160 km. For bookings and other details, do contact:
West Bengal Tourism Development Corporation Ltd
DG Block, Sector-II, Salt Lake
Kolkata 700091
Phone: (033) 2358 5189, Fax: 2359 8292
Email: visitwestbengal@yahoo.co.in, mdwbtdc@gmail.com, dgmrwbtdc@gmail.com

Story Tag:
West Bengal Tourism Department, Food, Caramel Custard, Santiniketan