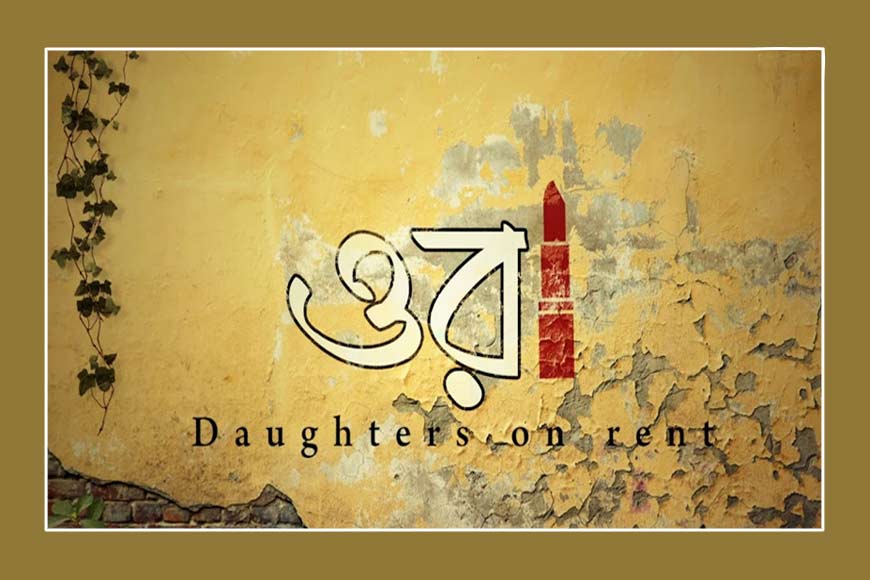 Olivia Das is a post-graduate in Cinema with a specialization in Audiography, having graduated from Satyajit Ray Film and Television Institute (SRFTI) in 2013. She has been working on feature films, short films, and documentaries for more than 10 years, but the remarkable documentary ORA: Daughters on Rent marks her debut as producer and director. The film walks through the lanes and bylanes of Kolkata's notorious red-light areas, recording interviews with sex workers of various descriptions who share stories from their lives. Excerpts from an interview with the director:
• You have named the film ORA which means 'the other'. Is this inspired from Derrida? If yes, how and why?
Jaques Derrida's reference to 'the Other' often means 'a person other than oneself'. Isn't it true that a satire lies in the fact that, are we as a society, 'civil and humane' enough? Especially during this pandemic, with little to no aid for these marginalized women, we as a 'civil' society have been exposed! The term 'ORA' means 'them/ those/ they' in Bengali. Can we ever be prepared enough to consider them as one of 'us'?
• What gave you the idea of making a film on sex workers?
The ongoing pandemic has taught us that neither wealth nor fame can save us from the oppression of birth. While we focus on mainstream society, sex- workers fight it out alone. 'Ora' attempts to explore our age-old feudal societal mindset, where they have been kept away by and from the mainstream in every way. Owing to the absence of any legal identity such as voter ID cards or Adhaar cards, they cannot open bank accounts. Therefore, they have no means of saving for their old age, and the government is to some extent responsible for this.
Olivia Das
• What kind of research did you do for the film?
I felt myself thrust into such a grotesque reality that it took an emotional toll on me. The girl (in the film) spoke of her life so vividly (off camera) that it compelled me to discover how, as a society, we are failing them. An incident in particular which shook me was when she told me that the previous evening, she was with a client and had just gone to the washroom for a while. Upon her return, she found the client had left with a pair of silver payals (feet bells) she had recently bought after saving up for an entire year! How can someone rob her, knowing she is deprived of everything in life?

• Tell us about your interactions with them.
I visited their neighbourhood for three days in a row and not an inch had one of them moved from where she was standing the day before. I wish I could get them all on camera, but they requested me not to, because none of their families knew they were in this profession. After interacting with them, I realised that the majority had joined this profession of their own will. They have families to support because the men don't earn enough, and the women migrate to the cities. Some say this is easy money. But is it really? Having to sell their soul and body every moment?
One woman said she does not shed a single tear because with what she is earning, she has managed to get her daughter admitted to an English-medium school and is also looking after her ailing parents. The ones who do not join this profession willingly, are trafficked victims who are dehumanized and enslaved - forced to provide sexual services over and over again. They live in fear, victims of violence and sexual exploitation. Each pair of eyes has a story to tell. We are just too engrossed in our own vanity to pay heed.
• How did you find funds to make the film?
This film is the result of team effort. I am obliged to Goutam Banerjee who I have been associated with in several projects for his unending support. His research and emotional understanding of a sensitive subject such as this is impeccable. I am thankful to cinematographer Nabanil Sanyal, for generating excellent results with such limited resources and time. Audio designing and mixing were done by Sanjeev Baliarsingh, who has vast experience. The lyrics and music were composed and sung by a brilliant artist from Kolkata, Bumpai Chakraborty, who has an astounding flair for turning narratives into mesmerizing words.
• Those who have offered their opinions on camera - Ashoke Viswanathan, Shashi Panja, the late Dr. Jana, the rest – how did you persuade them?
I approached them with my idea and they were kind enough to support me. Durbaar and Sanlaap are prominent NGOs working for sex workers in eastern India. Dr. Panja is currently Minister for the Department of Women and Child Development and Social Welfare of the Government of West Bengal. Getting her insights was pertinent, as her department represents these marginal women. The Sanlaap India representative said that though the state government has tried to rehabilitate these women, many of them have gone back to the profession because the stipend they receive is too little compared to what they earn as sex workers.
• Which are the locations you shot in?
The film was shot extensively on-location in Sonagachhi, and the areas adjoining Kalighat and Monohar Pukur in south Kolkata. B-rolls were shot in rural areas of Joynagar in West Bengal and Jaipur, Rajasthan. I am thankful to my cinematographer for sharing some of his exquisitely shot footage in Assam, Kolkata, and Digha.
• As a filmmaker and as a woman, what is your take-away from the film?
As a woman, I aim to provide a pragmatic approach to women living in the forgotten dark alleys of our city, their struggle for survival, and their worsening economic conditions. Unscrupulous traffickers and pimps exploit the poverty, hope and innocence of these vulnerable women. Our feudal mindset does not allow us to think of them as normal people. With progress in digital technology, have we actually gained enough knowledge to stop society from shunning these women, whose only mistake is that they were born into poverty and want a better future for their children?
And we leave it at that.