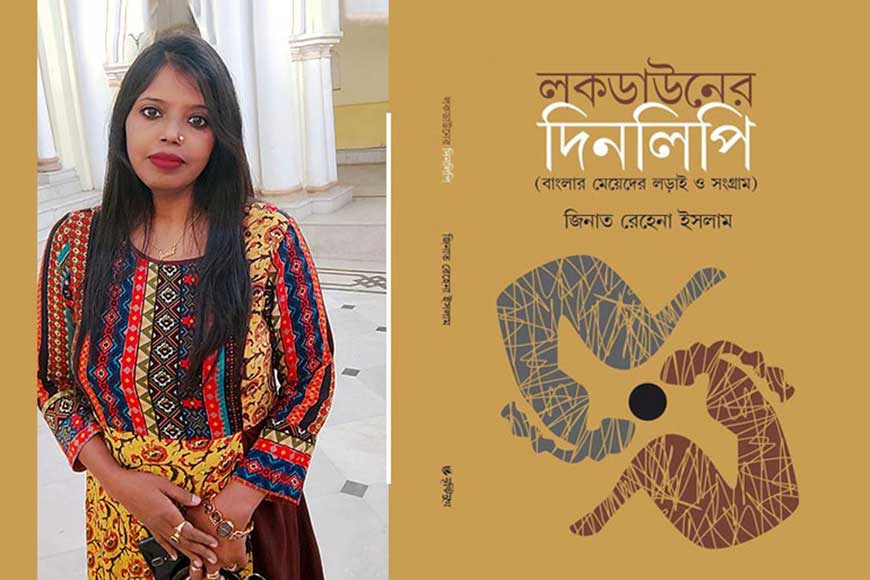 Suman Sadhu shares his reaction after reading the book and talking with the author.
On March 22, 2020, the first nationwide lockdown (Janata Curfew) was imposed to battle against the Covid-19 outbreak. Prime Minister Narendra Modi urged Indian citizens to voluntarily stay indoors, implement 'social distancing' in their everyday lives and work from home as much as possible while underscoring the dangers of coronavirus. Millions of people in India were compelled to stay indoors. "Within three months of lockdown, I started getting countless phone calls from strangers. They all poured their hearts and they had only one thing to say, "Didi, we are living in a despicable condition. We earn our living as unskilled day labourers but the lockdown has put a stall to all our sources of income. I decided to find out the actual state of affairs and ventured out for on-site field visits on behalf of 'Feminism.com' magazine. I sought police permission and penetrated into the deep pockets of rural areas and witnessed first-hand the deplorable condition of women. A few days later, I found out that local gold jewelry shops remained open during this phase and home makers often visited these shops to mortgage their tit-bid pieces of gold jewelry and with the cash they received in lieu, used it to keep the home fires burning. As soon as I discovered this trend, I started writing posts on the Facebook platform. I also launched Facebook Live and featured women who, in an effort to pull out of the financial crisis, turned into small entrepreneurs and stitched bags and purses and outfits like salwar-kameez etc and tried to sell the products to make ends meet. That's when I got a call from the publisher who asked me not to share all the stories on Facebook because they were contemplating compiling my research-based articles and publishing a book based on these real-life incidents," revealed author Zeenat Rehana Islam, a school teacher by profession. She has been touring the peripheral areas of Murshidabad extensively and has been extending a helping hand to women from low income groups, helping them get employment or set up small enterprises. Her gamut of experiences is recorded in the book, 'Lockdown-er Dinolipi' (Lockdown Diary).
Recently I had the opportunity to read the book. As I completed reading it, I was transported back to those horrifying days of 2020. Phrases like 'Contentment Zone', 'Quarantine', 'Physical Distance', 'Lockdown' were no longer restricted to dictionary but had forced their way into our daily lives. Our very existence suddenly turned chaotic. Some among us had food and shelter to survive the unnatural times, but many others died of starvation. And migrant workers walked for thousands of miles from New Delhi to return home to their villages, scattered in different parts of this vast country. Women have become victims of patriarchy and gender oppression has increased manifold. Women have been subjected to both physical and emotional violence. Zeenat Rehana Islam has been chronicling women's issues for many years and her writings focus on the discrimination and oppression of women in the society and how they have made their mark in society following a brave battle against patriarchy. She asserts the need for a major shift in perception in issues relating to women and human rights. Her 'Lockdown-er Dinolipi' is the latest addition to the horrifying memories of the lockdown period where the author celebrates the victories of marginalized women of Bengal who fought against all barriers and emerged triumphant.

The author has dedicated the book to "All the women warriors of the world who can proclaim confidently that they earn their daily bread." We are all familiar with Satyajit Ray's film, 'Mohanagar,' where the protagonist of the film, Arati, refuses to restrain the rest of her life as a mere housewife. She wants to explore and befriend the vast world outside her family. Her initial move to step out of the confines of her home causes quite a stir both within the family and outside. Yet Arati is undeterred and takes up the cudgel and moves on. She is searching for freedom, for her space and position in the society. Zeenat's words of dedication seem to be a reflection of the thoughts of Ray's protagonist, Arati. The book begins with a vignette of how women spent their daily lives during the lockdown phase. Also, there are some very important sections which are rich resources of the book. Sections like, "Have we actually been able to know our women who live in the house?" or "Shaheen Bagh dissipates on the streets of Baharampur,' 'Mothers who are torch bearers and showing the right path to the entire nation,' 'Break the conventional way of addressing brothers and sisters and learn to say sisters and brothers instead, 'Voting is on, FIR against rape filed after 17 days,' or 'Defeat pain and frustration and emerge truly beautiful'. The headlines make it very clear the subject of discussion and who are under the scanner.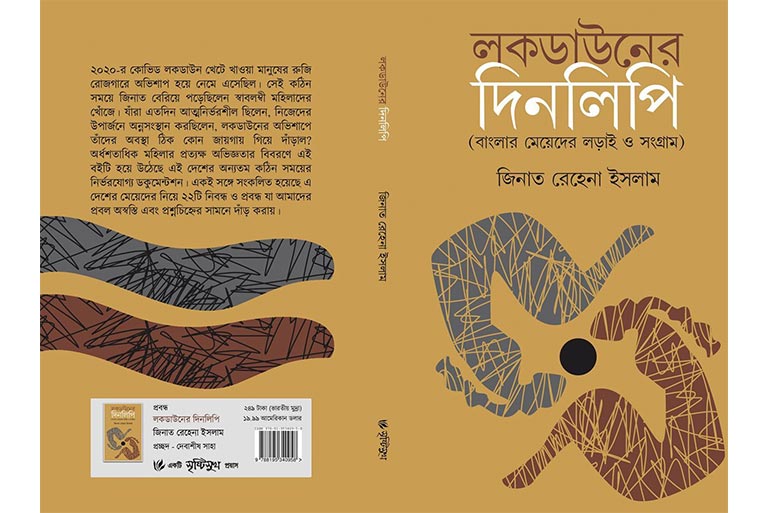 I had a long discussion about the subject of the book with Zeenat Islam. She insists, "Women want some cash to run their families and fulfill their own expenses. Every woman wants to step out of the confines of her home and work and earn but lacks the confidence to venture out. I only place a mirror in front of these women where they discover themselves, their hidden potential. This instills in them the confidence to become independent and self-reliant. I just handover the mythical Aladdin's lamp to these marginalized women and that triggers a chain reaction, inspiring them to move ahead and awaken in them a desire to earn a living for themselves independently."
In fact, this book speaks for all the women of Bengal. It is not an armchair reporting based on information collected from the Internet or volumes of books on the topic. As a matter of fact, it is based on extensive field work and all the information complied here is the result of actual meetings with the women. The book traces the daily struggles of Mili of Birbhum, Bilkis Rabeya of Murshidabad, Sandhyarani of Midnapore, Basanti of Burdwan, or the thousands of Anjira, Samila, Laili, Pusparani, Lolita, Momina Bibi scattered all over the state. The author has observed these poor, simple, rural women's fight against a hostile system, their tribulations and tears and their determination to turn the tables against their oppressors and emerge winners all the way. These women are in different professions. Some are sericulturists, some make bags or make bidis (hand-rolled cigarettes), some are folk music artistes and some are CAA (Citizenship (Amendment) Act) defying mothers.
In the section, 'Mothers who are showing the way to the entire country today,' Zeenat Islam writes about mothers who stood up for a cause, voiced their resentment and defied state power fearlessly. This section features the biographies of mothers of Rohit Vemula, Najeeb Ahmed and Oishee Ghosh. In this context, the author writes, "This is how a mother inspires to put up an organized resistance against any wrong doing in the society. She looks beyond the threshold of her house and begins to assess the country's socio-political-cultural and economic realities and gets a broader and a clearer perspective of the world around her. She no longer puts emphasis on her household issues but rather sees them as an extension of the country's problems and a new philosophy emerges. These are the new mothers of an emerging India. " They take it upon themselves to point fingers at the follies of a fascist state and they also shed tears as they see the present state of affairs. They have the guts to stand up and protest against the injustice done to their children.
Zeenat has documented the plight of more than 150 women in her book and has made entries of each date and place featured in the story. Photographs of these brave girls have also been included along with the text. Based on interviews and direct experiences of the author, this book is a reliable documentation of the difficult times, describing the experiences of women featured here. Incidentally, Covid-19 pandemic is not over yet. It is raising its ugly head from time to time and the condition of girls in the marginal areas of Bengal is still miserable. The state government is taking necessary steps to provide relief to these women. Individual initiatives are also being taken. The book is truly a representative of the present times and is very relevant today. Published by Srishti-Sukh, the asking price of the book is Rs 249 only.