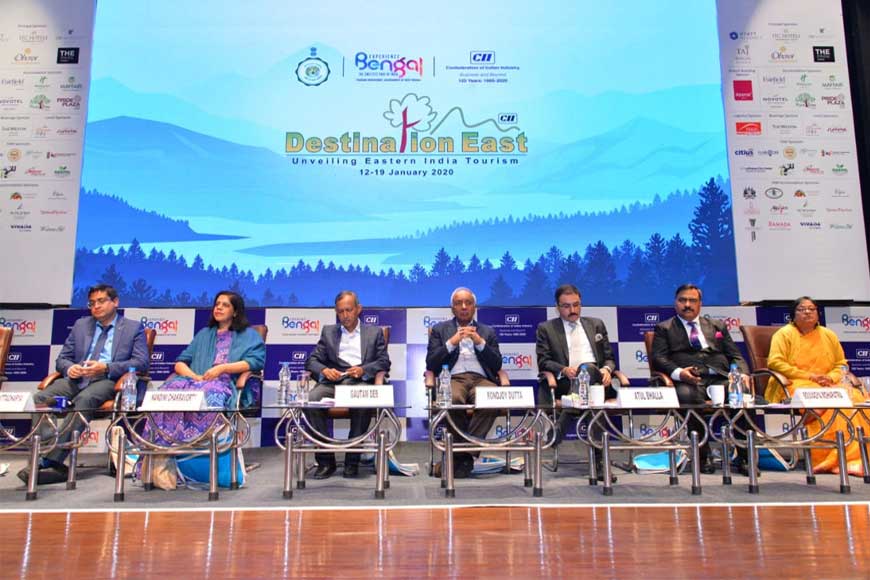 Destination East, one of the most sought-after annual tourism meet, will start in Kolkata from 11th January with the arrival of several international buyers from global destinations.Nandini Chakraborty, Principal Secretary of Tourism Department, Government of West Bengal in a press conference held today said: 'Last year the Durga Puja had been promoted to attract more foreign tourists and the response had been favorable. This year's focus is on South East Asian and European countries. An exponential rise in the number of International buyers is expected through the promotion of Destination East. CII and Department of Tourism are working together to promote various parts of Bengal. Last year there were around 685 International buyers. This year the number is expected to increase by at least a hundred. West Bengal has turned out to be one of the largest travel marts in this country, because of its continuous efforts to promote this beautiful land. Foreign Tourist Arrival increased substantially in West Bengal compared to other states in India and has gone up from 12.19 lakh in 2012 to 16.17 lakh in2018, denoting an increase of 32%.'
The programme will include a Kolkata Familiarization Tour on 12th January, inauguration of Destination East, Tourism Conference "Bengal Tourism Global Meet and Buyer- Seller Meet" on 13th January, a Buyer- Seller Meet on 14th and then FAM tours to different destinations like North Bengal, Santiniketan, Bishnupur, Sunderbans, Murshidabad, Purulia, Coastal Bengal, and a cruise along the Ganges.Around 100 International Tourism Buyers, International travel media persons, bloggers from 40 countries will be present at the event.MICE operators have also been invited to promote Kolkata as the MICE Destination.
Basanta Utsav of Santiniketan
It is expected that over 8,000 prefixed B2B meetings between International buyers and local stakeholders will take place. Atul Bhalla, Area manager east & General Manager ITC Hotels & Chairman, Tourism subcommittee, CII Eastern Region said: 'We are extremely happy the way West Bengal Tourism Department has come forward to support the industry. DESTINATION EAST has been a great example of government-industry collaboration to promote the state of West Bengal. This is definitely paying rich dividends. I am hopeful that this edition of Destination East would also bring in good amount of business and thereby increase the number of foreign tourist arrivals'. The new initiative of Durga Puja Carnival has attracted many tourists. This is a true example of how the state government and the industry came together to promote a destination. Endeavors are being made to make sure that the visitors can consider Bengal as a tourist destination throughout the year. Bengal should become a MICE hub of the East considering the infrastructure and the kind of luxury hotels which have come up in recent years.'
An exponential rise in the number of international buyers is expected through the promotion of Destination East. This collaboration between the Department of Tourism, West Bengal and CII-Eastern Region is one of the most happening tourism destination meet to take Bengal to the global tourist map.