Artist's deft brush strokes transform the Kala Bhavana roof into a lotus pond - An exclusive GetBengal Interview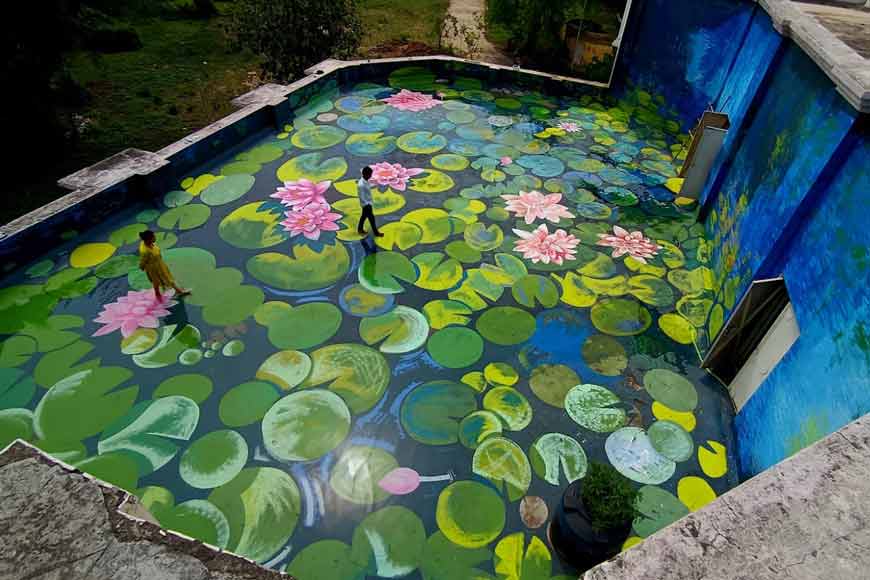 "In Mahabharata, there is the tale of Lord Krishna asking Maya Danava, a great architect/artist to construct an astounding palace hall for the Pandavas at Indraprastha. Maya created the largest and most exquisite palace of its kind in the world. It had many specialties like highly reflective floors that were easily mistaken as the surface of a pool of still water. There was also at least one pool of water, the surface of which mimicked a decorated floor, into which Duryodhana fell, and was subsequently taunted and humiliated by Draupadi. Taking a cue from this incident just be on your guard if you happen to visit the roof of Visva Bharati's Kala Bhavana.
You will be surprised to see the roof has transformed into a beautiful pond with water hyacinths, water lilies and lotus blooming in abundance. The tranquil water beckons onlookers to dip their tired feet in the aquatic blue water and relax for a while.
But here's a warning. Don't be tricked into submitting to your inner urge and rush to feel the surface of the serene water because it is not a pond and nor are the flowers real. This surreal 3-dimensional 'pond' is the creation of Suman Dey, this year's Master's pass-out student of Kala Bhavana's painting department. Using the process of creating a three-dimensional form of a two-dimensional work of art, Suman has transformed the very appearance of the roof into a pond with all the dimensions of height, width, and depth.
The stunning artistic production has been receiving rave reviews from well-known artists, Suman's teachers, his seniors, and contemporaries at Kala Bhavana as well as the hoi polloi who have seen the creation. During an informal conversation with Get Bengal (GB), this young artist shared his journey so far and his future plans.
Suman hails from Bankura, the land where one of the greatest geniuses and pioneers of modern Indian art, Ramkinkar Baij was born. Suman loved to dabble with colours from a very early age and participated in local, zonal and district-level art competitions, breezing through the contests, and bringing home laurels.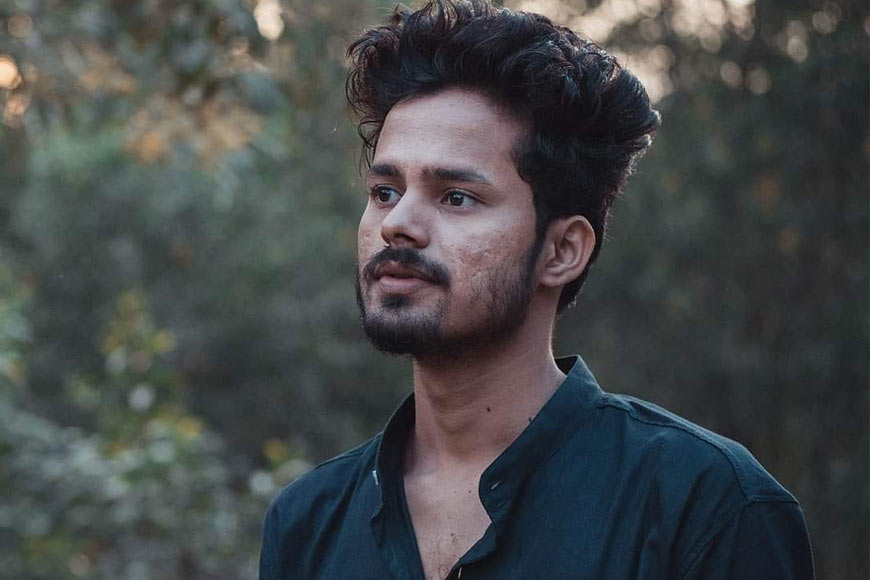 3D lotus pond artist, Suman Dey
GB: How did the idea to create the 3D artwork on the roof of Kala Bhavana come to you? In the recent past, 3D street art is gaining huge popularity in the country not only because it is visually spectacular but it's also fun and interactive. Did that inspire you to take up the project?
Dey: The purview of painting is to create an illusion. The pond I have created looks like a 3D painting, but it is not so. When I was a 1st-year student there, we had our studio there and after work in the evenings, I used to go for a break, and stroll on the roof and every time I looked down from the roof, the space below resembled a pond to me. This image caught my imagination and I tinkered with the visual in my mind for a long time. Meanwhile, I was doing commissioned work professionally outside my college to meet my expenses which included doing wall paintings and murals in railway stations or private houses. One day I took up khori mati (chalk powder) and sketched the concept on the floor. I actually started working on the pond towards the fag end of my final year. While executing the work, I often sought the suggestions of our teachers, our seniors and batch mates for improving the painting. They all helped me with their views and ideas. Finally, when it was ready, I was showered with praise by all, including external examiners.
GB: What was in a pond that inspired you to use the empty space of the Kala Bhavana roof to create one with your colours and brushes?
Dey: Ponds have a serene effect on the mind. When I first came to Santiniketan, I used to roam around the neighbouring villages and stand transfixed next to a pond for hours, watching the chiaroscuro of light and shadow making myriad patterns on the still surface of the pond. I would be fascinated watching how a stray grasshopper or butterfly made a dive for a lotus or water lily, a duck family swam languidly or a stork glided gracefully downwards, landing amid the pond to catch its prey. When I came to Santiniketan for the first time, ponds were plenty – Hati Pukur, Paddo Pukur, and ponds around Kopai River but over the years, I also realized that their numbers were dwindling fast. New housing clusters were coming up, hotels and resorts mushroomed and all this, at the cost of killing ponds. I would say, I am trying to sensitize people about the environmental aspect and how we are losing this organic factor which is vital for maintaining a balance in nature.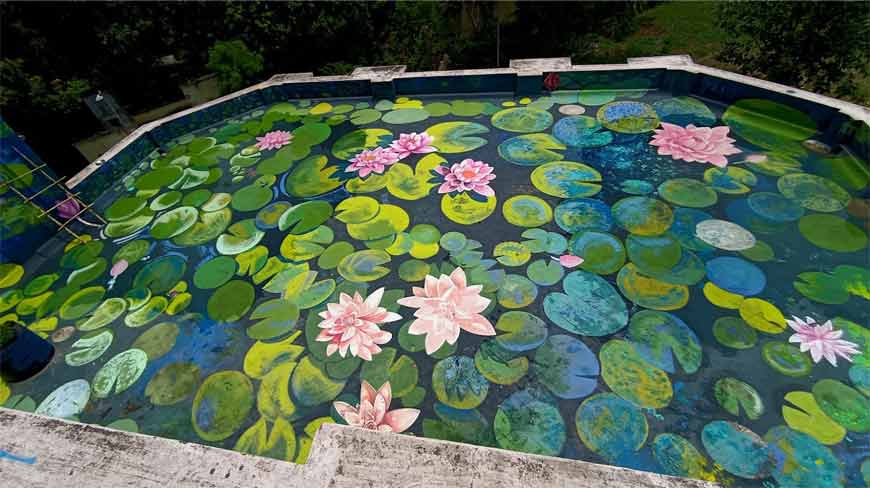 3D Lotus pond at Kalabhavan, Santiniketan
GB: The roof that you used as your canvas is a huge space. How much time did it take for you to complete the project?
Dey: It took me roughly about eight to 10 days to execute the entire work. But before that, I did extensive research on the topic for months. I would visit neighbouring villages and sit on the banks and observe the minute details of each pond. I would spend hours making small sketches and taking down notes. I would even enter the water to get my height and depth perceptions right. I was so highly strung that I could not stay away from my work and could not catch a wink. I would see the rising sun at dawn and bid goodbye to the sun at dusk while I worked non-stop.
French Impressionist Oscar Claude Monet (1840–1926) is renowned for creating a series of approximately 250 oil paintings depicting an exotic lotus land as he perceived it. I was inspired by his works when I decided to paint the large area.
GB: How did you finally start the project?
Dey: I spent sleepless nights worrying about the huge expenses that I had to shell out to begin work. Finally, I invested all that I had earned or saved from my commissioned work for this project. I bore the entire cost of the task which came to a whooping Rs 35 thousand. If I had access to more funds, I would have probably improved the painting further.
GB: How did your teachers react to your art?
Dey: Oh, they were all very encouraging and praised my efforts. Some external examiners even told me that they were glad to notice a 'different' work of art at Kala Bhavana after a long period. All this adulation has boosted my confidence and now I can dream of doing something on a large scale later when I am financially stable.
'A thing of beauty is a joy forever' and Dey's beautiful recreation of the pond has appealed to the masses aesthetically and emotionally. However, he would soon have to erase the painting with white paint, so that other students too can utilize the blank space to showcase their artworks. Though the process of erasing a creation seems painful, Suman Dey has made up his mind to not stall the creative process of others. Currently in Delhi to complete a commissioned work, he plans to return to Santiniketan soon and begin erasing his creation. We wish this young man all the best in his future endeavours and sign off on an optimistic note.