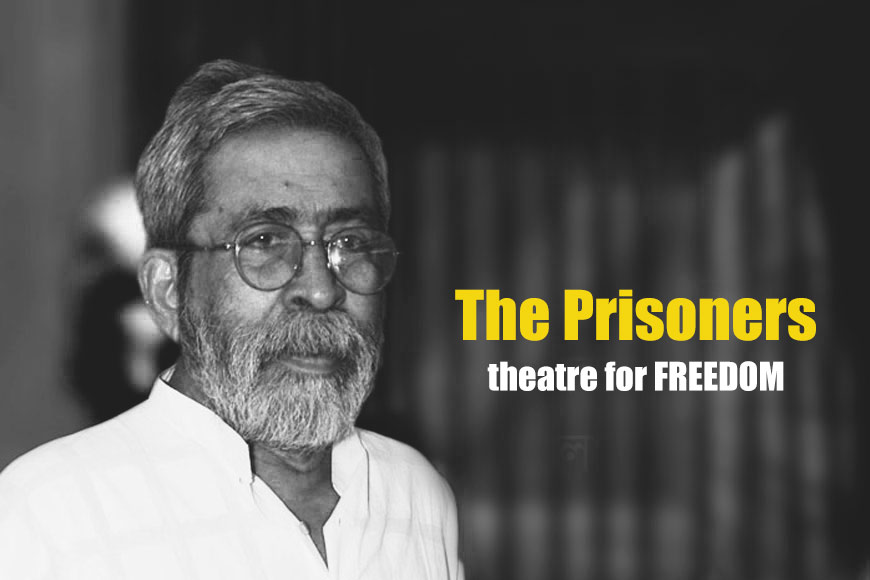 He was Bishu Pagol. She was Nandini. But well-known theatrician Pradip Bhattacharya's Raktakarabi was about a Nandini who fell in love with Bishu and found her Ranjan in him. Buddhadeb and Runa, two life-term convicts of Baharampur Central Correctional Home (previously Jail), never dreamt they would start a family together when they first acted on stage as part of 'Theatre Therapy in Bengal's prisons.'
"I acted as a catalyst in their love story. For me their story was also like a drama, where the evils of crime and punishment were overcome by the softer sentiments of love and belonging," said Pradip Bhattacharya over phone. His excitement in relating the real-life story that started almost a decade ago was palpable. So was the hint of a subtle frustration, that despite being married and pregnant, Runa cannot stay with her husband in 'Lalgola Free Prison' due to some red-tape diktat. Bhattacharya is trying his level best to overcome that last hurdle and make the twain meet. 'If the girl is set free, they can lead a happy life with their child born into freedom and not within the four walls of the prison,' he kept repeating these heart-wrenching words.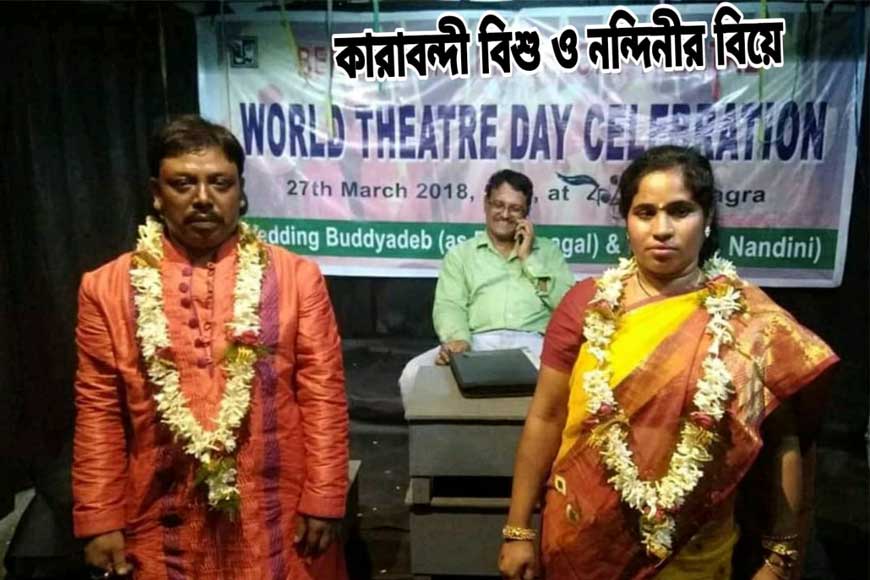 It all started in 2006, when Pradip Bhattacharya was called to work with a band of convicts in Baharampur Central Jail or Correctional Home as it is now called. He was to introduce Theatre Therapy as a mode of rehabilitation. Bhattacharya was personally keen to understand how the convicts, many of who were serving life-term, felt, when he related them Rabindranath Tagore's Tasher Desh. 'I was interested to see the expressions on their faces. But I needed both men and women for staging Tasher Desh and had a difficult time convincing the authorities to allow them, as in prisons men and women are never allowed to stay or do anything together,' said Bhattacharya. After a lot of coaxing, finally the prison authorities bent the rules and let convicts like Buddhadeb and Runa work together. Bhattacharya kept encouraging the team, which was like family to him by saying: 'Never do anything wrong again, else you will lose the little freedom that has been given to you on stage.' But love never follows diktats, or even advise. It follows the call of the heart. Bhattacharya observed there were two couples within the convicts, two sets of men and women who were getting a bit closer, at times breaking into laughter, joking or even whispering certain things to one another.
Despite the barriers, needless to say Bhattacharya was enjoying the blossoming relationships. And why not? After all they were also humans, and Bhattacharya strongly believed that even a murder convict can undergo sea change if given the right path and direction. The biggest achievement came when Tasher Desh was staged at Rabindra Sadan in 2007 infront of the who's who of Kolkata. This was probably the first time in India that convicts were allowed free on stage. Another milestone came when National School of Drama, New Delhi agreed to allow Bhattacharya to stage a play with the convicts. 'This was a very big opportunity and I was hell bent to do it. But getting permission to take these convicts to New Delhi and ensuring they would return and not flee or do something wrong, was a huge responsibility on me! However I was largely helped in this venture by the then IG Prisons, B.D. Sharma and also by the then Chief Minister Buddhadeb Bhattacharya, who personally took a keen interest in Theatre Therapy.'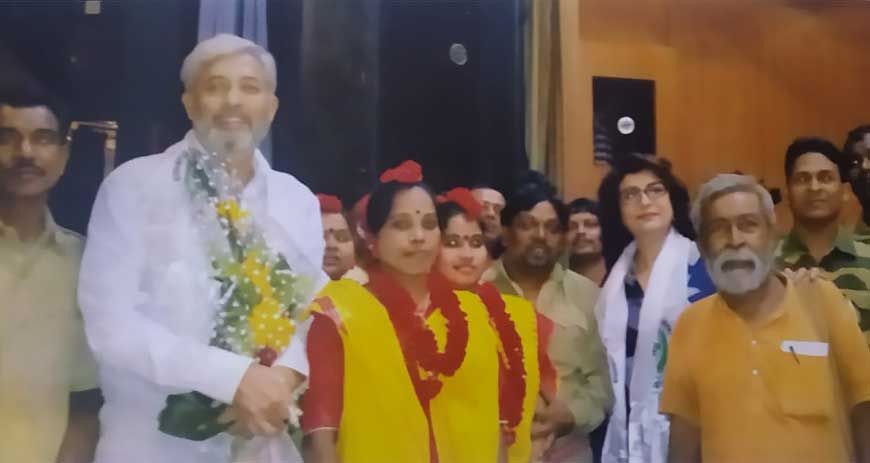 The love between Buddhadeb and Runa and the other couple blossomed further on their joint train journey to New Delhi and also through the entire travel. Everyone in the team called Bhattacharya 'Baba.' They all returned safe and hearty and then one day the prison authorities raised a hue and cry as during searching convicts, they found love letters written in blood. Bhattacharya was called to explain, however B.D. Sharma again helped him and said what happened was quite natural. 'You will stage Tagore's plays and expect people will not fall in love?' BD Sharma had told Bhattacharya jokingly.
However, the problem arose as the girl was a Muslim and her family was very conservative. Though Buddhadeb told his 'Baba' that he cannot live without Runa and is ready to marry her, Bhattacharya had a tough time trying to convince the girl's family and also the prison authorities, many being opposed to this inter-religion marriage. Bhattacharya even travelled all the way to Delhi to convince the girl's parents and then to their ancestral village to tell the girl's elder brother to allow her to marry a Hindu boy. When all was set and done, parole for both was applied. Bhattacharya was ready to marry them off in his own office on World Theatre Day, 27th March 2019, under Special Marriage Act. Every arrangement was ready, the registrar had arrived, food was arranged for those who would come to bless the couple. 'But it so happened that intentionally some Muslim officers within the prison released one on parole, but not the other. Unless both are released together, how can I marry them off!' The tone of frustration was heard over phone as Bhattacharya kept relating the humongous effort he next took, to convince the Jail Superintendent to allow them on humanitarian grounds.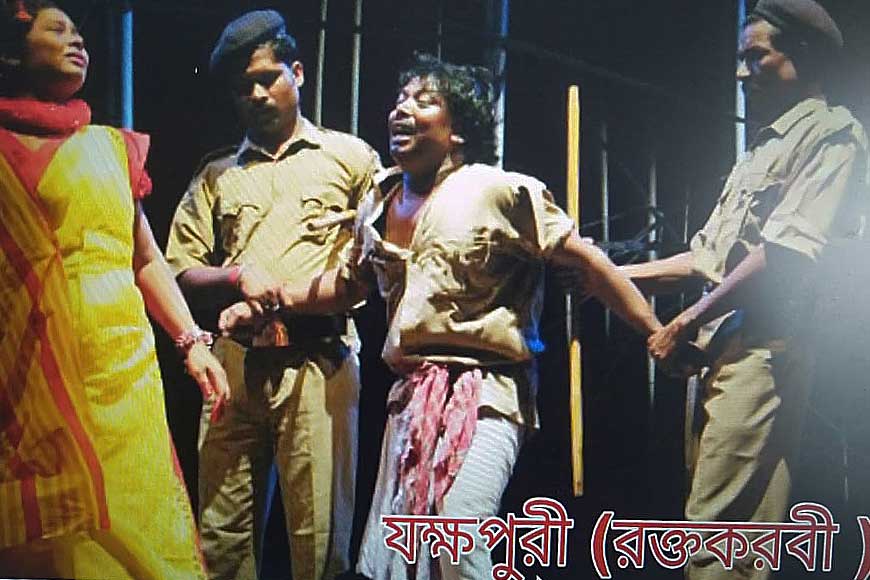 However, the date of parole was again deferred. Finally, in May Buddhadeb and Runa were allowed to tie the knot. By then Buddhadeb due to good conduct had been shifted to Lalgola Free Prison (Mukto Jail) where convicts can earn against work and is also given a quarter to stay with their families. But despite being married, Runa was not being allowed to join him. On February 2020, they again staged Raktakarabi as part of International Theatre Festival of NSD in New Delhi – this time as husband and wife. Then came COVID-19 pandemic and most jails due to over crowding decided to release the convicts for a few months. But Buddhadeb and Runa again had to return to their respective prisons. Only this time round Runa was pregnant and waiting to join her husband Buddhadeb in Lalgola Free Prison. Till now she has not been allowed to do so. Again, the administrative red tape, again the Rulebook, again the Laws. But Bhattacharya is determined to use all his powers to bring the two together and let his 'grandchild' be born in freedom, and not within the captivity of a prison. Hope that soon happens!And a new chapter in Prison Laws and Rule Book is created from the land of Bengal.
Republished from an article of 17 November, 2020.