Das Gupta and Company, the oldest book shop opens a free library - GetBengal Exclusive interview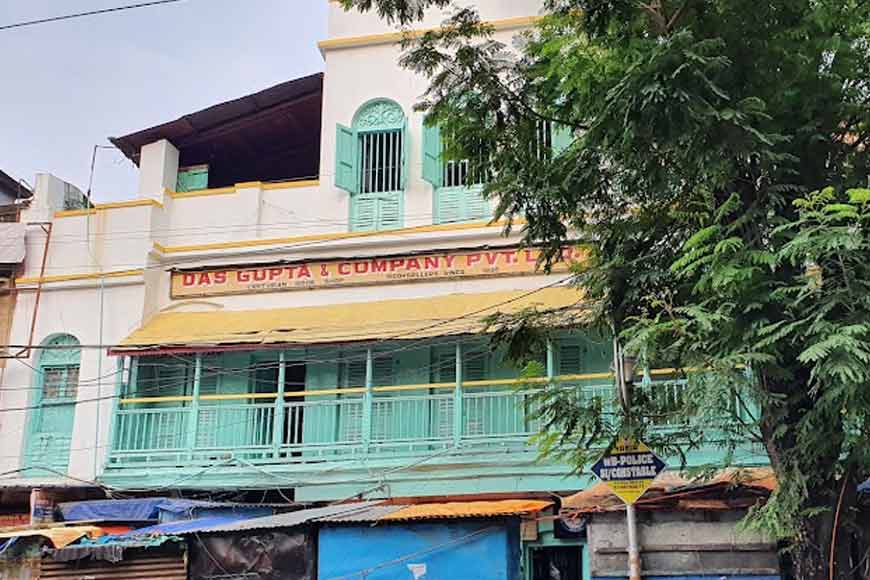 Das Gupta and Company, a heritage bookshop along with a museum - cum - archive on college street, kolkata
Reading a book is like teleporting to a different world altogether, it makes everything else around almost disappear. Books are like a travel agent to a fictional or non-fictional trip. Das Gupta and Company, a 138-year-old bookshop now acts like a portal to the past. From the outside, it looks like other bookshops of the renowned "boi para" of Kolkata. Yet, this is the oldest one that has survived the test of time. The shop has witnessed all the major movements starting from the two world wars, the independence movement to the Naxal movement. Opened in 1886, the bookshop's doors are wide open to everyone. At the entrance of the shop, there is written how many people visit the shop every day and more such details. Upon entering the shop, the smell of old and new books will take control of your olfactory senses. The "kadi barga" roof, the bookshelves, the counter, and even the people will make you feel nostalgic.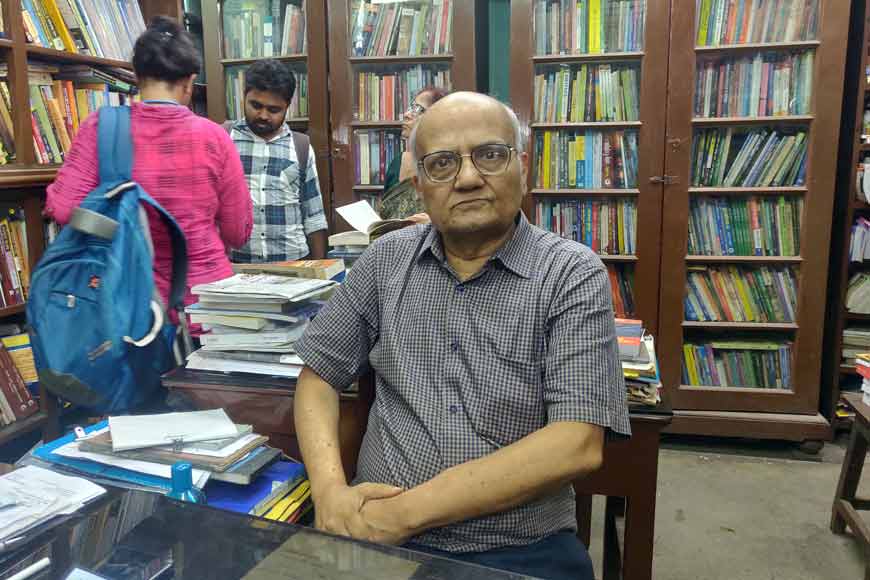 Arabindo Das Gupta, the owner of Das Gupta and Company, college street
The bookshop is transforming its accounts section and tiffin room into a small auditorium for book launches and an archive-cum-museum space with a free reading library. Arabindo Das Gupta is one of the owners of the shop, he is the Great Grandson of Girish Chandra Das Gupta who had established the shop and this is the only bookshop whose ownership has remained intact.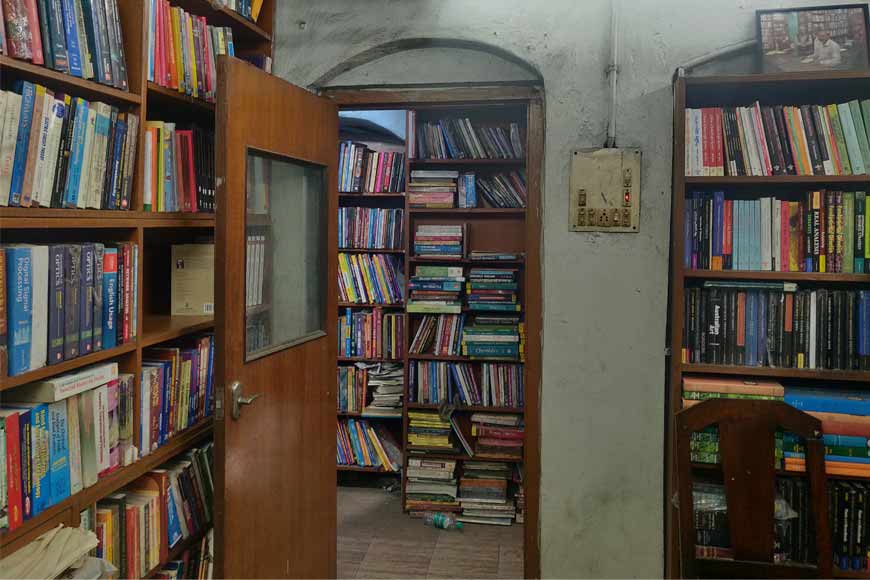 Arabindo Das Gupta told GB, "We have been planning to do this for a long time but due to the waves of covid and fund shortage the plan kept getting postponed. The reading room and library will be free for all and will have a seating capacity of 100 people. Nowadays, I have seen people complain that today's generation is not one of the bibliophiles, and that children have lost their will and concentration to read a book. We aim to shatter this myth. We want to show them that today's generation is not detached from books, rather, with the right initiative their interest will increase. Many underprivileged children have to come to terms with their illiteracy merely because they cannot afford to buy books. We want those children to have a place where they can belong, where they can read, write and even learn their favourite subjects and pursue their interests. Classes will be conducted for everyone. Many cannot understand certain portions of a book and ask us to explain them. We cannot answer all their queries hence there will be classes where experienced and learned people can come and sit with the readers and clear their doubts. May the unavailability of books not be the thorn on the road to literacy."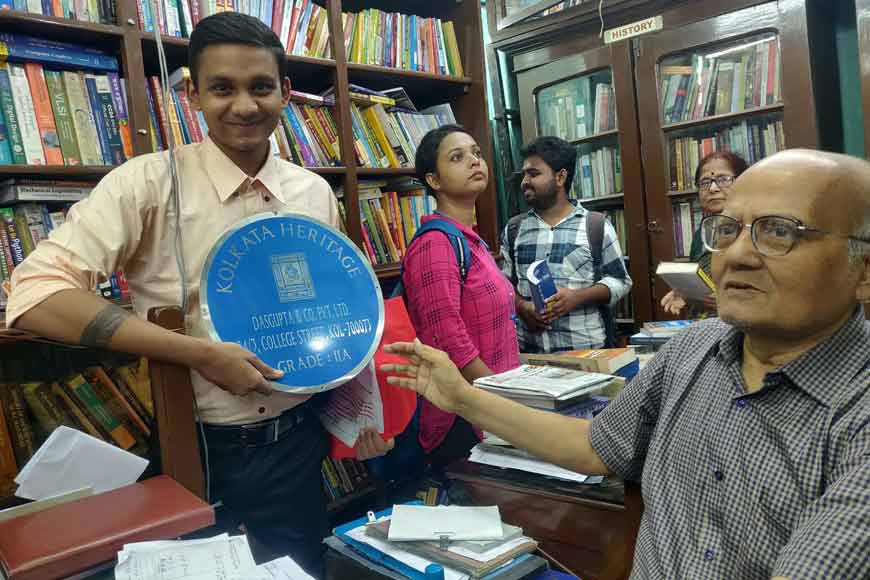 Owner Arabindo Das Gupta and Sanjib Adhikari with the plaque
"There are many who find it difficult to understand English words as they belong to a Bengali medium background, similarly there are many who have an English medium background and find it difficult to understand complex Bengali words. To maintain a balance between the two, we will also keep certain Bengali-to-English and English-to-Bengali books and dictionaries. Language can be a barrier at times, we aim to minimize it," he added.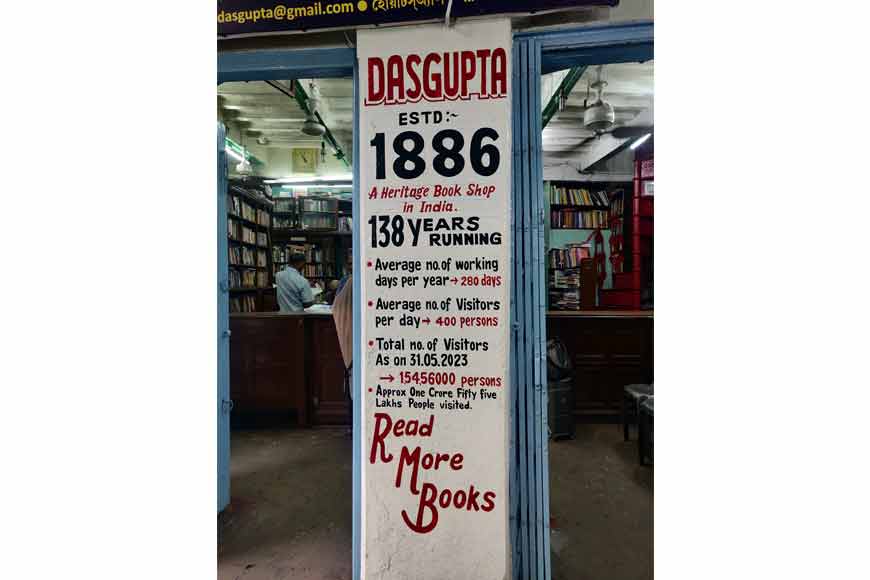 The Das Guptas are aiming to complete their work and open the shop before Durga Puja. The library is set to open with 10,000 books comprising both English and Bengali titles for which some are also giving away their books for free. It will be open on all working days from noon to 6 p.m. and it will be totally free of cost. There will also be a small auditorium where book launches and other such events can be organised. The archival centre will have plenty of records, those which they were able to save from a fire in 2004, along with them there will be some antique items such as a vintage weighing machine from London, a Swiss wall clock, a 1941 telephone and some more.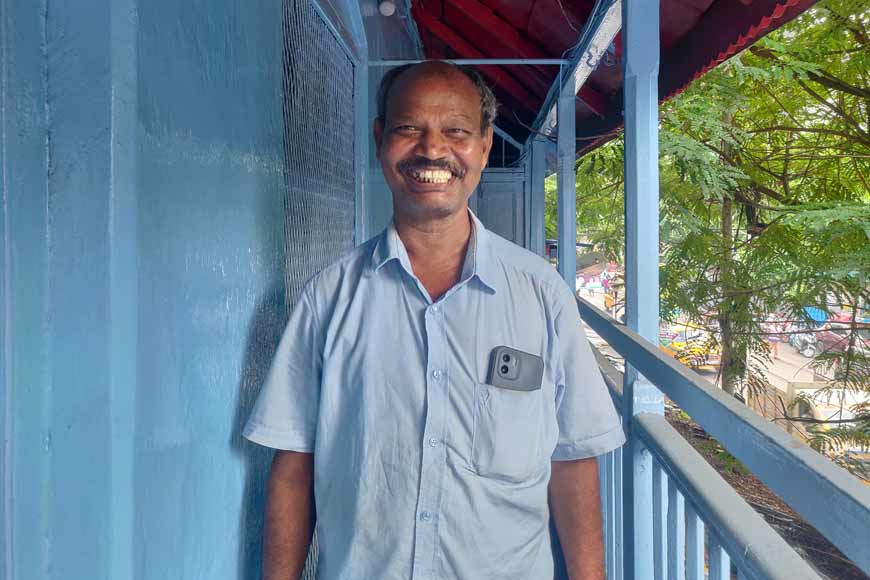 Prabhu Mahato
Prabhu Mahato is one of the oldest employees of the bookshop who has been working since 1978. He knows about all the nooks and crannies of the shop. During the flood, he saved a lot of books from getting destroyed. Das Gupta bookshop has two floors filled with books of different genres and Mahato can pinpoint the book that you need. Sanjib Adhikari looks after the accounts and some other works of the shop. Ranjan Das Gupta is the go-to person when in search of any Bengali book. He can tell exactly which Bengali book is available in which corner and hence he is in charge of the Bengali book section. The atmosphere of the shop is so serene and comfortable that you'll spend hours in the shop yet, will not notice it.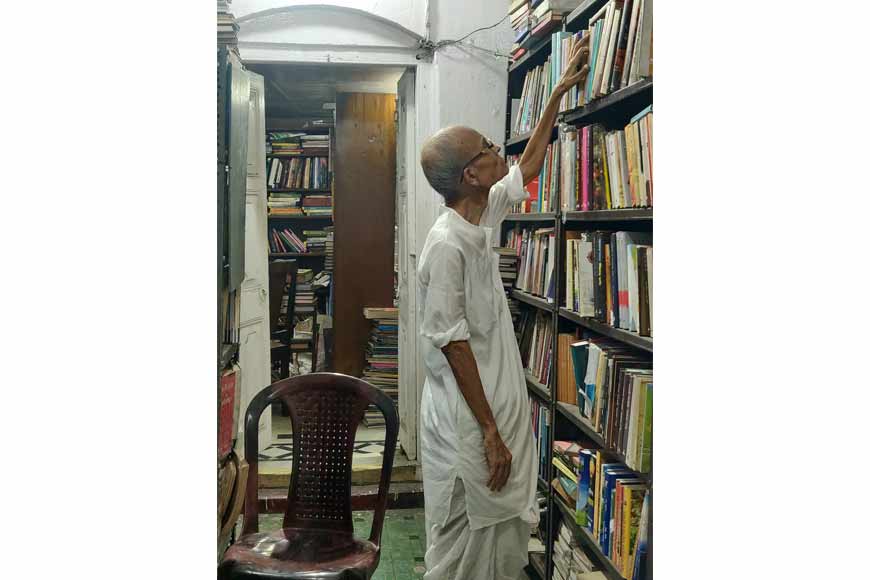 Ranjan Das Gupta
The shop portrays how such bookshops used to be the heart of the city, reading a book was both a source of entertainment and a treasure trove of information. After the massive technological advancement, the demand has decreased as there are pdfs and other such ways of accessing a book online. But bibliophiles will all agree that reading a paperback or hardbound book is still the best feeling ever. "We have faced a lot of changes through these 138 years and I believe that whatever happens, Das Gupta and Company can withstand it all," said Arabindo Das Gupta. The Kolkata Municipal Corporation has given Dasgupta and Company a blue heritage plaque declaring it a Grade II heritage structure. The owner is planning to install the plaque by the end of July.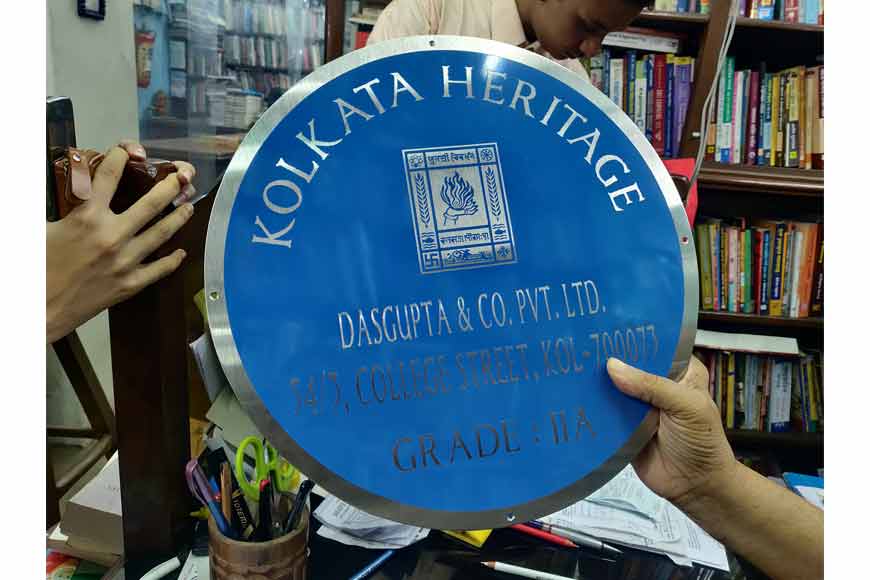 The plaque
Their journey from being booksellers to opening a library for children shows how far they have come and this initiative by them is set to help a lot of people and children with their journey towards gaining information, Das Guptas are once again making us Bengalis proud. Quenching the thirst for knowledge is one of the greatest gifts to humanity. We need more such places that will be open to people and provide them with the opportunity to gain knowledge.