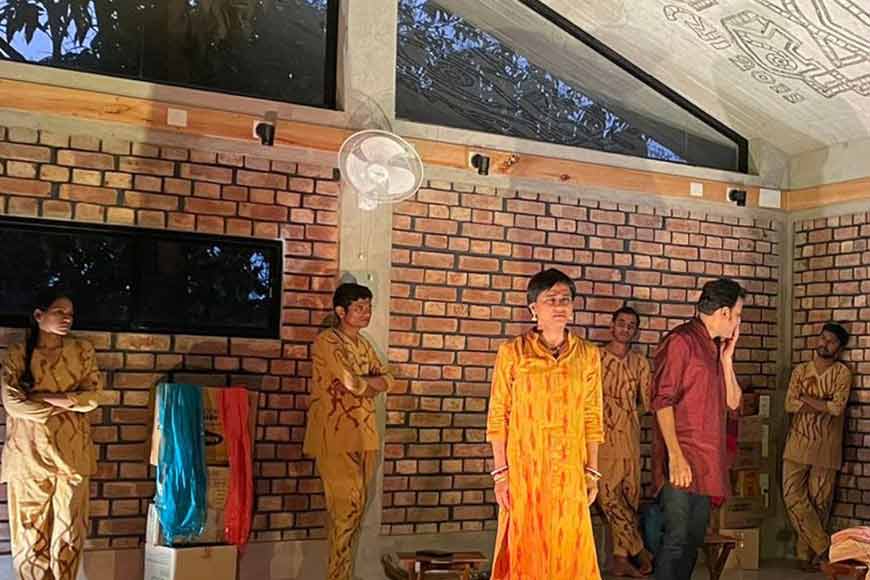 The surroundings are decidedly unpretentious. A few chairs, a table, a few cabinets. Difficult to believe that this small room of a modest flat on Jatin Das Road is at the heart of a movement to rejuvenate Bengali theatre.
That grand mission statement is not as far-fetched as it may seem. The flat is the command centre for Times of Theatre (ToT), an initiative launched by communications professional Subhamay Basu in June 2021 to make various aspects of theatre – from literature to stagecraft – accessible to interested audiences.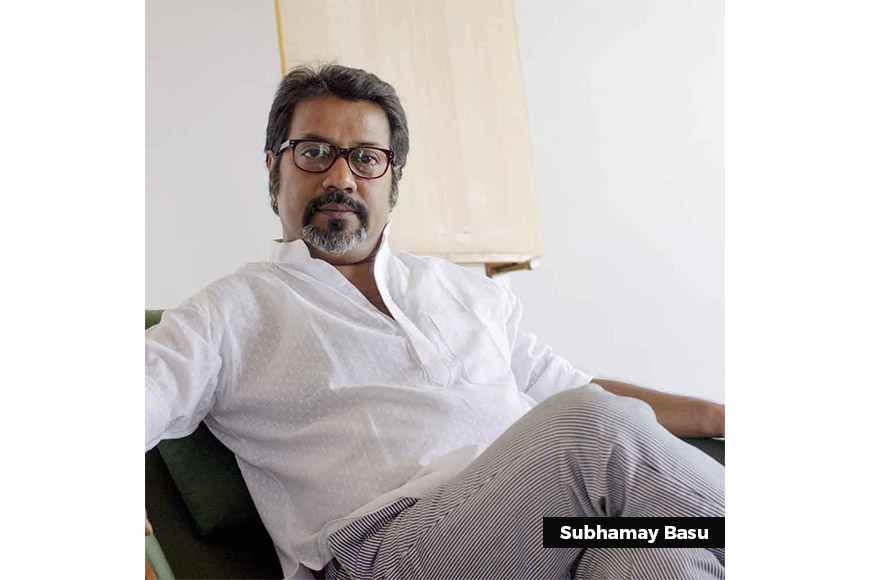 Perhaps more importantly, ToT is also an attempt to create an archive of Bengal's theatre legacy, with contributions from its legends, in the firm belief that it will inspire future generations to keep alive a 2000-year-old tradition.
"It all began with my childhood memories of Shukrobarer Natok," says Basu, referring to the hugely popular radio plays broadcast every Friday evening on Akashvani Kolkata in the 1970s and 80s. "The idea was to revive that format, so we began regular podcasts from our website, of contemporary plays sent in by playwrights from all over Bengal."
In June 2022, that podcast became ToT Radio, freely accessible on both iOS and Android via the ToT Radio app which one can download from Google Play Store.
A parallel, and hugely significant development was the archive, which Basu began on a suggestion by Shamik Bandyopadhyay, the iconic theatre and art critic and scholar who agreed to recount his experiences of watching Bengali theatre over 15 audio episodes, each lasting 30 minutes. "The response was overwhelming," says Basu. "And it was Shamik da who suggested we approach individual theatre personalities to document their experiences."
The journey began with Chapal Bhaduri, with whom ToT has recorded more than 15 episodes. Legends such as Arun Mukhopadhyay, Bibhas Chakraborty, Manoj Mitra, and Ashok Mukhopadhyay have gladly consented to be part of the initiative too. "Once again, it was Shamik da who suggested that we request these legends to read their most popular plays so we could record them," says Basu.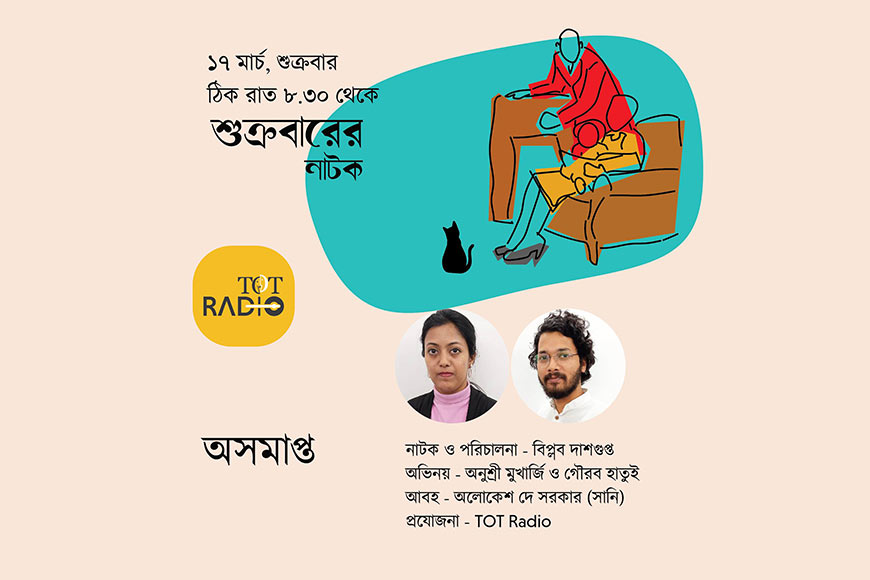 As a result, ToT now owns a recording of Marich Sangbad read by Arun Mukhopadhyay, with a recording of Jagannath in the pipeline. The possibilities are endless and truly mouthwatering for lovers of theatre – imagine Banchharamer Bagan read by Manoj Mitra, for instance, or Madhab Malanchi Koinya by Bibhas Chakraborty.
"Bibhas da is so enthused by the whole thing that he has actually offered to build a mini set for Madhab Malanchi Koinya, and use it to demonstrate how he visualised the stage and the thought process behind it, so we will have a video recording as well," says Basu.
The plays will now be recorded at ToT's new studio Kane Kane, to be inaugurated on Saturday, March 18 at Deodar Street.
The archives are not solely a repository of past glory, however. "We are working with contemporary giants such as Debesh Chattopadhyay, who has already recorded an eight-part series on stagecraft," says Basu. Also closely associated with ToT is renowned theatre personality Soumitra Basu and his troupe Antarmukh, with the thespian taking a weekly masterclass on ToT Radio.

The list of theatre personalities associated with ToT has kept growing, ranging from the aforementioned legends to contemporary masters such as Sohag Sen, Goutam Halder, Debshankar Haldar, Chandan Sen, Suranjana Dasgupta, Subhashish Mukhopadhyay, Satinath Mukhopadhyay and Biplab Dasgupta.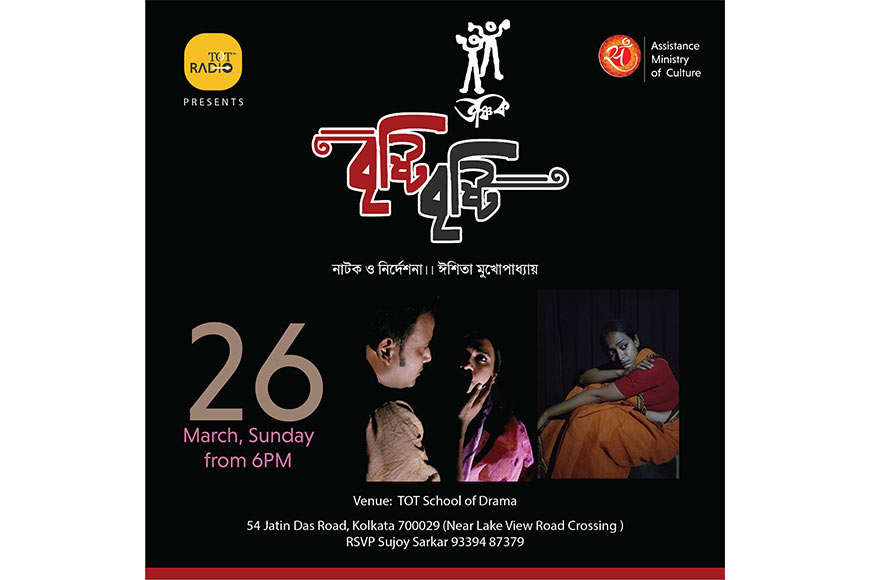 All of this in a mere two years. But where does the revenue come from? And what about the constantly heard lament that Bengali theatre is losing its audience? "We have had up to 1700 listeners tune in for a single podcast, so I refuse to believe there is no interest in theatre. But I don't want to make the experience chargeable for various reasons," says Basu. "Neither do I want young scholars or theatre lovers to pay for the material in our archives."
So ToT has launched paid acting classes taken by a lineup of eminent theatre personalities, and has already racked up a roster of over 250 students. "We make no promises to secure acting gigs for anyone, no assurance of a TV serial job…and still have so many learners. Would you still say there is no interest in Bengali theatre?" asks Basu. Amen to that.
The ToT Radio app is free to use and available on both iOS and Android platforms. For more on ToT, visit the official website