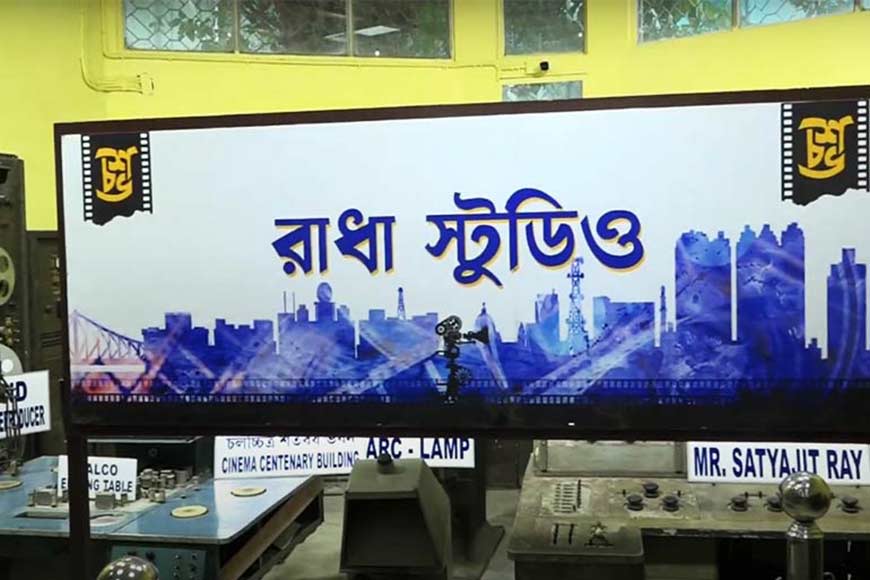 Bengali classic films form a formidable part of Indian cinematic culture but the conditions of countless Bengali films are pathetic. But now thanks to WB Government's initiative, restoration and preservation of timeless Bengali films has started at Chalachchitra Satabarsha Bhaban in Tollygunge, Kolkata (Cinema Centenary Building). The work has been made possible with the support and guidance of the Hon'ble CM Mamata Banerjee. Film enthusiasts will be able to trace the eventful history of Bengali cinema with the works of maestros like Satyajit Ray, Ritwik Ghatak, Mrinal Sen, Tapan Sinha and even Buddhadev Dasgupta -- nearly five decades of Bengali film history under one roof. In the initial phase, around 850 vintage films released between 1950 and 2000, have been selected for conservation. The state government plans to conserve the film negatives of at least 50 famous directors of these 50 years.
These days watching movies on smart phones is well within reach of all movie buffs. It is also very convenient to store everything digitally now. But there was a time when photographs were shot on negatives and possessing a camera was a rarity. A studio or two at some nook and corner of the neighborhood or a little further away was all that was available where one had to pay a visit to get the desired photograph clicked. This would be followed by days of waiting before one could get glimpse of the photograph that was shot. The negative of the picture would also be handed over to the customer. In case the prized print got misplaced or damaged, the negative was the only hope to get another copy printed. The celluloid world was no different. Movies were shot in film reels and the negatives were immensely valuable. What is the state of those vintage film reels or negatives of the famous movies of yore? The Information and Culture Department of the Government of West Bengal has already taken a novel initiative to introduce to the contemporary generation with the way films were shot in the past.
Film preservation or film restoration is a group effort where film historians, archivists, museums and cinematheques work in tandem to rescue decaying film stock and preserve the images they contain. This ensures that a movie will continue to exist in as close to its original form as possible. The state government has undertaken a project to restore the films and news reels preserved in the vaults at the Cinema Centenary Building and Rupayan lab.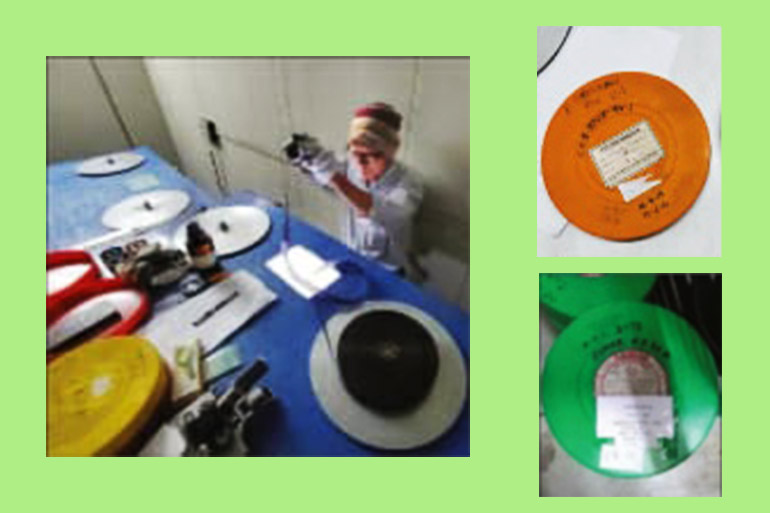 Left : Film preservation or film restoration Work in Progress Right: Top Negatives of Pather Panchali and Bottom Sonar Kella
Conservation of films has some prerequisites including maintaining a room that offers a clean, cool and stable environment for storing films. Prolonged exposure to relative humidity in excess of 60 per cent can lead to fungal growth on gelatin emulsions irrespective of the type of film base. High relative humidity and temperature, over an extended period can destroy a film. So, a room needs to be dehumidified and it must be kept reasonably airtight to reduce the entrance of moist air. The average temperature of the room, for example, where the film negatives of Ray's cult creation, Pather Panchali, is stored, is between 8 and 10 degrees Celsius. In another room where 'Heerak Rajar Deshe' and 'Ganadevata' are stored, the temperature dips further to anything between 2 and 3 degrees.

At present, there are 483 documentaries and short films in addition to 35 government-produced and 120 private-produced films. A full-length film usually has 12 to 13 reels. There are some exceptions though for instance, 'Sonar Kella' is a 15-reel film, while 'Heerak Rajar Deshe' and 'Pather Panchali' are made with 14 reels. In total, there are about 10,000 reels in the archive. Along with films, documentaries and newsreels, the total inventory runs to about 800.
Other than the 34 films directed by Satyajit Ray, there are film classics by Ritwik Ghatak including 'Meghe Dhaka Tara' (1960), 'Subarnarekha' (1965), Tapan Sinha's 'Jhinder Bondi' (1961), Mrinal Sen's 'Akash Kusum' (1965), "Akaler Sandhane'(1980), Utpal Dutta's 'Barricade' (1982), Buddhadev Dasgupta's 'Durattwa' (1981) and Saroj Dey's 'Koni' (1984). Reels of Sudhir Mukhopadhyay's 'Pasher Bari' (1952), shot in nitrate negative, are also preserved here.
At present, pre-digitization work is in progress at the Cinema Centenary Building (former Radha Studios) which includes cleaning the negatives, splicing them if they are torn somewhere, scanning and cleaning the scratches or stains on the negatives. The entire restoration process is quite complicated and some of it is done manually and the rest with machines. However, the final digitization is done by the National Film Archive of India, at Pune. So far, 22 film reels have been sent to Pune and out of these, some have already been digitized while work is in progress on the others.
The state government's laudatory initiative will not only help film buffs of both contemporary and future generations to view the classics and understand the entire making process involved. The archive will also be a gold mine for academics researching on films and film-related topics. A special 'Digi locker system' is being developed so that film enthusiasts and researchers can easily access the film reels in future. The government has also decided to screen several classics from the archives for the 'Film Appreciation Course'. Film director Gautam Ghosh is in charge of supervising the entire operations. He is envisioning the project as a bridge that will link the past with the present and through this mammoth project, future generations will be able to see and appreciate the golden era of Bengali film industry.