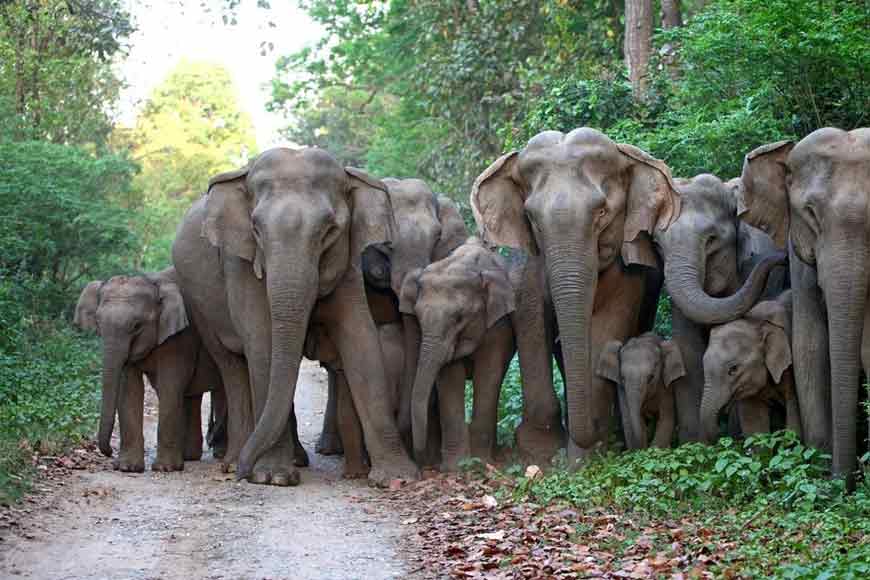 August 12, World Elephant Day
Elephant corridor. This is a phrase that has increasingly become part of our general lexicon. Which could be a bad thing - because it indicates that as human and elephant habitats collide, the discussion on elephant corridors becomes more urgent - or a good thing - because it encourages us to find out more about this most magnificent animal. On World Elephant Day, therefore, we thought it would be a good idea to look at some of the most important elephant corridors of West Bengal.
According to the last comprehensive official estimate released in 2017, northern West Bengal is home to a population of nearly 500 elephants. Don't be surprised by this low number, since the entire population of the Indian elephant (found throughout South and South-East Asia) is estimated to be only about 27,000.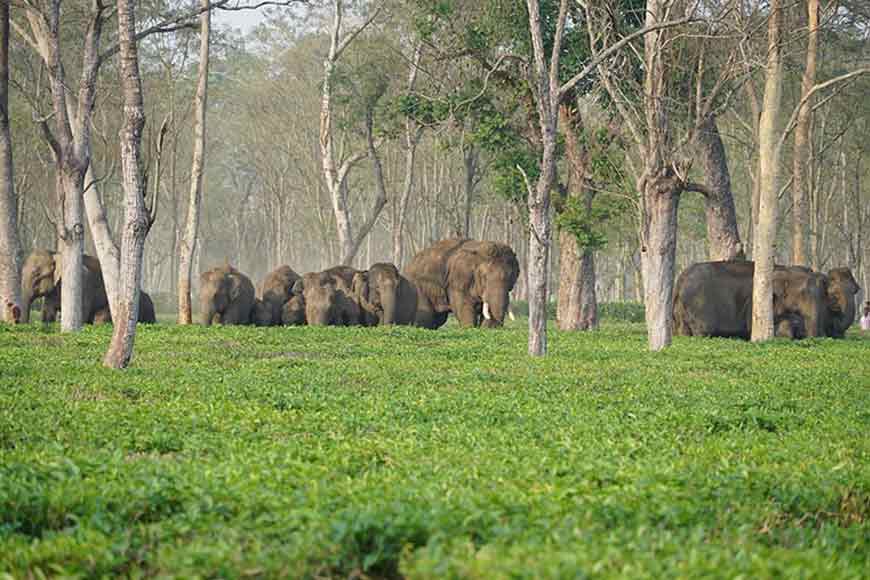 Elephant corridor: a tiny stretch of land that connects two large elephant habitats
The elephant range is bounded by Nepal to the west, Bhutan to the north and Bangladesh to the south. The elephants usually populate the area between the Sankosh and Mechi rivers, covering the districts of Darjeeling, Jalpaiguri, Alipurduar and Coochbehar. Northern West Bengal has a forest area of roughly 3050 sq km, of which about 2000 sq km is elephant habitat, covering most of the famous national parks and sanctuaries in the region, such as Jaldapara, Gorumara, Buxa, Mahananda, and Chapramari.
A few more statistics will show you exactly why the human-elephant relationship is so important in this part of the state.
Only about 34 percent of the elephant habitat in North Bengal is actually under forest cover. Of the remaining area, 22 percent is under tea cultivation, 17 percent under other forms of agriculture, and 27 percent under human habitation and development. If you were an elephant, how would you feel? This isn't an absurd question, the threat is real.

As per the 2011 census, which is the last government census conducted in India, the average human density in the Dooars and Terai regions is 679 persons per sq km. Understandably given the scenario, though the region supports less than two percent of India's total elephant population, it accounts for almost 12 percent of all human deaths caused by elephants in the country.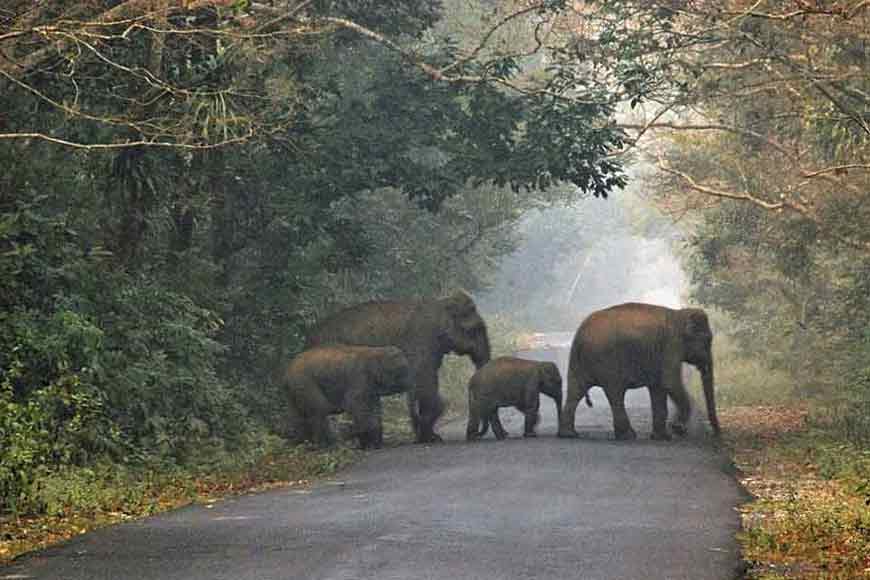 Which is why elephant corridors assume such importance. As a rule, no matter what, elephants will follow these corridors irrespective of the hurdles in their path, because these are routes they have taken for hundreds and thousands of years. So if we are to inhabit their land, the least we can do is avoid the corridors.
As it is, major elephant movement takes place through the region's tea gardens. Almost 90 percent of the gardens in Jalpaiguri and Alipurduar and 30 percent in Darjeeling lie within elephant corridors. Add to that the railway track between Siliguri and Alipurduar, which travels through three protected areas (Mahananda, Chapramari, Jaldapara) as well as buffer areas of Buxa for a lot of its length, and passes through 10 important elephant corridors. This track was responsible for the deaths of 27 elephants between 1974 and 2003, and 56 more between 2004 and 2016, after it was converted into a broad gauge line.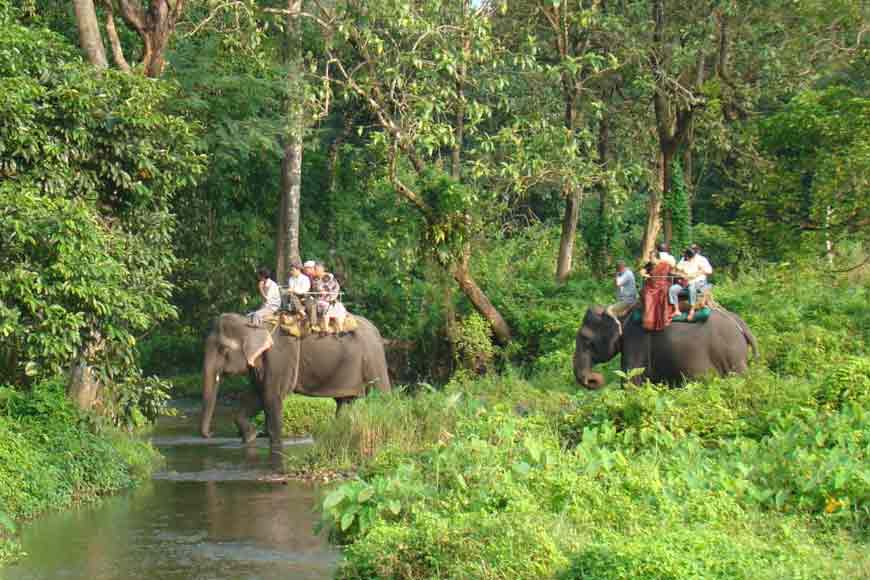 But of course, not all is gloom and doom. Take the very vital elephant corridor between Mahananda Wildlife Sanctuary and Baikunthapur Forest Division along the Teesta River. The West Bengal Forest Department has notified about 40 hectares of the Teesta floodplain in the corridor as a wildlife sanctuary, which will significantly contribute to the protection of the corridor and facilitate elephant movement.
But there is also an urgent need to re-establish many corridors, as well as maintain existing ones, if elephant herds are to remain connected across state and national boundaries, both for their sake and ours. Elephants are what is known as a 'keystone species', which means they are important for the survival of the ecosystem. As a WWF note says, "They make pathways in dense forested habitat that allow passage for other animals. An elephant footprint can also enable a micro-ecosystem that, when filled with water, can provide a home for tadpoles and other organisms."
So on World Elephant Day, read more about elephant corridors, donate a small amount of money to any elephant conservation effort, and spread awareness about why the survival of elephants is essential for the survival of humans.