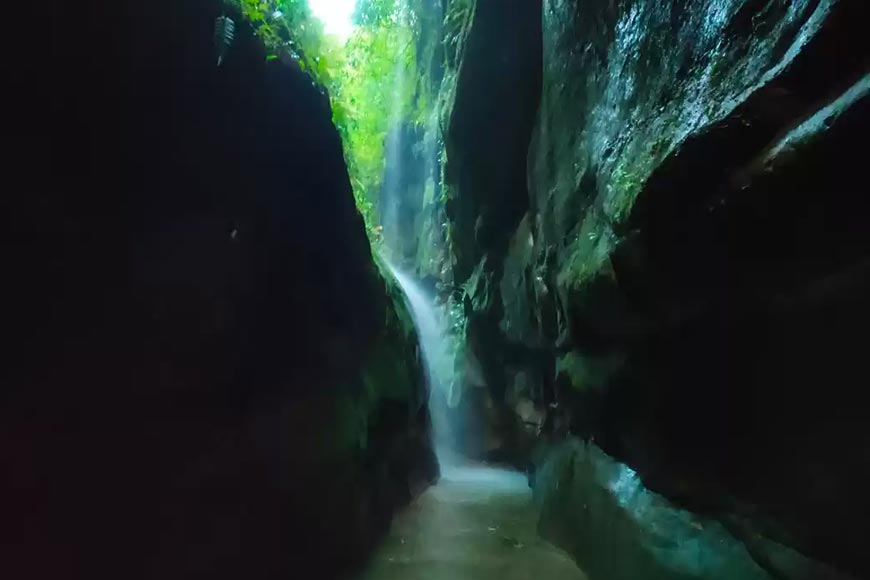 Yelbong Canyon Cave, Kalimpong, North Bengal
As I walked past the slippery grounds surrounded by steep walls of rocks made by none other than the gushing river over centuries, it felt like I was treading the treacherous route of some Indiana Jones movie. Out for some adventure on my own, my solo traveller vibes had never felt an excitement so big, as it did while trekking down the Yelbong Canyon of North Bengal. The best part is that this trek is not too arduous, yet filled with the beauty of birdsongs, colourful butterflies, flowing rivulets and forests all around. So even if you are not used to treks and hikes, you can safely try out the small Himalayan hamlet of Yelbong or Yelbonga, situated in the valleys of Kalimpong on your Puja trip this year. It is indeed an offbeat location and has been quietly tucked away so long from the usual tourist map or the regular hiking routes of North Bengal. But surprisingly, Yelbong Canyon can anytime call for a grand tourist destination of Bengal. Oh Yes! We do have our own canyon, just like the Grand Canyon of Colorado, if not in size, but in grandeur, Yelbong Canyon can beat any popular tourist destination.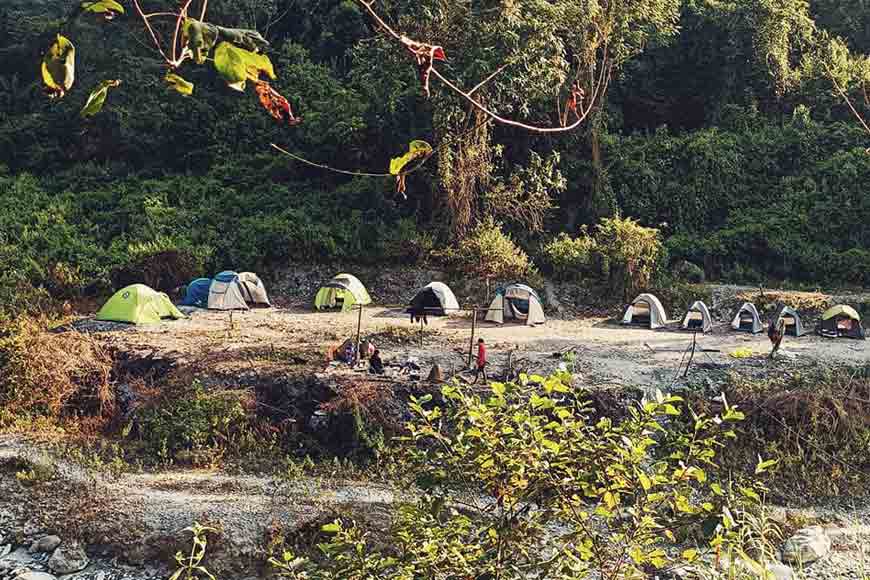 Yelbong is considered to be one of the best canyon treks
The natural beauty of Yelbong will fill your soul. Since it is surrounded by hills, forests and rivers, all in one, it has some amazing views of sunrise, as well as sunset. So if you wish to ditch the usual Tiger Hill view this vacation, you can always try out this place. My dawn broke to chirping of birds, as the crisp mountain breeze blew through the fresh pine forests and left behind the fluttering butterflies. This place is famous for different species of colourful butterflies too. Even if you do not wish to turn into the usual butterfly catcher like Sherlock Holmes' Hounds of Baskerville, you will undoubtedly enjoy the kiss of these fragile creatures, as you sit beside the flowing river rushing down the hill slopes and giving rise to gorges around. Yelbong is famous for river canyon trekking, surrounded by hidden waterways and lofty waterfalls in the forests and hence is gaining quick popularity among adventure lovers.
A canyon is a deep, narrow valley surrounded by very steep walls with rocky cliffs, typically one with a river flowing through it. The river canyon is haunting and thrilling at the same time. Yelbong is considered by trekkers as one of the best canyon trek. One will find many beautiful and spectacular waterfalls deep inside the jungle, perfect for resting and enjoying a peaceful time. This trek is also famous for two hidden treasures and if you are lucky, you will surely be witness to nature's spectacular show. They are the 'Rainbow Waterfall,' that spreads the sunlight in the form of a colourful rainbow and the other is 'Three-step Waterfall,'that comes down in steps. There are quite a few adventure trekking groups in the area that will guide anyone or even take them rappelling, swimming, bouldering, scrolling in a cave, river crossing etc with experts around. It is advisable not to go alone on these hikes or sports. Rather you should take professional help.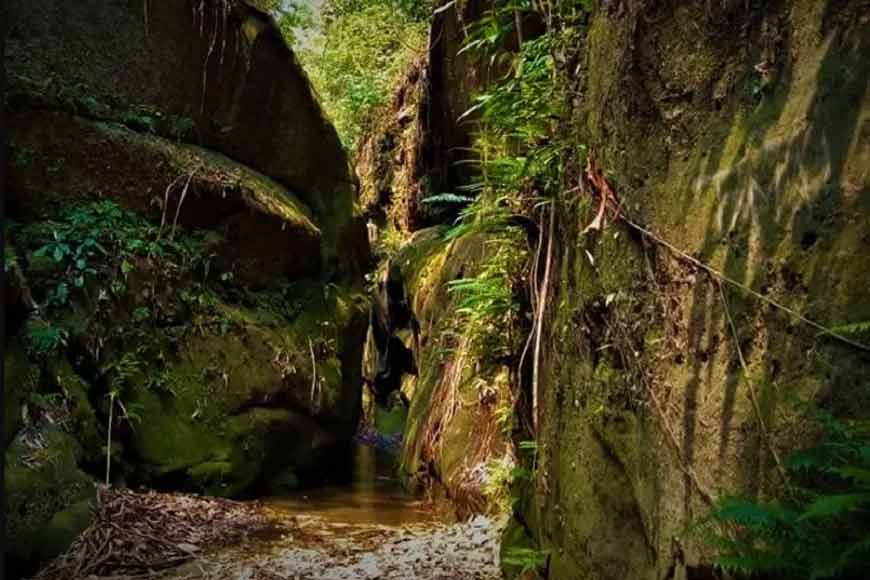 Around 5 km from Yelbong stands another lovely village called Chuikhim. The village is connected with the main road by an unpaved road and one can walk down between these two villages. Yelbong village offers an excellent view of the Dooars plain. It has a few homestays for tourists to stay overnight. The Chuikhim-Yelbong Canyon trek originates from Yelbong early in the morning and is about an hour walk from the rocky cliff of Yelbong that brings you down to the Ramti river, a major tributary of Leesh river. This phase of the hike is mostly downhill. About half an hour upstream trek on the riverbed, will take you to Lumbini, an ideal place for camping and angling. The place around Lumbini is excellent for adventure lovers. Book an overnight stay in one of the tents is possible at Lumbini too, or one can trek back to Yelbong or Chuikhim.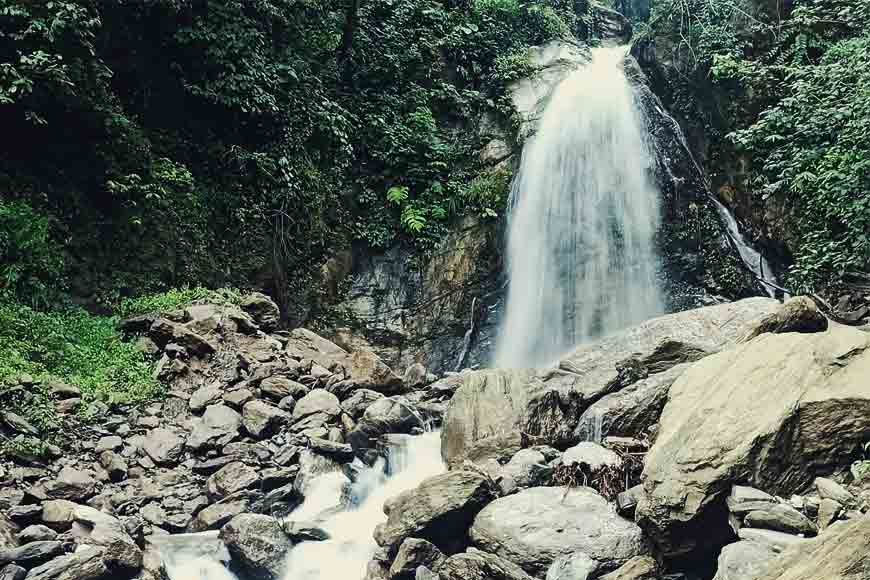 How to reach
Nearest Airport – Bagdogra (IXB)
Nearest Railway Station – New Jalpaiguri (NJP)
From Bagdogra, it is 70 kilometres and from NJP it is 50 kilometres (2.5 hours) drive to Yelbong through some wonderful tea gardens, forest, small towns and villages. One can also reach here from Mal Junction that is 35 kilometres from Yelbong and takes around 1.5 hours drive.
Best time to visit
One can visit Yelbong throughout the year but summer is best as the trek becomes quite pleasing. Monsoon can be treacherous, but this is the season when this place feels like heaven.