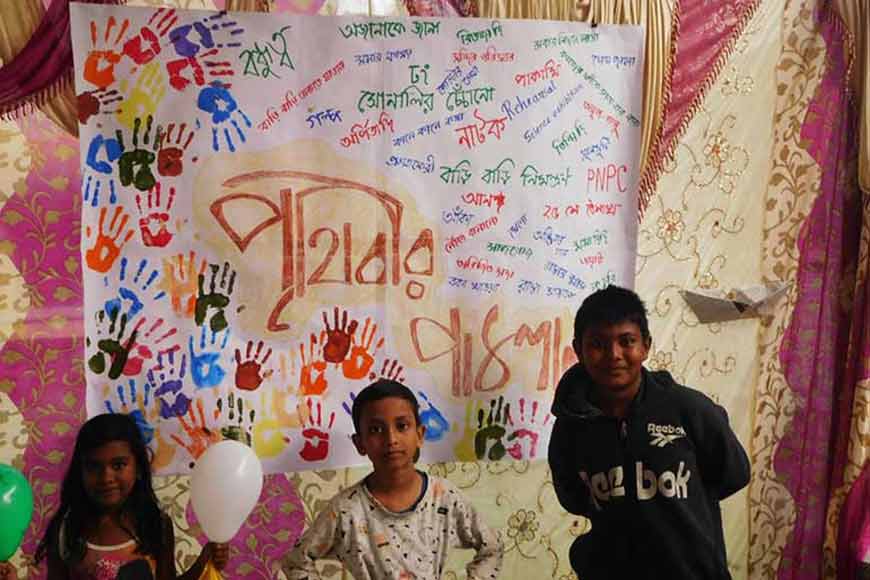 When the COVID graph in the city peaked in March 2020, it was a grim scene everywhere. Maintaining social distancing was found to be one of the most effective ways to prevent the spread of COVID-19 and people resorted to social distancing measures zealously. But when most citizens were preoccupied with their own safety and busy inculcating safety measures at home, a group of gung ho youths defied all warnings and set out on a mission to provide sustenance for the lonely and destitute citizens of the city. They accumulated funds and set up community kitchens for the homeless poverty-stricken natives of the metropolis and served migrant workers who trudged their way to their villages on foot during the lockdown. This was not a day's charity that the youths had set out to perform. They stood by their poor, homeless brethren through thick and thin, providing them sustenance and hope for months on end. A group of proactive students and alumni of Kolkata's premiere universities, namely Presidency, Jadavpur and Calcutta University, got together and vowed to help the poor masses tide over the pandemic situation. They named this joint venture the Quarantined Student-Youth Network (QSYN). This student-led initiative has been working in West Bengal since the first lockdown was imposed in March 2020. But what is this network?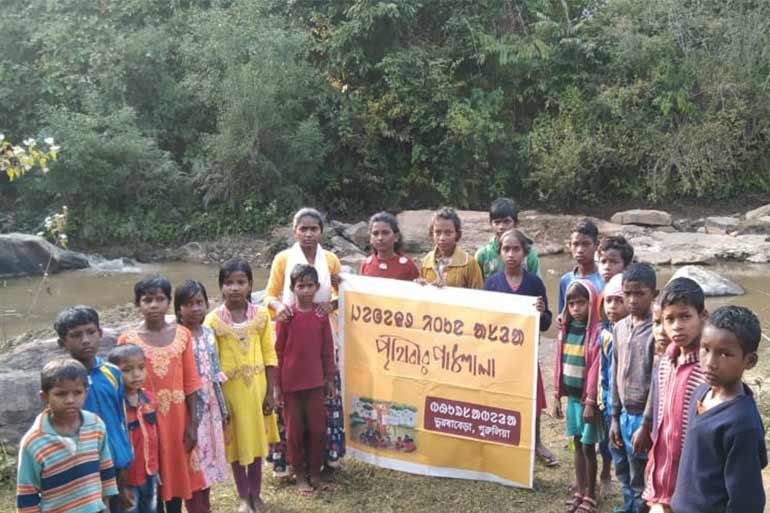 Sushmita Mondal, a student at Calcutta University explained, social solidarity with physical distance is their motto. They have not only been providing cooked meals to the needy daily but have rushed to help individuals and communities whenever they have been approached by the hapless. Their teams have rushed to Amphan devastated villages to rescue and rehabilitate the locals or have been using all their contacts and resources to help workers who have lost their jobs, find an alternate occupation.
Since then, times have changed and life is gradually rolling back to normal but QSYN's promise to stand by the less fortunate members of the society and extend a helping hand to the needy has kept the group on its toes. In fact, the network's field of operation has extended far beyond the borders of the metropolis or its adjoining areas to include other cities, suburbs, villages and districts.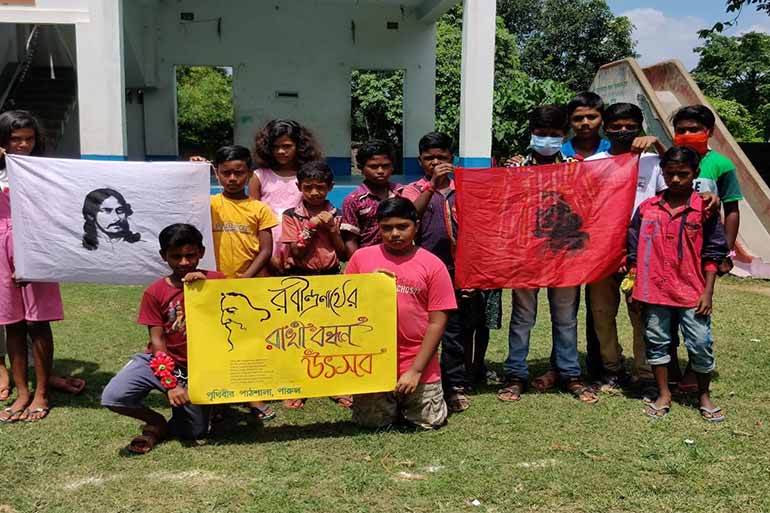 The COVID-19 pandemic has affected educational systems worldwide, leading to the near-total closures of schools, early childhood education and care (ECEC) services, universities and colleges. The impact was more severe for disadvantaged children and their families, causing interrupted learning, compromised nutrition, childcare problems, and consequent economic cost to families who could not work. Basic education is a child's birth right but children in many of the remote villages are still deprived of their very basic right. QSYN volunteers realized this early and decided to step in. Their determination to include the poor, marginalized section to be a part of the mainstream society led them to launch a unique school, 'Prithibir Pathshala' (World's School). This is a different kind of school that targets first generation learners and aims to bring children from underprivileged families into its fold and spread education among all.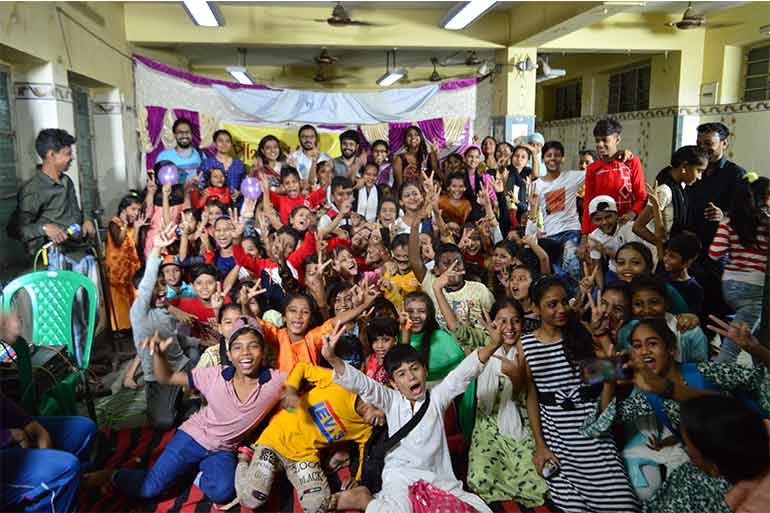 Prithibir Pathshala is a dream project of the QSYN group of students and youth. The word 'Pathshala' normally denotes a seminary where children are taught. But a traditional school revolves around the usual concept of class, syllabus, exams and ranks. But the real purpose of education is not confined to these few concepts. Instead, it encompasses everything we see around us – be it nature or society or technology that unfurls around us every day. Education is power, it makes us think and examine the principles behind an action. It inculcates positivity, good values and enables us to see the world in a broader perspective. Prithibir Pathshala aims to achieve just that.

Sneha Ganguly, one of the volunteers says on behalf of the school, "Education is not just about completing a pre-set syllabus in a class. There is so much to learn from our surroundings, from our daily lives, from the environment around us. When we started this school, our primary goal was to sensitize children and teach them to identify and imbibe a realistic, down-to-earth sense of life. "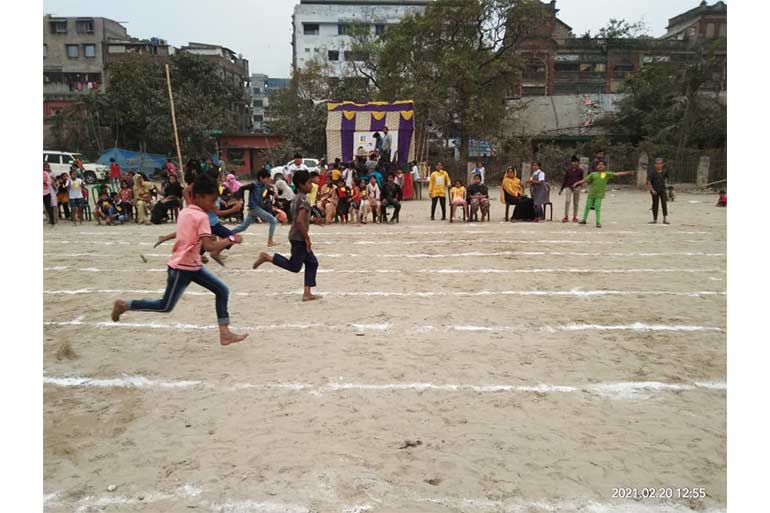 The first Prithibir Pathshala was launched in Patrasair area of Bankura. Similar initiatives were started in Kalikapur, Ruby, Bagha Jatin, College Street and Patuli areas of Kolkata. Saikat Sheet of Jadavpur University and an active member of QSYN claim they are operating 14 pathshalas in Kolkata at the moment. In addition, there are 60 more such schools functioning in different districts of the state.
Prithibir Pathshala has taken scores of children from poor families, who are often stamped 'back-benchers' by the society under its wings. The school has been hailed by parents and guardians of first-generation learners who see the pathshala as their beacon of hope for their children's future. Teachers work really hard to inculcate discipline and ingrain regular study habits in the young pupils. Other than the regular curriculum, children are encouraged to take lessons in extra-curricular activities including dance, music, recitation, drama skits, drawing and painting etc. Cultural programme are organized regularly and annual functions like Poila Boishakh, Rabindra Jayanti, Raksha Bandhan etc are celebrated with great gusto. The children are taken out of the school premises to participate in the day-long annual sports day where various sporting events are held and prizes are given to the winners.
No natural calamities or any other impediments have been able to weaken the determination of volunteers like Sneha, Asif, Shivangi and other dedicated youths, who have been teaching the kids free of cost. Sneha Ganguly has been successfully running the school in Rishra area of Hooghly. She is grateful to the locals who, she says, have come forward spontaneously and donated generously and has promised cooperation in running the school. "Without their support, setting up the school would not have been possible," she insists.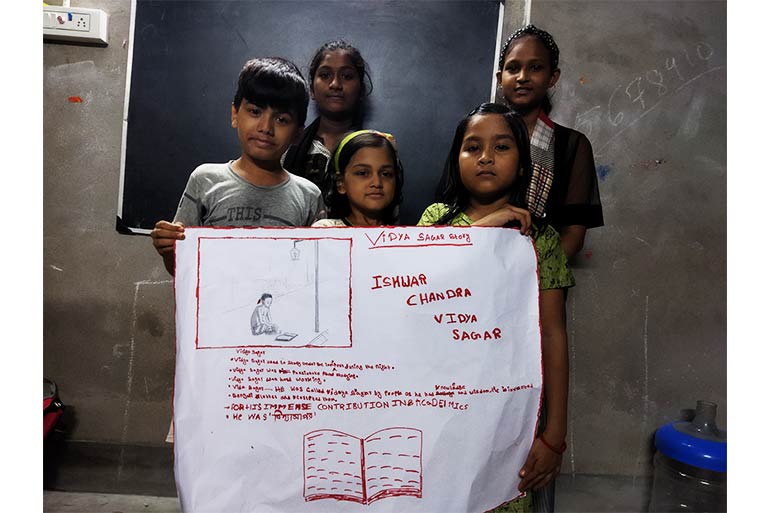 There is a page on Facebook dedicated to 'Prithibir Pathshala' and the page has guided other youths to channelize their potential and enthusiasm to do something constructive for the society. Many have provided financial support; others have donated books or pledged to provide daily meals to the kids. Many have offered to volunteer as teachers and as a result there is no dearth of dedicated teachers in Prithibir Pathshala. In the districts, local youths have pitched in and they are running the pathshalas in their areas independently. The schools in Purulia are being run by the indigenous Adivasi youths of the area.
Time moves on in its own pace and so does Prithibir Pathshala. The beaming faces of the pupils at the end of each day boost up the morale of the volunteers/teachers and the fatigue after a hard day's labour evaporates. The volunteers are determined to continue their 'labour of love' till the time they can achieve their goal of building a progressive society where human beings will not be discriminated on the basis of their caste, creed, language, sex etc. and everyone will get equal opportunities in the all-inclusive society.
(Translated by TTW)