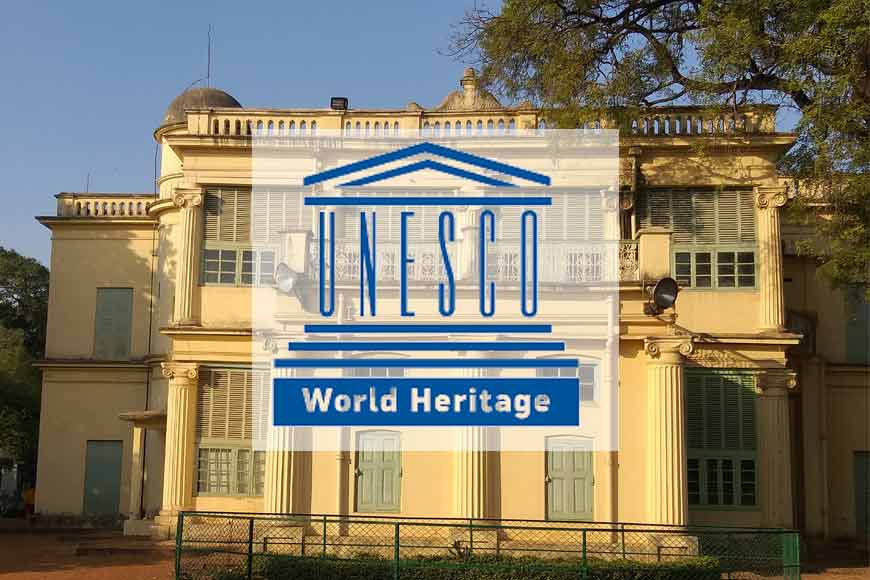 India has a total of 40 sites that have been awarded the UNESCO World Heritage tag. These include 32 cultural sites such as Agra Fort, Taj Mahal, Harappan-era site in Dholavira, Elephanta Caves, Red Fort complex in Delhi, and Mahabodhi Temple complex in Bodh Gaya in Bihar. India also has 52 sites on the tentative list, including Temples at Bishnupur in West Bengal, Mattanchery Palace in Kerala, and Wild Ass Sanctuary, Little Rann of Kutch in Gujarat. But added to that, now comes the name of Santiniketan, the abode of peace attached to none other than Rabindranath Tagore.
The UNESCO World Heritage Centre has recommended Santiniketan for inclusion in the UNESCO World Heritage List. The International Council on Monuments and Sites (ICOMOS), a France-based international non-governmental organization, made the recommendation. The ICOMOS is an advisory body to the UNESCO World Heritage Centre, comprising experts, representatives from local authorities, heritage organizations, and companies. Visva-Bharati, the university built by the Nobel Laureate poet, has already received the Heritage tag. Now it will be the town of Santiniketan to follow suit.
It was originally a place bought by Rabindranath Tagore's father, Debendranath Tagore, and later developed into a university by Rabindranath Tagore himself. The site has various structures built by the Maharshi, such as the Santiniketan Griha and the Mandir, which are important in their association with the founding of Santiniketan and the universal spirit associated with the revival and reinterpretation of religious ideals in Bengal and India. The site has degree courses in humanities, social science, science, fine arts, music, performing arts, education, agricultural science, and rural reconstruction.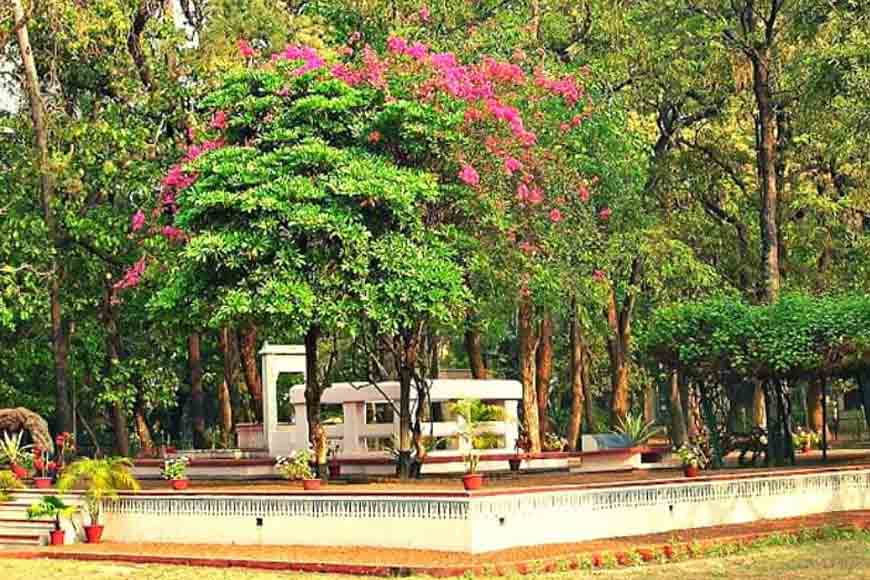 Santiniketan is popularly known today as a university town. Debendranath, who was also called Maharshi was a leading figure of the Bengal Renaissance. In a trust deed prepared in 1888, he declared: "Apart from worshipping the Formless, no community may worship any idol depicting god, man, or animals; neither may anyone arrange sacrificial fires or rituals in Santiniketan... No insult to any religion or religious deity will be allowed here. The sermons given here will be such that will be appropriate to the worship of the Creator and Father and will help in ethics, benevolence, and brotherhood..." It was in this area that the Maharshi had a spiritual realization while meditating under a glade of Chhatim trees which were the only vegetation in this arid land of Birbhum. These trees still stand with a plaque that says, "He is the repose of my life, the joy of my heart, the peace of my soul."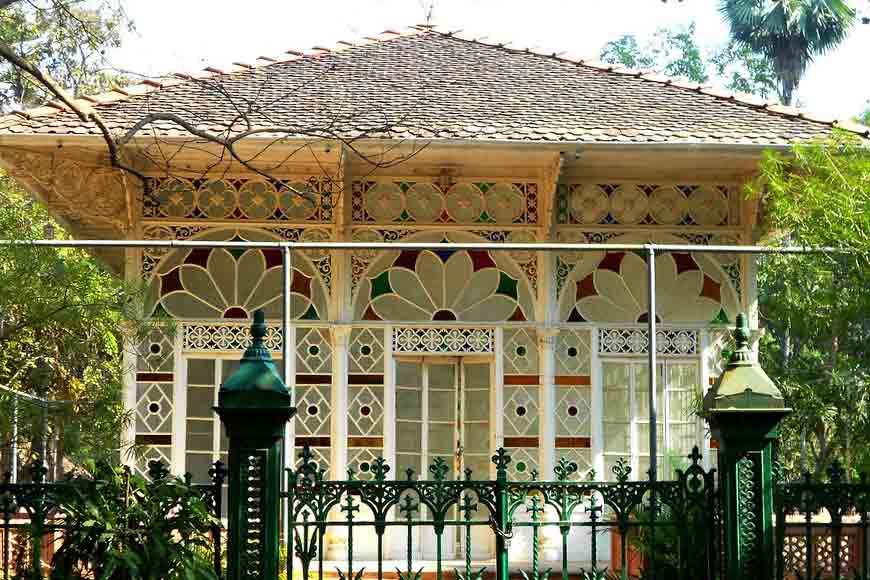 Both the Santiniketan Griha and the beautiful stained glass Mandir or temple where worship is non-denominational were built in the second half of the 19th century. A beautiful garden was laid out on all sides of the Santiniketan Bari. The top layer of gritty dry soil was removed and filled up with rich soil brought over from outside. Rows of various fruit trees and trees with extended foliage for shade were planted. The avenue of Sal trees, so familiar to earlier asramites as being Rabindranath's favourite walk, was planted at this time.
The other important structures built later, was the Patha-Bhavana, with beautiful frescoes by Nandalal Bose and his students, and Natun Bari, built in 1902 by the Poet for his family, the simple thatched cottage that was offered to Mahatma Gandhi's Phoenix school boys in 1915. Mrinalini Devi, the poet's wife died before the house was completed but her name lives on in the nursery school named after her - Mrinalini Ananda Pathsala which is housed here.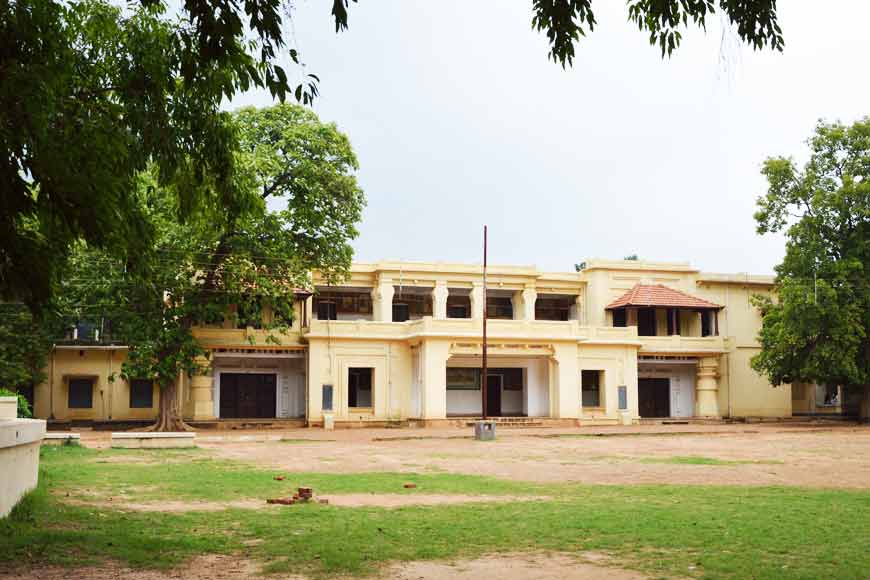 Dehali was built in 1904 and Rabindranath lived here for a while. Santoshalaya, a single-story house with a tiled roof is named after Santoshchandra Majumdar, one of the first students of the Santiniketan Vidyalaya. Santoshalaya is a hostel for students. The walls of this house have frescoes prepared by artists of the twenties. Built out of a donation by Satyendraprasanna Sinha of Raipur, Singha-Sadan has a clock tower and bell that regulates the timings of the daily routine for the ashrama inmates. It was in this building that Oxford University conferred its honorary doctorate on the Poet. Purvatoran and Paschimtoran are the two buildings on either side of Singha-Sadana. Classes are held here. Dwijaviram is a house where the Poet's eldest brother, Dwijendranath lived. Gandhiji visited him in this house. Dinantika built in 1939, is an octagonal two-storeyed structure originally used as a tea house with a staircase on the outside; staff members of Visva-Bharati would meet in the evening for a cup of tea and relaxation. The Cha Chakra, as it was called, was instituted in the name of Dinendranath Tagore by his wife, Kamaladevi. The walls of this house have colourful frescoes by Nandalal Bose. Taladhwaj, a round mud hut with a thatched roof built around a taal tree with part of its trunk and its huge palm leaves stretching out over the top, was built for Tejeschandra Sen, a tree lover who would even share his lodging with one!

In 1917, the citizens of Lincoln, Nebraska had presented to the boys of Santiniketan, a letter-press treadle machine that saw the beginning of the Santiniketan Press, from where the Santiniketan Patrika, a newsletter was printed. Then there is the Ghantatala, resembling a gateway to a Buddhist stupa. A bronze bell hanging from the structure would, at one time, regulate the classes and other events held during the day. The Gour-prangan is the open ground in front of the school building, named after Gour Gopal Ghosh, who was a student and teacher of Santiniketan. Certain ceremonies like the flag-hoisting on Independence Day and Republic Day are held here. On 23 January, the birth anniversary of Netaji is commemorated with rows of lighted lamps on the ground. Kalo Bari is a unique structure made of mud and coal tar. Built as a hostel for Kala-Bhavana students, its walls and pillars have been decorated with relief work and are the handiwork of art students over many years. Begun by Nandalal Bose in 1934, there are examples of Ramkinkar's works on the northern walls.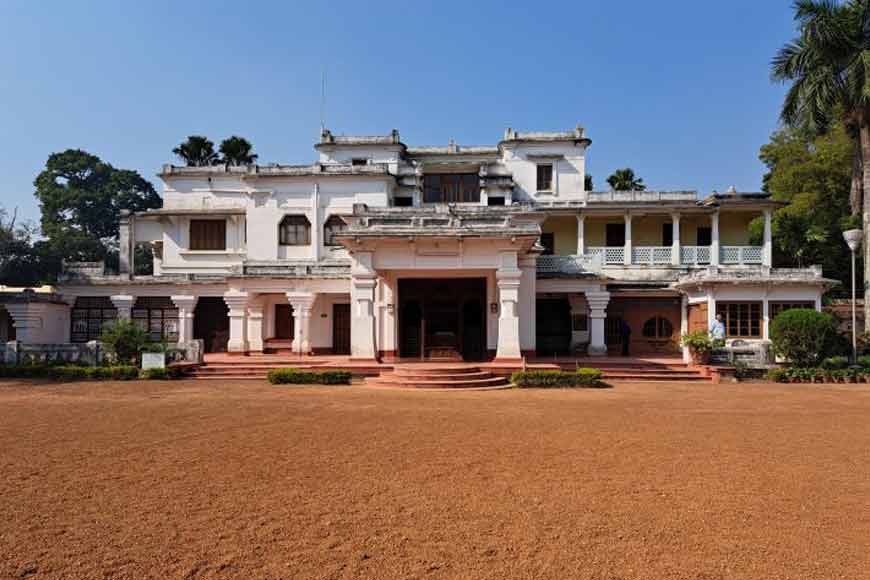 The Uttarayan Complex is to the North of the ashram area, an enclave of Rabindranath's own houses, built over the last three decades of his life (1919-1941). Konark, originally a mud house was the earliest dwelling that Rabindranath built for his seclusion from activity to provide a place for his own work. The Konark verandah was used for poetry readings by the poet. The Mrinmoyee Patio is a beautiful cemented floor with sitting arrangements. The entire outside wall was decorated with beautiful relief work by Kala-Bhavana students under the guidance of Nandalal Bose. The most imposing house in Uttarayana, is Udayan. Uttarayana is the area where the five houses are located.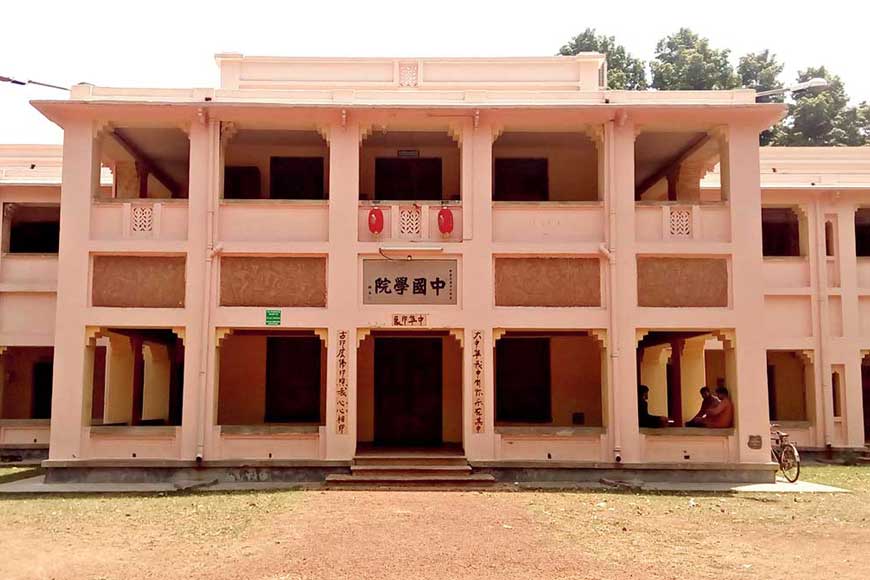 In 1922, Visva Bharati was inaugurated as a Centre for Culture with an exploration into the arts, language, humanities, and music and these are reflected in diverse institutes that continue in their educational programmes, which are based on the founding principles of excellence in culture and culture studies. As originally intended, these serve as institutes for Hindi studies, Hindi Bhavan, Sino Asian studies, Cheena Bhavan, centre for Humanities, Vidya Bhavan, institute of fine arts Kala Bhavan, and music, Sangit Bhavan.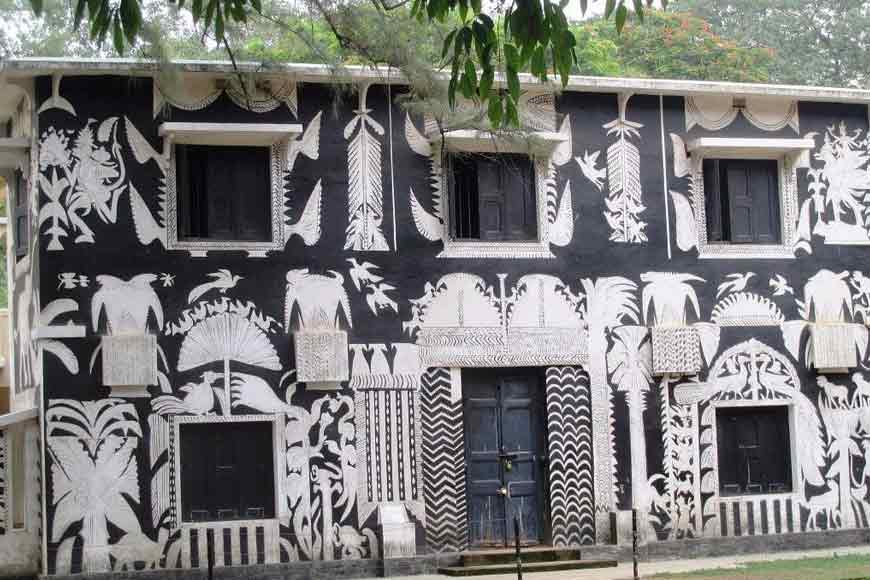 Also in the core area of Santiniketan is Sriniketan, an Institute for Rural Reconstruction founded in 1922 with Leonard Elmhirst as its first Director. For Rabindranath, who was essentially a poet and artist, the realization and the expression of beauty were the supreme objective in human life. His concept of beauty, according to true Indian tradition, was inseparably connected with truth and goodness. Whatever is true and noble in life, nature, and art is also beautiful. Thus, aesthetic sensitiveness, in the true sense, is a fundamental aspect of spiritual education. Most of the houses built after 1919 in Santiniketan and all five houses in Uttarayana were designed by Surendranath Kar (1892-1970). Santiniketan was acutely short of funds and the ashrama had to observe utmost economy in all matters. Surendranath took up the challenge and improvised a kind of architecture that was functional, inexpensive and conformed to the quiet aesthetics of the place. Its hallmark was a sense of austerity, simplicity, elegance of proportion and sparing use of detail. His attention to function, avoidance of flamboyance, low-keyed elegance, and appropriateness to the environment appealed to all.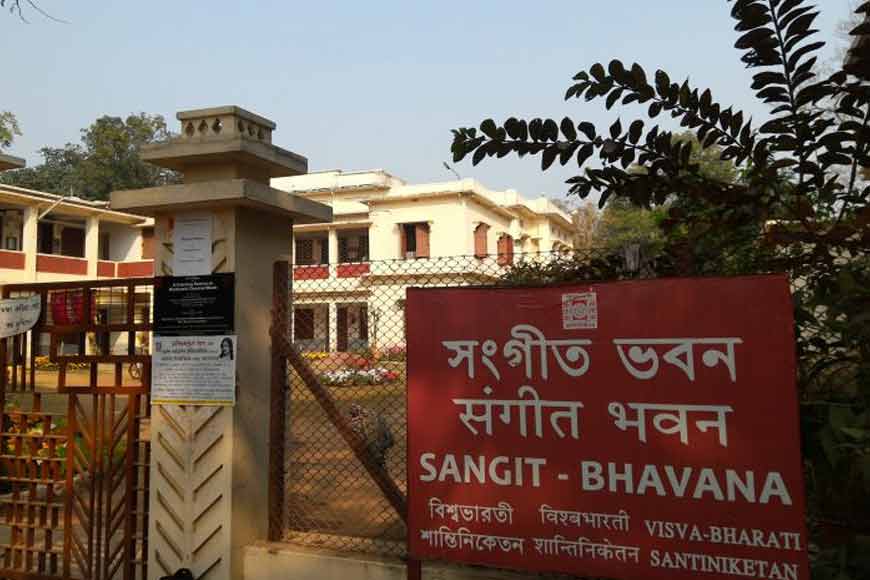 The landscape of Santiniketan is dotted with sculptures by Ramkinkar Baij (1906-1980), larger-than-life figures of Santals who were, in reality, part of the landscape. A Santhal family, complete with a dog, a group of workers running along at the call of the mill, their clothes flying in the air, and a thresher, all are situated along the main road. When Ramkinkar created Sujata, an elongated figure of one of the disciples of Buddha, he placed it just a little distance from the seated Buddha. Nandalal planted Eucalyptus saplings in the area, knowing that one day these tall trees would be a perfect setting for Ramkinkar's Sujata. It was Nandalal Bose, who created an environment where art would be a part of life and the children of Santiniketan have grown up absorbing these beautiful monuments as they have the oxygen in the air.
Santiniketan thus represents the distillation of Rabindranath Tagore's life, philosophy, and greatest works through his lifetime and the continuing legacy of his unique model of education and internationalism through a living institution and architectural ensemble. It is not just a town, but an ideal, a dream, and a place of international interest, a place apt for getting the UNESCO tag.