Ex-Kala Bhavana artist using recycled wastes to produce paper – a GetBengal Exclusive interview of Ruma Choudhury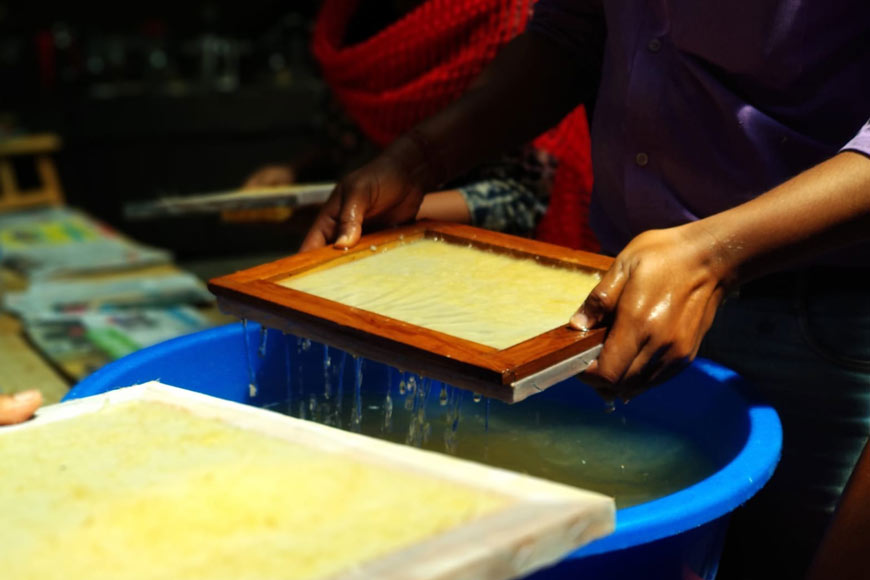 Handmade paper has a checkered history that's thousands of years old. The handmade papermaking technology was mass accepted and considered a precious commodity before development of an industrialized wood-pulp based paper industry. Infact, handmade paper industry is one of the fastest growing industries in India. Ex-Kala Bhavana artist, Ruma Choudhury has been practicing different methods of paper making for many years. In 2019, she set up her ambitious dream project, Paper Nest in Santiniketan. Here she uses grasses, various parts of plants and trees, and recycled wastes to produce paper.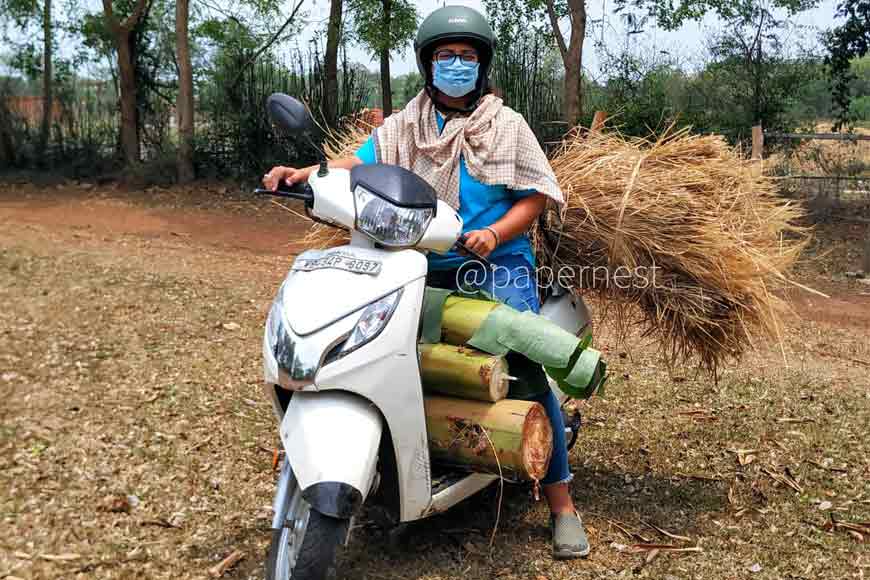 Ruma Choudhury's love affair with handmade paper is an extension of her love for art that inspired her to search for innovative base or medium to give shape to myriad forms. Born into a middle-class family in a neighbourhood close to Santiniketan, Ruma, like most Bengali children, took lessons in music, art and dance but she always loved to draw and paint. By the time she was in her teens, she had made up her mind to study art and had set her eyes on Visva Bharati University. "In my case, I had decided to study art at Kala Bhavana because of its close affinity with nature. The training here is liberal and all-encompassing, giving us the opportunity to grow and imbibe all that we observe around us," says Ruma proudly.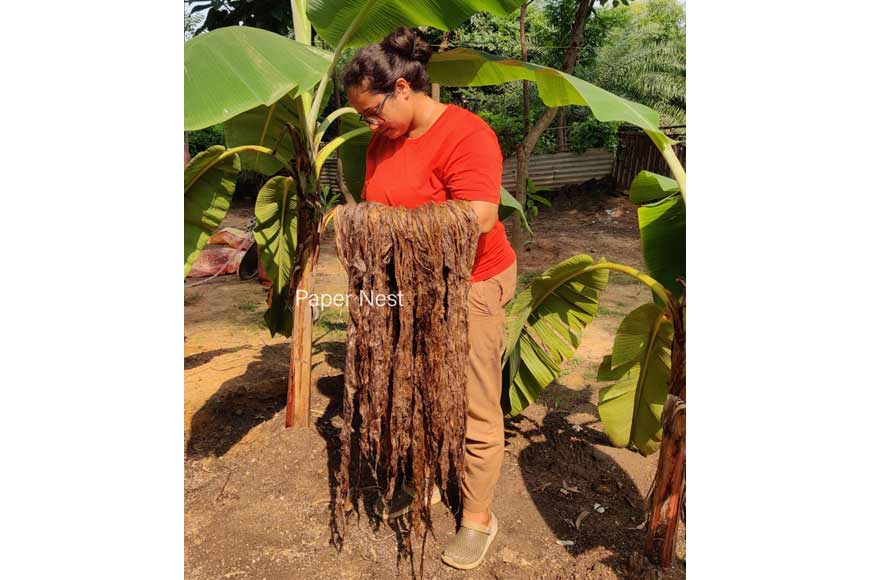 Choudhury completed both her Bachelor's and Master's degree in painting from Kala Bhavana. She toured extensively for the next four years after her Master's because, "I wanted to find out for myself the kind of work that was being done globally as well as in different parts of the country. I accumulated valuable experience while touring but at the same time, I also felt an inadequacy within me. Since I make my own colours from earth, flowers, leaves, wild fruits, barks etc. all sourced from in and around Santiniketan, I felt an intense urge to be close to my resources amid nature. So, I was back to my preferred haven."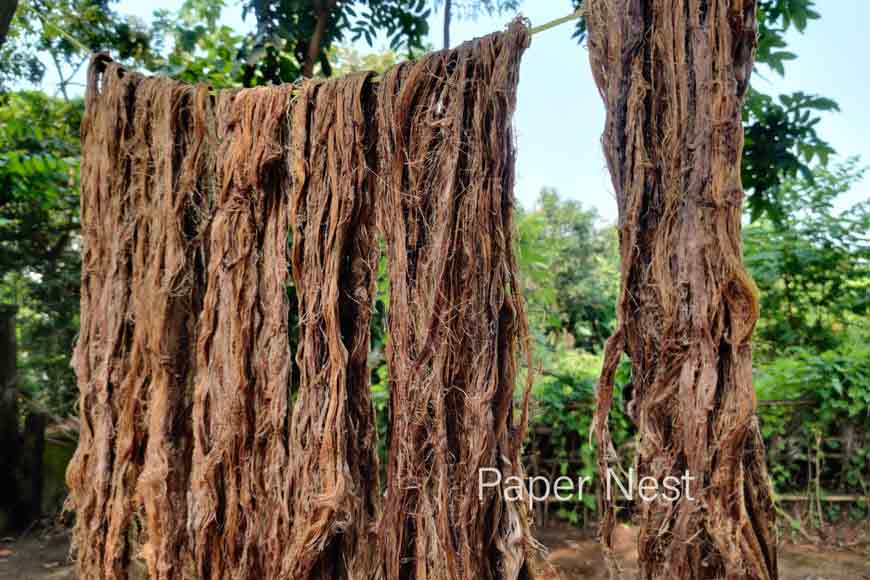 Ruma was introduced to paper making in her 1st Year undergrad course and she was fascinated by the entire process. So, she chose to do her dissertation (a compulsory submission during the final year) on handmade paper making. "I wanted to share my knowledge that I had gained through years of intensive research, both theoretical and practical, among others and teach them everything about recycle and reuse of natural byproducts of trees, straw, bagasse (the dry pulpy fibrous material that remains after crushing sugarcane or sorghum stalks to extract their juice), grass, petals of flowers and leaves etc. I launched Paper Nest as an extension of my research programme and started conducting workshops. I was invited by different school and college authorities to demonstrate the paper making process and I started travelling extensively to teach the techniques."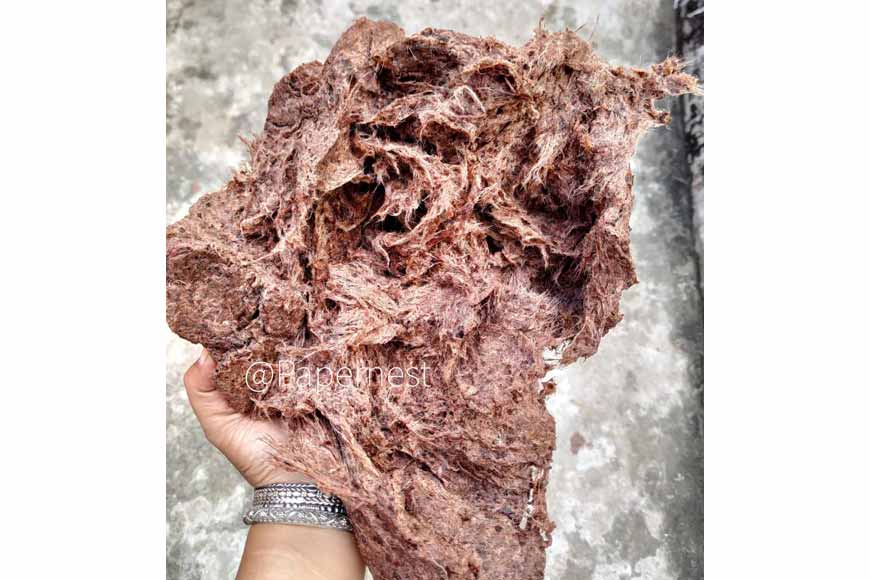 Here participants learn the art of making paper from scratch under her expert guidance right from preparing fibers, making pulp, forming sheets and gain an understanding of how to transform a piece of paper into a piece of artwork.

Right from the inception of Kala Bhavana, all the great artists who had immense influence on the art world here including Abanindranath Thakur, Nandalal Bose, Benode Behari Mukhopadhyay and Ramkinkar Baij foraged in the vicinity around Santiniketan for wild fruits, flowers, barks, stones, earth etc to create their specific colours from natural sources. Our teachers have also taught us how we can source our raw materials for painting from nature. Instead of learning it merely as part of the syllabus, I wanted to actualize the training in real life. There are some basic fibers like cotton, wheat straw, sugar cane waste, flax, bamboo, wood, linen rags, and hemp which are widely used around the world to make paper. But I wanted to explore newer sources and now through my extensive research in Birbhum, I have been able to successfully procure fibers from 38 natural resources which are indigenous to this district. The quantity of such material may not be enough for industry-level production, but it can be immensely useful for the artist community."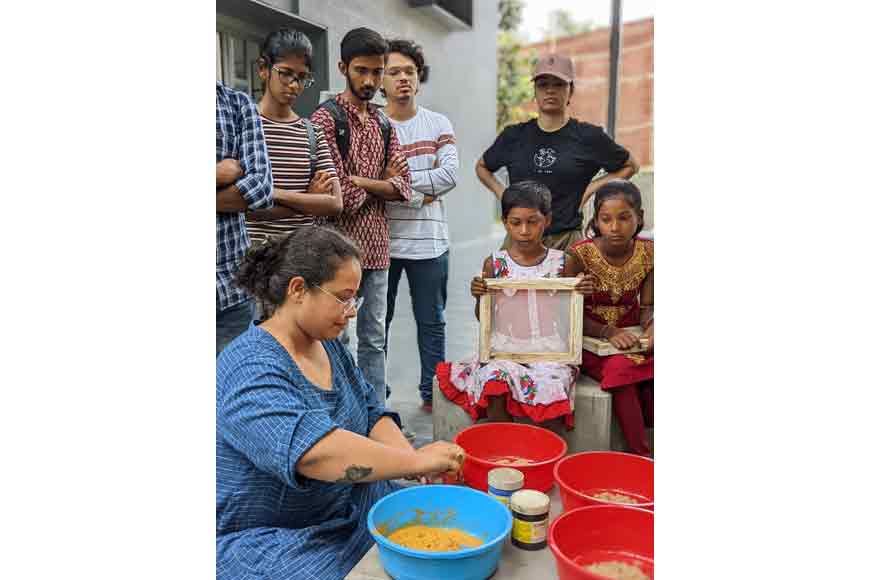 Although for Ruma, this is her labour of love and she has never seriously bothered to take stock of the financial aspects of her venture, she says her handmade paper has a robust market and artists and those associated with the art world keep placing orders with specifications. "Many artists come over to my studio and work here with specific papers that I make for them. Renowned sculptor K.S. Radhakrishnan is currently working in my studio and he is experimenting with hard metal and soft material like paper simultaneously to create concrete images and bring them on a platform. There are senior artists and art students from Delhi, Mumbai, Vadodara, and Kolkata who come here and work for short stints and participate in workshops where I too, am involved in the collaborative creative process. I also get funding from NGOs sporadically for some of my experimental works."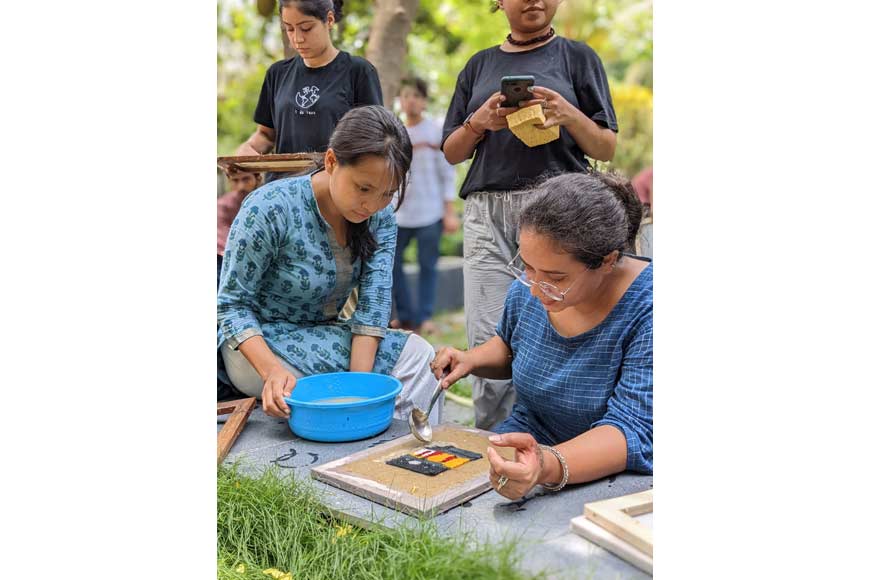 In the recent past, she was invited to do a doll making workshop with patients with psychiatric disabilities at Calcutta Pavlov Hospital. Handmade paper was used to configure dolls in various postures. The participants enjoyed the workshop immensely. "My handmade paper is durable and can be used for various purposes; the papers absorb the natural colours very well and reflect brilliantly. Above everything else, my handmade paper is hardy and its longevity is many times more than traditional papers because I do not use any chemical or adhesive while making it."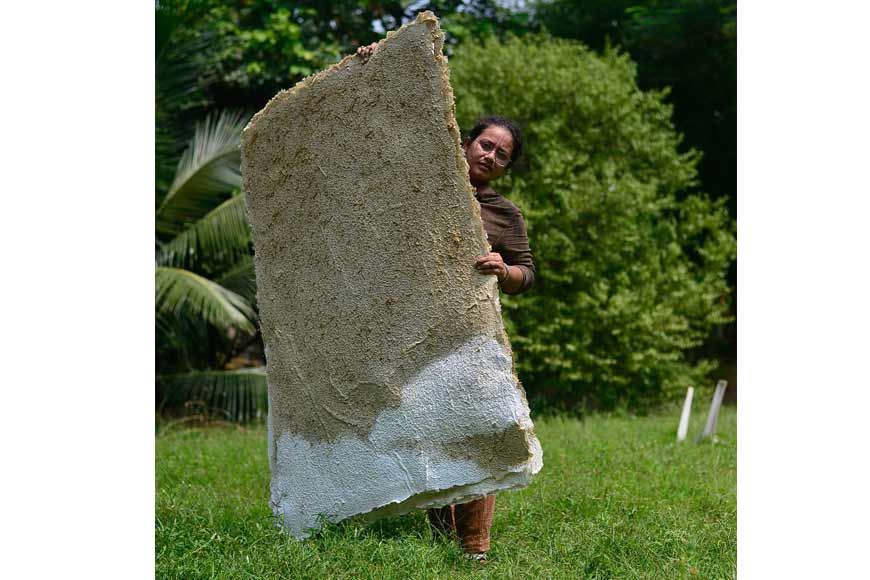 "I have also made paper from discarded fiber of tussar silk. There is a village called Tantipara where professional weavers make tussar silk. During the making process, 50 percent of the raw material is wasted which is then either used as fuel or stuffed to make pillows. I procure vast quantities of the discarded material and recycle it to make paper. The papers come in beautiful hues of brown and dark brown, fawn, dark gray and gray. I want to involve the locals to ensure the resources of Birbhum reach the maximum number of grassroots people and provide them an alternative source of earning. Although at present I am working on indigenous fiber found in Birbhum, I have plans to reach out to different villages in different parts of the country as well. May be, it will take another two-to three years for me to kick-start the project."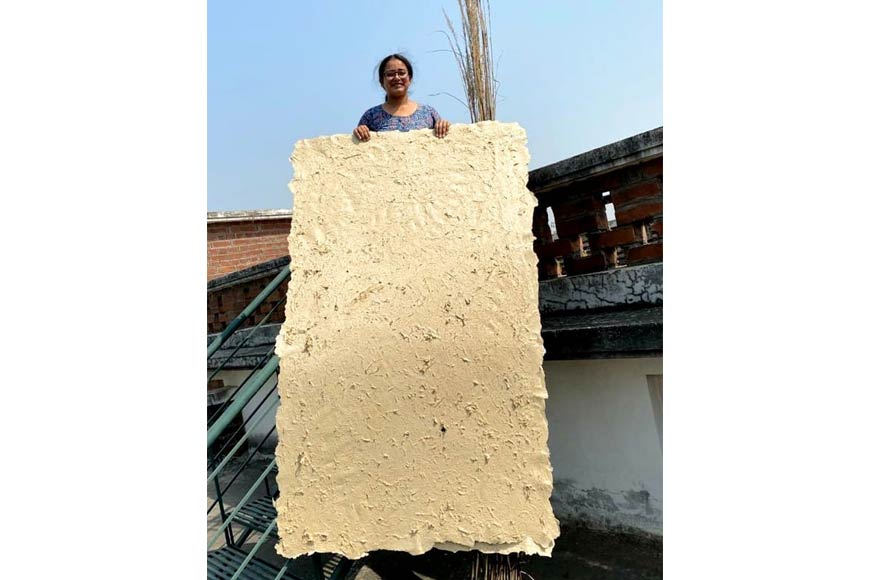 Choudhury is optimistic and raring to go. She has a dream and has charted her path to her destination. She is willing to scale all barriers, push through the darkness to make her journey worthwhile. For her, the sky is the limit.