Sonagachhi Durga Puja: Breaking fetters of customs to soak in the Puja spirit - GetBengal story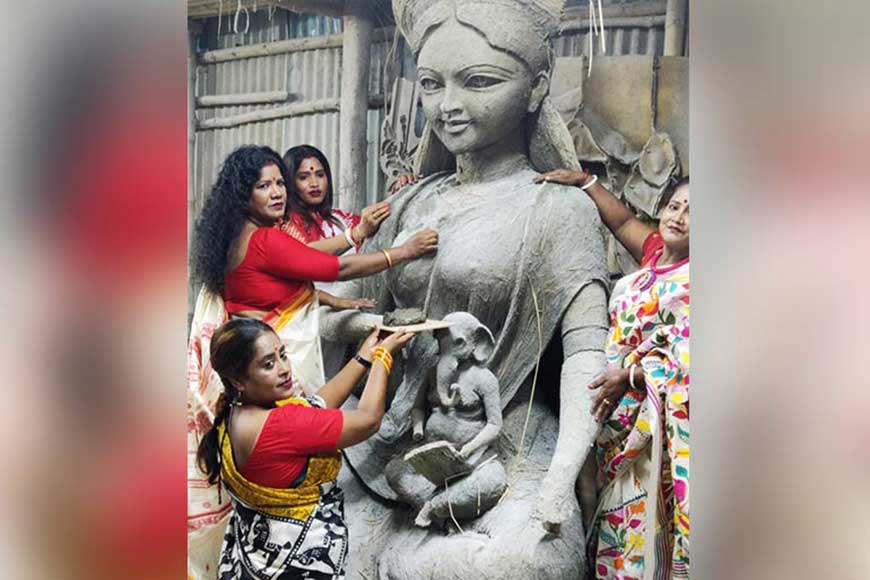 Durga Puja in Sonagachhi
A scene from a movie depicts Parvati, the matriarch of the Chowdhury clan, prosperous landed gentry in Colonial Bengal who visits a brothel to collect a handful of soil, considered essential for sculpting the clay idol of Goddess Durga. She seeks permission from Chandramukhi, the reigning queen of the brothel, for a fistful of soil required for making the family's idol. The two hit it off and Parvati ends up inviting Chandramukhi to attend the four-day puja and revelry at their estate. Chandramukhi attends the puja but her identity is soon disclosed and ruckus ensues. This is a vignette of the society depicted by Sanjay Leela Bhansali in his blockbuster movie 'Devdas' based on Sarat Chandra Chattopadhyay's novel.
The age-old tradition of collecting 'punya mati' (sacred soil) from a sex worker's house is considered essential for initiating the sculpting of the idol of Goddess Durga. The soil is regarded as blessed because people who visit the forbidden quarters of prostitutes leave behind their virtues and piety at the doorstep to enter the world of carnal desires and sin. The soil imbibes the virtues and turns sacred.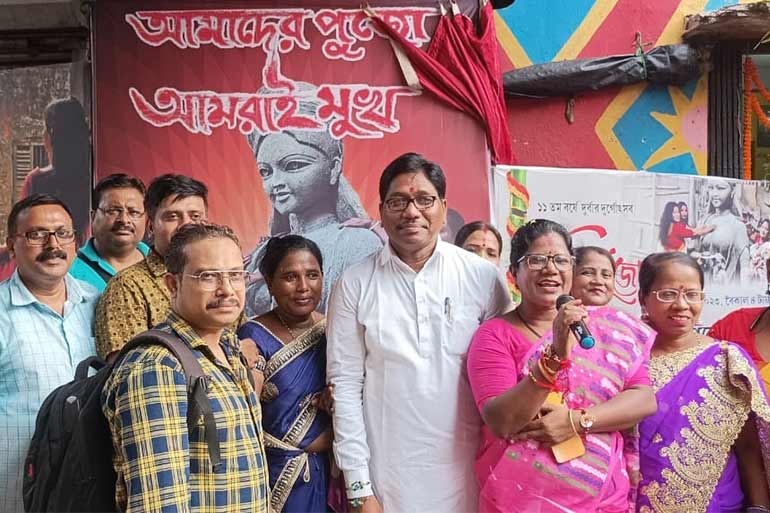 The hypocrisy of our society that has existed for centuries still prevails. In the past, people from all walks of life and age groups participated in Durga Puja revelry, thronging colourful pandals to soak in the festivities but the residents of Sonagachhi, Asia's largest red-light area were barred from joining. The society deprived and boycotted the sex workers as the stigmatized others. They were often subjected to humiliation and harassment from the so-called Bhadrolok and Bhadromohila of our society. Hence, they remained enshrouded in darkness, drowned in obscurity, neglected and melancholic.
Durbar Mahila Samanwaya Committee, an organization that works for the rights of the 65,000 registered sex workers in the state, decided to host Durga Puja in the office premises of the society in 2013. This was a move by sex workers to challenge the duplicity of the genteel society and generate their own form of celebration in the red-light area. The collective spirit of celebrating the religious festival was also a form of protest. In 2016, when the committee decided to scale up the puja and shift the venue on the road, everyone ridiculed them. The official reason was that the puja would block the road. A court battle later, Durbar received a go-ahead to hold the puja on the road again. Durga Puja in Sonagachhi is a symbolic representation of resistance in a subaltern space. It is also noteworthy that sex workers from different religious identity celebrate the festival together. The core committee for the Puja also comprises sex workers from heterogeneous religious and caste identity.
Durbar President Vishakha Lashkar said, "A large number of Durga Pujas are organized in the city and they are promoted as well.

Posters and banners crowd every visible city corner to promote Puja. This time it struck us that we too, should prepare posters and banners and promote our puja. 'Our Face, Our Puja, is our theme this year."
They not only organize the puja but also participate in every segment of the rituals. They gift sarees and other garments to each other and their childrenirrespective of their religious identity, offer floral 'anjali' to the goddess, cook, partake and distribute bhog (food offered to the deities) to all and sundry visiting their pandal. Temporary stage is constructed in their locality where cultural programmes are held in the evenings during the puja. On Dashami, the concluding day of the puja, before the idols are taken for immersion, all sex workers participate in the traditional 'Sindoor Khela' where women smear each other with vermillion on their forehead.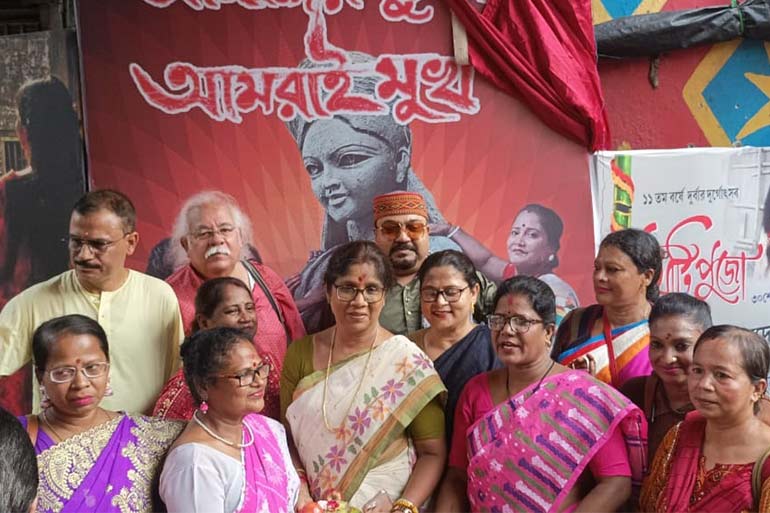 Durbar Mahila Samanwaya Committee, Sonagachhi
This year as the Durbar Mahila Durgotsava Committee gears up to host its 11th edition of the puja, it has zeroed in on the theme, 'We are the Face of Our Puja.' In this context, Durbar President Vishakha Lashkar said, "A large number of Durga Pujas are organized in the city and they are promoted as well. Posters and banners crowd every visible city corner to promote Puja. This time it struck us that we too, should prepare posters and banners and promote our puja. 'Our Face, Our Puja, is our theme this year."
Sonagachhi is bustling with myriad activities as Puja nears. A lot of work is yet to be completed. YouTubers and rookies scramble with cameras and selfie sticks in the narrow lanes and bylanes of Kumortuli shooting artisans busy making idols. This year, a group of Durbar committee members was spotted shooting in Kumartuli. Visakha Lashkar, Champa Mitra, Basanti Biswas, Rafiza Bibi, all members of Durbar were seen draped in exquisite Murshidabad silk, Shantiniketani Kantha stitch sarees posing for a photo shoot in front of the incomplete idol of Goddess Durga that they will take to their pandal once work is completed. The shooting was a collaborative project with Sonajhuri Haat. Speaking on behalf of Sonajhuri Haat project, Rajarshi Das said, "Sonajhuri Haat provided the sarees and jewellery made by our in-house craftsmen for this photoshoot." Incidentally, this organization has been associated with Durbar women since 2017. More than 2,500 artisans and weavers are associated with Sonajhuri Haat.

Since its inception, Durbar has always organized Durga Puja around a specific theme that includes environmental messages to tracing their struggle for an equal share under the sun. Though accessibility to every public place irrespective of one's gender, caste, and class should be one's right, it is often violated and governed by the system of patriarchy and its intersection with one's caste and class. The sex workers, too, have the right to access such public places irrespective of their identity in relation to their work, but in reality, society's thinking has not progressed much. A large number of well-known puja committees in the city rope in celebrities from different walks of life including film and music fraternity to be their Puja brand ambassadors. Organizers use their photographs and video clips to attract viewers to their pandals. Durbar had planned to do something similar but none agreed to be officially associated with the sex workers' puja. So, they decided to do something on their own. Their theme is also a mark of protest against a hypocritical society.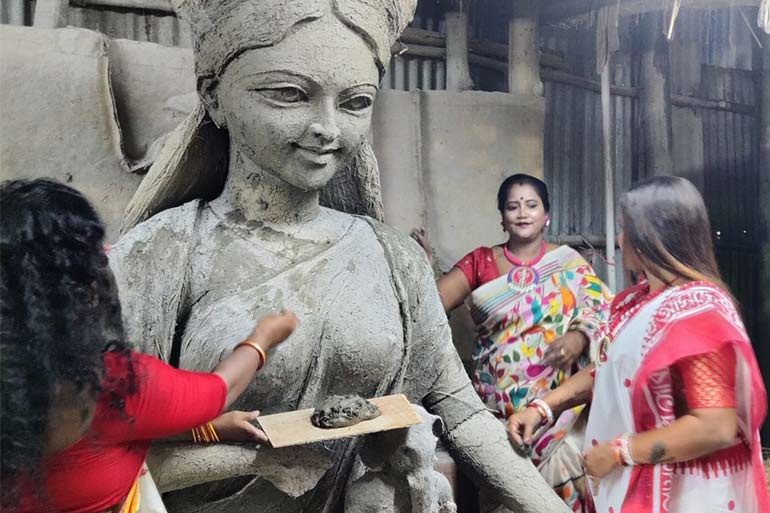 Flexes and posters across the city can be spotted displaying the myriad faces of Durbar's Durga. On August 30, Durbar Pramila Bahini performed the official Khunti Puja, which is a customary ritual before putting up pandals to initiate Durga Puja festivities. State Child and Women's Welfare Association Minister, Dr. Shashi Panja and many others dignitaries were present during the ritual. Dr. Panja said, "We salute Durbar's continuing struggle against an insincere society." Durbar has stepped into its 28th year in 2023. Despite passing through peaks and valleys, Durbar has remained focused.