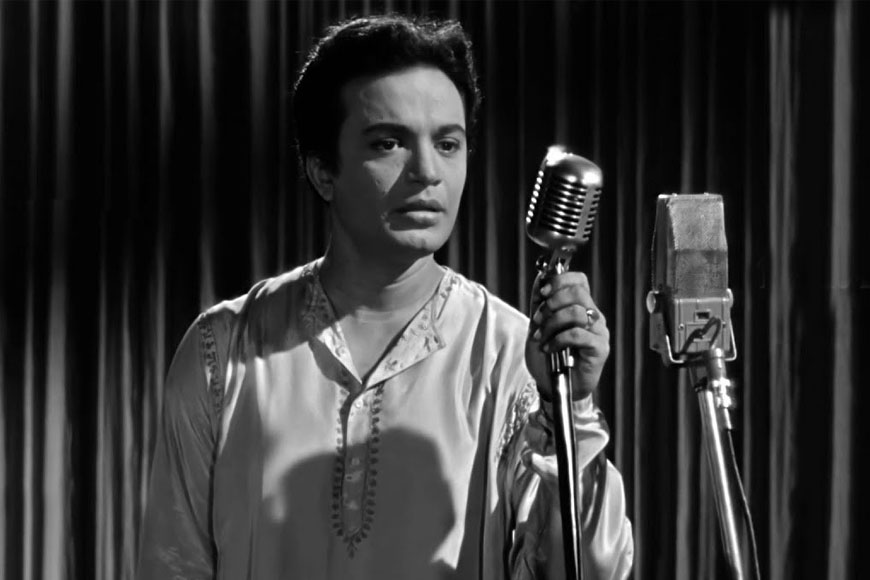 Uttam Kumar in Deya Neya (1963)
Uttam Kumar — the 'mahanayak' who defined Bengali cinema for three decades, was an extremely charming and intelligent man, who lived life on his own terms. He passed away 40 years ago but he is the ultimate hero, whose aura never seems to fade. Bengalis are hopelessly in love with the eternal charmer who has defied death. He was the undisputed monarch of the performing world in his time, with a vast repertoire that included acting, directing, producing, singing and doing social work. He breathed life into characters taken from literature or insipid film scripts. Satyajit Ray had observed once, "Even in films where the director's calibre was questionable, Uttam tried his best to contribute to the overall success of the film; with the better ones he simply excelled."
But how much do we know about the man, Uttam Kumar, when he shed his robe of charisma and his fluid mask that emulated myriad emotions and moods? Did he have emotional upheavals like we commoners? His screen persona oozed of confidence but wasn't he ever hounded by nightmares of failures and defeat?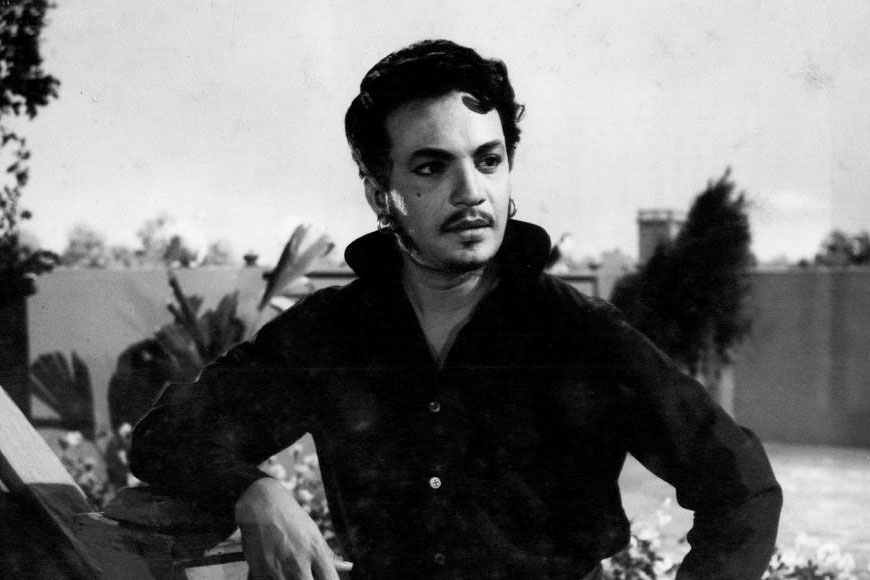 Uttam Kumar in 'Antony Firingee ' (1967)
One of his most famous film, Nayak, directed by Satyajit Ray, depicts Uttam Kumar playing a celebrated actor who meets a journalist on a train journey and ends up revealing the tragic side of his glamorous life, his mistakes, insecurities and regrets. The young journalist, played by Sharmila Tagore, realizes that behind his arrogant facade lies a deeply troubled man as his life's story is gradually revealed through flashbacks and dreams. In hindsight, this film seems to come closest to the man Uttam Kumar.
Uttam Kumar always had his feet grounded and had planned to write a book someday. In fact, he had been jotting down his thoughts, documenting his amazing personal and professional journey, baring his heart out about his life as a star, his struggles, his loneliness and much more. He had written, "In my heart I know – nothing, not this light, or this radiance – nothing will last. This light might snuff out at any moment and throw me into deeper darkness."
These lines clearly depict the immense loneliness and insecurity that had gone into such writing, emotions that one doesn't really expect from a phenomenally successful superstar who is loved and adored by millions. Uttam Kumar was loved by millions of people not only because he was a brilliant performer but was also a very genuine human being. His goodness seeped in through his persona. He was loved both on screen and off screen as well.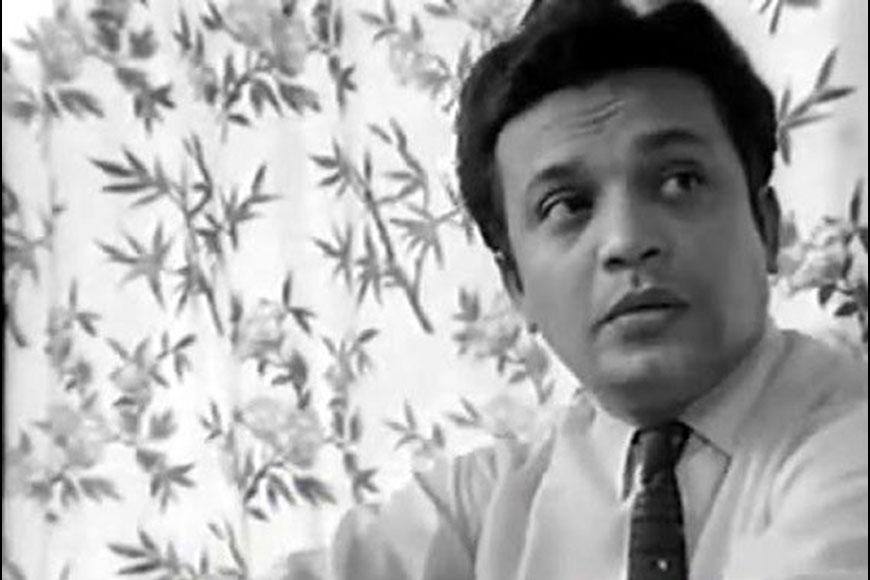 Uttam Kumar, Mahanayak of the silver screen
Uttam Kumar (nee Arun Kumar Chatterjee) did not forget his humble beginning. After his schooling in South Suburban School, he went for higher studies in Goenka College of Commerce and Business Administration but he could not complete his studies due to financial stress and took up a job at Kolkata Port Trust as a clerk. During this period, he acted in amateur theatre groups. Uttam's first release was Drishtidan (1948) directed by Nitin Bose, though he worked in an earlier unreleased film called Mayador. Then he acted in about four to five films, all of which were flops. He was dubbed as the 'Flop Master General.' During this period, every time he entered the studio, people would jeer at him and comment 'Here comes the new Durgadas...' 'Meet the new Chhabi Biswas...' He considered leaving the world of cinema and resume his career at Calcutta port Trust. During those dark days, his wife, Gouri Chatterjee stood by him and encouraged him to try his luck harder for a break in the film industry.
He was signed by. M.P. studios for three years and during this period, he acted in Basu Paribar, and got noticed. In 1953, Sharey Chuattor was released. In the film, he was paired opposite Suchitra Sen. The film ran for 65 weeks and established Uttam in the industry. In 1954, his breakthrough film Agni Pariksha, was released and this film heralded the beginning of a new era of romantic films with the all-time hit romantic pair, Uttam Kumar and Suchitra Sen, creating history on screen.

Despite the success and adulation, Uttam Kumar always remained grounded. He took every opportunity to show his gratitude to the cinema industry by doing something for the people who were part of the industry. In fact, there were two distinct sides to Uttam -- one, the charismatic, flamboyant Mahanayak (superhero) and the other, a man whose empathy for those less fortunate stood out every time. It was his eagerness to help the needy that, in fact, earned Uttam the tremendous respect in the industry from producers, directors, senior and junior artistes.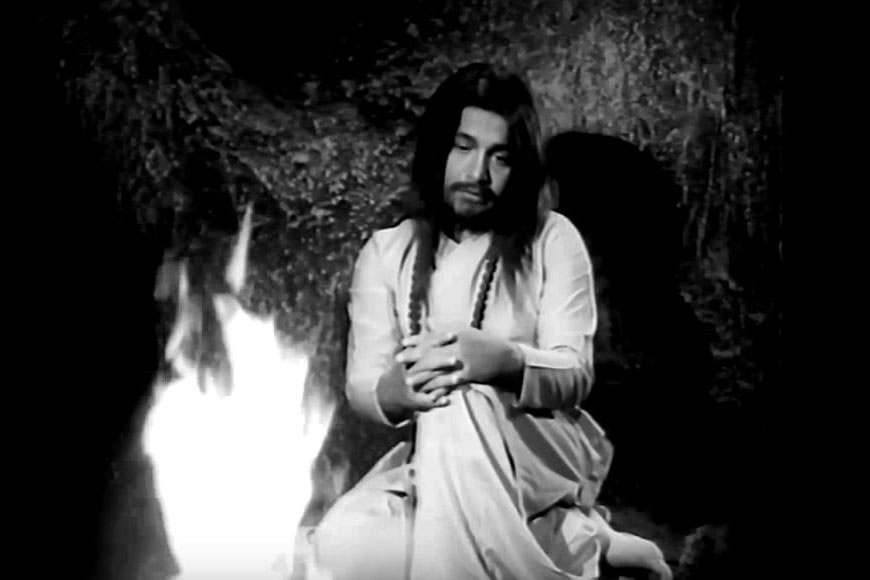 A still from the movie 'Sanyasi Raja' (1975)
Even when he ruled Tollywood and was one-man industry, Uttam Kumar was empathetic towards all struggling, upcoming actors and always encouraged them. Again, perhaps few actors have done as much for the industry and all those associated with the film industry as Uttam did during his superstar days. His organisation, Shilpi Sansad, arranged for pension for retired actors. Whenever fund-raising road shows were organised by the film fraternity to help victims of natural disasters, Uttam Kumar was always there to support the cause. He would be on the streets of Calcutta asking for donation from citizens who would go on a tizzy to see their matinee idol up-close. He was the subject of fantastic folklores.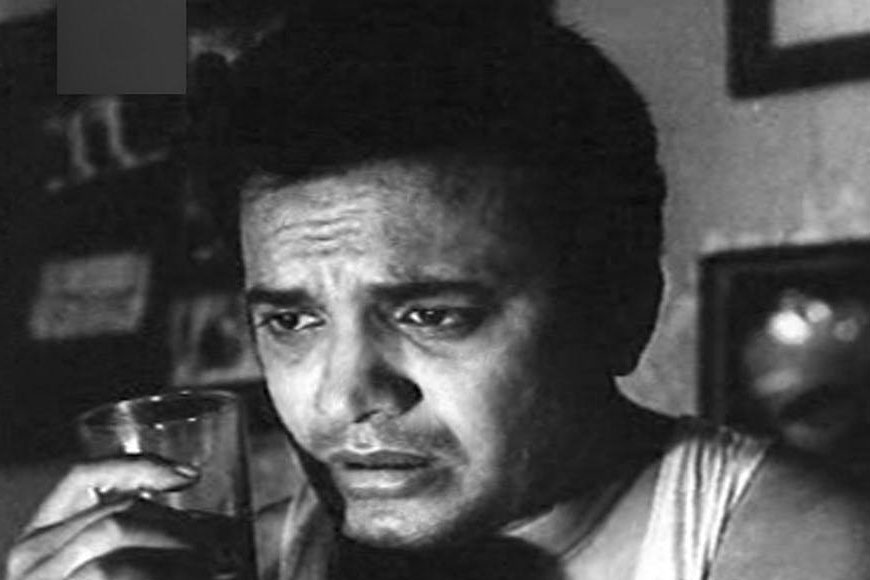 Throughout his life, Uttam Kumar loved people and they loved him back immensely. The passage of time has not dimmed his memories from public reminiscence and tributes continue to pour in year after year, even 40 years after he departed. And yet, is it not strange that this man died feeling lonely and often lost?