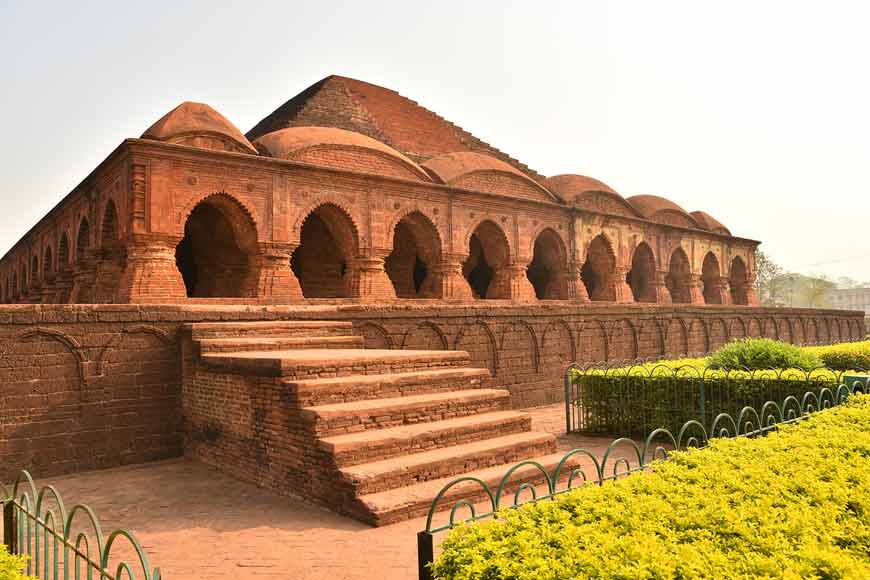 Rasmancha, Bishnupur
The temples of Bengal often provide vivid details of different periods of history through their architecture and inscriptions. Kinjal Bose, a member of Indian National Trust for Art and Cultural Heritage (INTACH) and an associate member of International Council on Monuments and Sites (ICOMOS), has highlighted in a recent meet on heritage conservation, the importance of 'Manchas' in temples, a topic not much explored in Bengal. The detailing of the Manchas bear testimony to different eras of Bengal and how the architectural splendour was celebrates in those eras. As per Bose, "Manchas are of three types -- Dolmancha, Rasmancha and Tulsimancha.
"All over Bengal you will notice that there are many temples in which Radha and Krishna are worshipped, in these temples, there is an elevated platform. During the Raas festival, in November, the deity is taken from the main temple and placed on this elevated platform which is known as "mancha". The purpose behind it is to make the deity visible to the people at large, so that the devotees can see the deity from all angles and offer their prayers, which is why the Rasmancha is kept open on all sides. During the Raas Purnima, the deity is kept on the Rasmancha for three days and after that the deity is taken back to the main temple," Kinjal Bose said.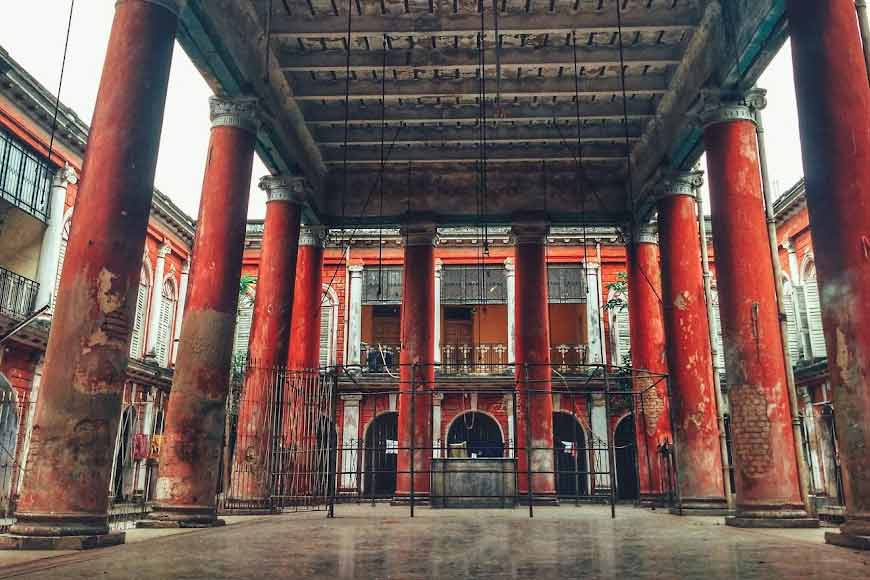 Madanmohan Rasmancha - Baghbazar

Generally, Rasmanchas are octagonal in shape. Just like a temple has different parts called "ratna" and "chura", the Rasmancha also has a "ratna", "chura" and other parts. It is not a permanent structure, but a temporary one situated a little away from the main temple. Some also have intricate terracotta decorations. Examples of Rasmancha are the Madanmohan Rasmancha at Baghbazar in Kolkata, Seventeen pinnacle (Saptadasratna) Rasmancha with rekha turrets at Hadal Narayanpur, Bankura, Rasmancha with fresco work at Kotulpur, Bankura, Twin Rasmanchas at Sonamukhi, Bankura, Saptadasratna rasmancha at Sonamukhi, Bankura, Rasmancha at Kalna, Purba Bardhaman, Rasmancha with stucco work at Serampore, Hooghly, Rasmancha (rasun chura) with decorations at Kotulpur, Bankura, Rasmancha of anomalous design at Khardaha, North 24 Parganas, Rasmancha of anomalous design at Bishnupur, Bankura, Rasmancha at Dhanyakuria, North 24 Parganas, Rasmanchas of unique design at Bally, Howrah and Shahganj, Hooghly and so on.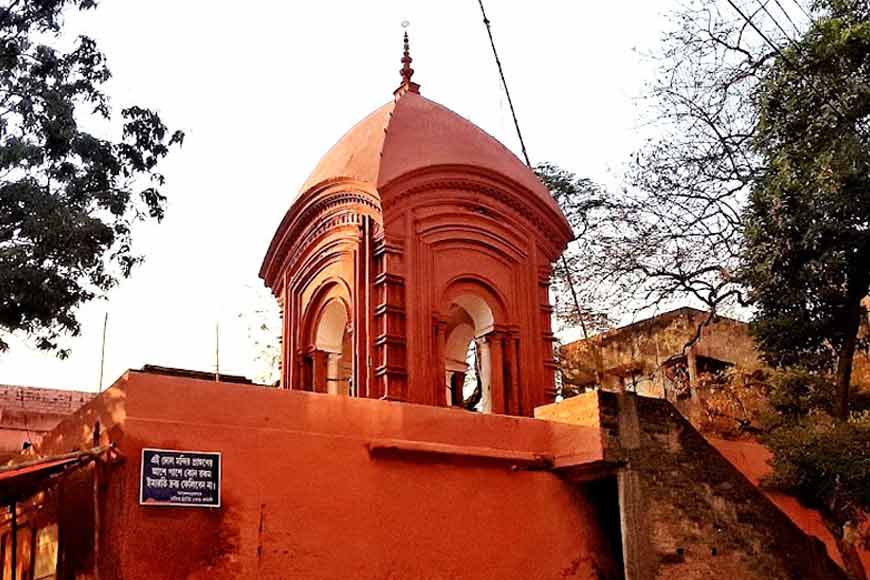 Dolmancha at Khardaha
Bose drew attention to the difference between Rasmancha and Dolmancha as per their size. Dolmancha is smaller in size and as the name indicates, is used mostly during Dol Purnima or Holi festival. On the morning of Dol Purnima, the deity is placed on the Dolmancha and a special ritual or puja is performed, known as Debdol. The deity stays there till evening, devotees offer "abir" or colours to the deity, some devotees fast and break their fast only after offering abir to the deity. According to David McCutchion, in the middle of the 18th century, many such Dolmanchas were built and in this Dolmancha, Lord Krishna is worshipped. The Dolmanchas stand on four columns or four corner wall sections called charchala but they may even be of aatchala or pancharatna. Other than these specifications, the Dolmancha and Rasmancha are similar, both have an elevated platform, are situated a little away from the main temple and some have terracotta decorations. Some of the examples of Dolmancha are the Dolmancha at Khardaha and Konnagar, North 24 Parganas, Hexagonal Dolmancha at Saibon, North 24 Parganas, Nahabatkhana, Dolmancha and Barochala Temple at Rautara, Howrah, Pancharata and Ridged Rekha type Dolmancha at Aatpur and Gurap, Hooghly, Rasmancha of Radha Shyamsundar Jiu at Joynagar, South 24 Parganas, Dolmancha of Radha-Ballav Jiu where Pancham Dol is held at Joynagar, South 24 Parganas, Charchala Dolmanchas at Amadpur, Purba Bardhaman and Baharu, South 24 Parganas, Charchala with ek ratna Dolmancha at Jhikira, Howrah, and many more can be found locally as well.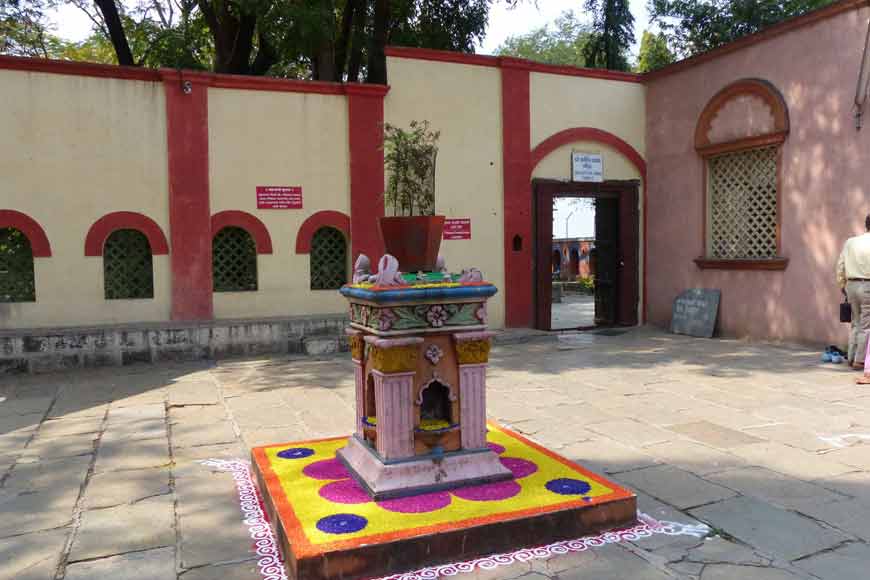 Tulsimancha
However, Tulsimancha can be found in many temples as well as houses. As the name denotes, the Tulsimancha is centred around a Tulsi plant, which is regarded to be sacred by the followers of Hinduism. As stated by Bose, Tulsimancha is present in both domestic households and in temple courtyards. The Tulsimancha does not follow any definite structure, can be quadrangular, octagonal, circular or oval. Many households and temples keep a provision of placing an oil lamp near the tree. In size, the Tulsimancha is smaller than Rasmancha and Dolmancha. Tulsi or Holy Basil comprises four types – Ram Tulsi, Krishna Tulsi, Amrita Tulsi and Vana Tulsi. Some examples of Tulsimancha are Tulsimancha near Mitra Ganga, Joynagar, South 24 Parganas, Circular Tulsimancha at Baro Rasbari, Kolkata, Tulsimanchas at Jhikira, Howrah and so on.
Bengal's manchas came alive at the presentation given by Kinjal Bose at the Alka Jalan Foundation through his series 'The Temples in West Bengal.'"I have done in-depth study on such temples and their structures. These minute details hold a lot of significance to understand the past, specially of 18th century Bengal," signed off Kinjal.
"Temple architecture in India is unique and West Bengal is especially unique because people worship Radha Krishna, Shakti, Shiv and each family has a family deity. The temples have been made according to the art available in that region, for example in areas like Bankura, Birbhum, there are a lot of Terracotta temples and that is why the place is known for that. There are some architectural styles of the temple which are totally unique to the temple and they make the temple special, different and valuable, concluded Vibha Mitra of Own the Past, the organisers of this wonderful presentation.